Clarksville, TN – Amy Chase: Rediscovered Relationships is a magical world currently on view in the Planters Bank Peg Harvill Gallery of the Customs House Museum and Cultural Center.
Creatures and landscapes that appear to have jumped from the pages of a storybook float on the walls and hide within glass cases.
Kentucky artist Amy Chase has added to the mysteriousness of her works with titles such as Interminable Dissolution and Disremembered.
The exhibit consists of porcelain, terracotta, and earthenware pieces with intricate patterns that are applied using precise slip and glazing techniques.
Since receiving her MFA from Southern University, Illinois, Amy Chase has exhibited her contemporary ceramics throughout the United States. Her award-winning artwork has been published in Niche Magazine, Clay Times, and AmericanStyle, to name a few.
"My work investigates the relationships between objects. I am concerned with the formal design of the object while focusing on representing personal relationships, memories or situations of my own experiences," says Chase.
"These representations are depicted through multiple forms and the space created between them. I am able to communicate different emotions by varying the distance between the objects or by adjusting their balance. My ceramic forms are constructed methodically by hand; I push and pull the walls of my forms to create a sense of volume. These forms reference an abstracted nature, creating a sense of familiarity," stated Chase.
Rediscovered Relationships will be on exhibit through July 31st. Located at the corner of Second and Commerce Streets, the Customs House Museum is the second largest general museum in Tennessee.
For more information on above event contact Terri Jordan, Exhibits Curator, at 931.648.5780 or
About the Customs House Museum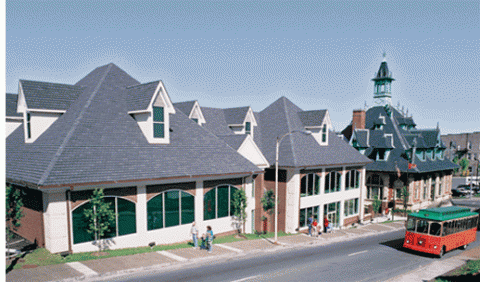 Located in the heart of historic downtown Clarksville, Tennessee, the Customs House Museum and Cultural Center is the State's second largest general museum. The original portion of the building was constructed in 1898 as a U.S. Post Office and Customs House for the flourishing tobacco trade. Incorporating a number of architectural styles, the original structure is one of the most photographed buildings in the region.
With over 35,000 square feet of the region's best hands-on activities and special events…people of all ages agree – the Customs House Museum is well worth the stop!
The Explorer's Gallery is packed with fun, learning and fantasy in Aunt Alice's Attic, McGregor's Market and kitchen, and of course – the Bubble Cave! Finally, get "all aboard" to see our fantastic model trains. Our volunteer engineers "ride the rails" every Sunday afternoon from 1:00pm to 4:00pm.
Regular museum hours are 10:00am to 5:00pm Tuesday through Saturday, and 1:00pm to 5:00pm on Sundays. Adult admission is $7.00, Senior Citizens and College ID $5.00, Ages 6 to 18 $3.00, and under six years and Museum members are free.
The Customs House Museum is located at 200 South Second Street. For more information, call 931.648.5780 or visit their website at www.customshousemuseum.org