Clarksville, TN – Earlier this summer, 16 Austin Peay State University (APSU) nursing students, along with students from four other regional nursing programs, participated in a prestigious summer internship program called Vanderbilt Experience: Student Nurse Internship Program (VESNIP) at Vanderbilt University Medical Center.
The program ended with the presentation of seven awards, with two APSU students receiving the event's highest honors.
Nursing student Emily Reeve received the Credo Award for the Psychiatric Track, and Leanna Swaney received the Florence Nightingale Award—the program's highest honor—for her excellent work in the Pediatric Perioperative Track.
For 11 years, the APSU School of Nursing has sent students, under the guidance of Dr. Amy Hamlin, APSU nursing professor, to VESNIP—a nationally recognized nursing student internship program that provides intense clinical experiences for select senior-level nursing students.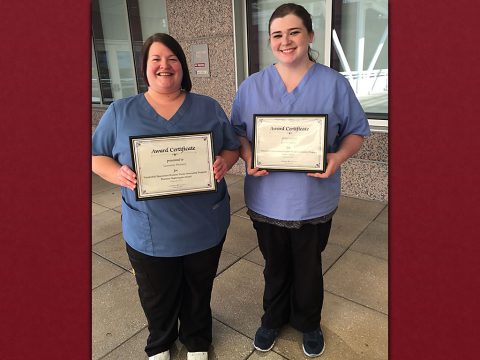 The VESNIP internship offers students opportunities to work alongside expert nurse preceptors within assigned specialty tracks. The VESNIP positions are very competitive and are considered elite opportunities for students from around the region.
For more information on the internship program, contact Hamlin at