APSU Sports Information

Clarksville, TN – With all the buzz and hype swirling around an on-the-rise Austin Peay State University football program, the Govs have reported back to campus and are set to open preseason camp at 3:45pm, Saturday in Fortera Stadium.
Saturday's practice will be the first of 17 practices and two scrimmages over the next 15 days for the Govs.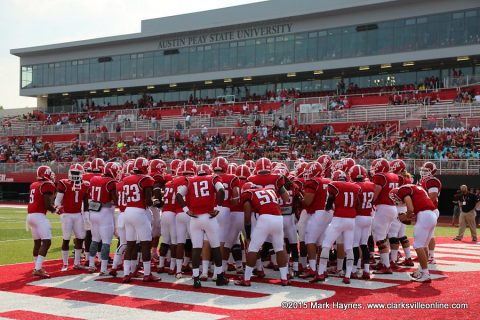 Due to NCAA rules, the team will go through a five-day acclimation period and will wear helmets only, both Saturday and Sunday.
The Govs will wear shells for the first time, Monday and Tuesday, before getting into its first full-padded practice, Wednesday.
The first of four scheduled two-a-days is scheduled for Thursday, while next Saturday, August 13th; Tuesday, August 16 and Thursday, August 18 round out the two-a-day slate.
All one-session practice times are at 3:45pm except for Sunday, August 14th, when it will be held at 6:30pm. Two-a-day practice times will be 8:30am and 7:30pm. Govs fans can circle the second session on Saturday, August 13th, which will mark the first of the two preseason scrimmages.  The final scrimmage will come on the final day of preseason camp a week later at 2:45pm, Saturday, August 20th.
Austin Peay will open the Will Healy era at FBS-opponent Troy at 5:00pm, Saturday, September 3rd before returning to Clarksville for its home and Ohio Valley Conference-opener against Tennessee Tech at 6:00pm, Saturday, September 10th. The home opener also is Family Weekend at Austin Peay.
Want to track the Govs during the preseason? Just follow the #PreseasonGovs hashtag on Twitter.
Fans can also follow all the action from the 2016-17 season on www.LetsGoPeay.com, on Twitter @LetsGoPeay & @AustinPeayFB and on Facebook at www.facebook.com/LetsGoPeay.
LetsGoPeay.com | The official online source for Austin Peay State University Athletics, tickets, merchandise, multimedia, photos and everything else Governors.
Preseason Camp Practice Schedule
Practice 1 (Helmets) – Saturday, August 6th at  3:45pm
Practice 2 (Helmets) – Sunday, August 7th at 3:45pm
Practice 3 (Shells) – Monday, August 8th at 3:45pm
Practice 4 (Shells) – Tuesday, August 9th at 3:45pm
Practice 5 (Pads) – Wednesday, August 10th at 3:45pm
Practice 6 (Shells) – Thursday, August 11th at 8:30am
Practice 7 (Pads) – Thursday, August 11th at 7:30pm
Practice 8 (Pads) – Friday, August 12th at 3:45pm
Practice 9 (Shells) – Saturday, August 13th at 8:30am
Scrimmage 1 – Saturday, August 13th at 7:30pm
Practice 10 (Pads) – Sunday, August 14th at 6:30pm
Practice 11 (Pads) – Monday, August 15th at 3:45pm
Practice 12 (Shells) – Tuesday, August 16th at 8:30am
Practice 13 (Pads) – Tuesday, August 16th at 7:30pm
Practice 14 (Pads) – Wednesday, August at 17th at 3:45pm
Practice 15 (Shells) – Thursday, August 18th at 8:30am
Practice 16 (Pads) – Thursday, August 18th at 7:30pm
Practice 17 (Pads) – Friday, August 19th at 3:45pm
Scrimmage 2 – Saturday, August 20th at 2:45pm
2016 APSU Football Schedule
| Date | | Opponent | Special Event | Location | Time |
| --- | --- | --- | --- | --- | --- |
| 9/3/2016 | | Troy | | Troy, Ala. | 5:00pm |
| 9/10/2016 | * | Tennessee Tech | AP Family Day | Clarksville – Fortera Stadium | 6:00pm |
| 9/24/2016 | * | Eastern Illinois | | Charleston, Ill. | 1:00pm |
| 10/1/2016 | * | Murray State | Local Heroes Day, Pink Game | Clarksville – Fortera Stadium | 4:00pm |
| 10/8/2016 | * | UT Martin | | Martin | 2:00pm |
| 10/15/2016 | * | Jacksonville State | | Jacksonville, Ala. | 1:00pm |
| 10/22/2016 | | Mercer | Homecoming 2016 | Clarksville – Fortera Stadium | 4:00pm |
| 10/29/2016 | * | Southeast Missouri | | Cape Girardeau, Mo. | 1:00pm |
| 11/5/2016 | * | Tennessee State | Military Appreciation Day | Clarksville – Fortera Stadium | 4:00pm |
| 11/12/2016 | * | Eastern Kentucky | Senior Day / GOMB Day | Clarksville – Fortera Stadium | 4:00pm |
| 11/19/2016 | | Kentucky | | Lexington, Ky. | TBA |
* denotes a Ohio Valley Conference contest