Written by 1st Lt. Daniel Johnson
2nd Brigade Combat Team, 101st Airborne Division (AA) Public Affairs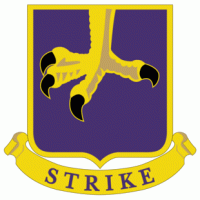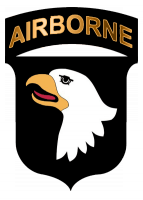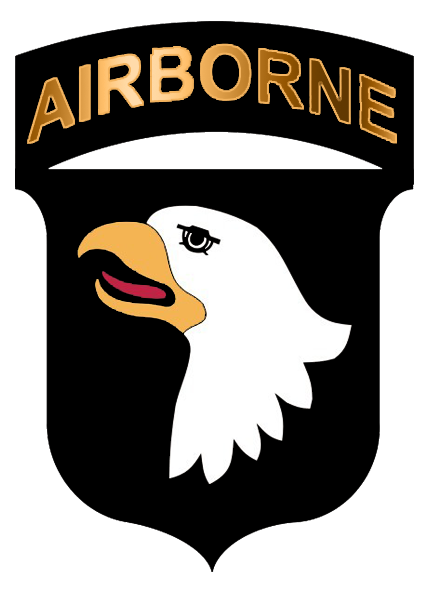 Camp Taji, Iraq – In the fight against the Islamic State of Iraq and the Levant, the Combined Joint Forces Land Component Command – Operation Inherent Resolve, comprised of forces from 18 Coalition nations, is building the capacity of Iraqi security forces.
Whether it is targeting the enemy with ground and air strikes or training and equipping, CJFLCC-OIR's mission is to enable ISF and the government of Iraq to defeat ISIL.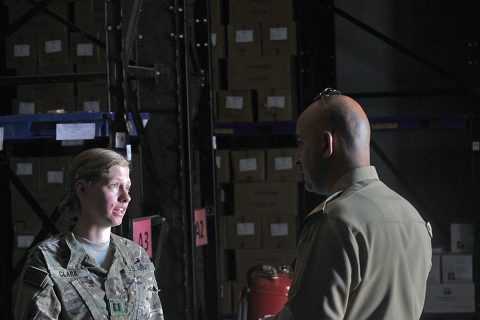 Soldiers from the Task Force Strike, 2nd Brigade Combat Team, 101st Airborne Division (Air Assault) logistics advise and assist team are working directly with ISF as enablers in their fight against ISIL.
Leading this effort are Soldiers from the 526th Brigade Support Battalion, Task Force Strike's logistics unit.
"We're trying to project their requirements within the Iraqi supply system and figure out what we need to do to ensure that they maintain operational endurance and flexibility," said Capt. Sean Collins, the logistics advise and assist officer in charge and commander of Company A, 526th Brigade Support Battalion, Task Force Strike. "We ensure that they never have to stop based on a supply shortage or maintenance issue."
Before deploying, Collins and members of his team prepared for the logistics mission by researching the Iraqi army. They started first by looking through Army databases.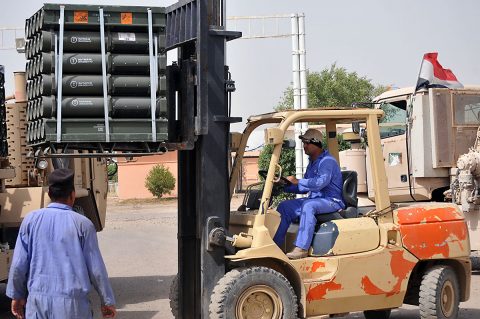 "We looked through [those databases] and read some Center for Army Lessons Learned manuals," said Collins. "Most of it is just reacting and coming up with common-sense solutions. We're not trying to create systems for them from scratch; we're trying to work within logic to make a quick solution to keep operations moving."
Though the logistics mission is complex, Collins distilled it down.
"We look at the Iraqis' projected usage and what their maintenance status is," said Collins. "How they're going to recover assets damaged in battle, how they're going to repair them. We try to help them identify where their shortfalls are going to be."
Another unit participating in the logistics advise and assist program is the 300th Sustainment Brigade, a Reserve unit from Grand Prairie, Texas.
"We go out throughout the week," said Staff Sgt. Christopher Green of 300th Sustainment. "Our maintenance chief acts as quality control and we try to help the Iraqis find a better solution their way. The biggest goal is helping the Iraqis get better so they can maintain what they're doing after we leave the country."
Task Force Strike has had successes since the beginning of their mission in the country.
"For one operation, [The Iraqi army] detached a unit from one division to another," said Collins. We helped facilitate them getting their maintenance repair parts and the mechanics forward to a completely separate location from where their division was operating."
The ISF were able to respond to issues and needs that arose throughout the operation because Task Force logisticians rapidly moved their assets and personnel around the battlefield, said Collins..
Task Force Strike Soldiers were not the only ones who recognized these successes.
During his recent visit with Soldiers in Baghdad, U.S. Secretary of Defense Ashton Carter highlighted successes like these, and others, in the country.
"With your help, the Iraqi security forces have had a string of consequential results in those months on the battlefield that have strengthened the momentum," said Carter. "These results speak for themselves."