BACH Public Affairs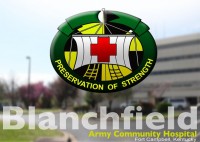 Fort Campbell, KY – Blanchfield Army Community Hospital (BACH) will offer a consolidated Extended Hours Clinic beginning September 6th, at the Screaming Eagle Medical Home, next to Clarksville's Tennova Healthcare in Medical Office Building One.

"We continue to seek ways to increase our availability to the population we serve," said Col. Telita Crosland, BACH commander. "It is important that we look at our population's needs and determine what fits them best and mold our services to support them."

Blanchfield leadership is seeking to support the patients' needs by offering weekday appointments from 4:00pm to 7:00pm. The implementation of an Extended Hours Clinic is available to enrolled retirees and family members, regardless of which Patient Centered Medical Home they are enrolled.

The Extended Hours Clinic is an opportunity for beneficiaries to receive care outside of routine primary care hours instead of going to BACH's Emergency Center or an Urgent Care Clinic outside of the hospital. The Extended Hours Clinic is accessibly located at the Screaming Eagle Medical Home, off Interstate 24, Exit 4.

"Extended hours will provide more options for immediate after school and after work medical needs for both adult and child beneficiaries," said Maj. Gabriela Niess, BACH's chief of clinical services. "We hope the Extended Hours Clinic at our Screaming Eagle Medical Home will provide alternative solutions for our beneficiaries and help satisfy their overall patient care experience with us."

BACH's leadership recently implemented Audio Appointments for enrolled retirees and family members. This convenient service allows patients to speak to a provider by phone, rather than face-to-face with their healthcare provider.

Audio Appointments are offered Monday through Wednesday and Fridays for non-urgent medical concerns for individuals ages 2 to 65 who do not have pre-existing compromised health conditions. In addition, the Gold Army Medical Home, located within the hospital, offers early appointments for its enrolled population beginning at 6:00am.

Patients may continue to schedule appointments through the hospital's Appointment Line for the Extended Hours Clinic or Audio Appointments at 270-798-4677 or 931-431-4677 from 6 a.m. to 4:30pm Monday through Friday.

Both acute and wellness medical needs will be offered during the Extended Hours Clinic. The following symptoms are examples of care providers can support during the Extended Hours Clinic:

Acute symptoms:
Seasonal Allergies
Fever less than 3 days, no other symptoms
Constipation
Painful/frequent urination
Cough, congestion, cold symptoms, and wheezing
Sore Throat
Ear pain with fever
Dizziness
Nausea
Rash
Possible Lice, Scabies, Pinworm or Chicken Pox
Burns
Recent sport injury (strain or sprain)
Pink eye symptoms
Diaper Rash
Thrush
Sunburn
Day care note
Wellness needs:
BACH's emergency center recently completed an Army Medicine virtual health pilot program in collaboration with Regional Health Command – Atlantic (Provisional) and Eisenhower Medical Center. Not only will virtual health extend capabilities to deployed Soldiers in austere environments, but it will also be extended to BACH beneficiaries in the near future.
"We couldn't be more excited for expanding access to care as we implement a way to support and meet the needs of the 101st Division and Fort Campbell community," said Crosland. "We were privileged to pilot these programs among our Fort Campbell beneficiary population so they can benefit from these wonderful capabilities first. This community continues to bring so much to the fight for our nation and they should continue to be offered the best medicine and opportunities available."
For more information on Blanchfield Army Community Hospital, visit http://blanchfield.amedd.army.mil.
Sections
News
Topics
Bach, Blanchfield Army Community Hospital, Fort Campbell KY, Gold Army Medical Home, Screaming Eagle Medical Home, Telita Crosland, Tennova Healthcare, Tennova Healthcare - Clarksville