Clarksville, TN – Dunbar Cave State Park at 401 Old Dunbar Cave Road held its Hummingbird and Butterfly Festival on Saturday with numerous events for the family.
From 9:00am to 11:00am and again from 1:00pm to 3:00pm, hummingbirds were banded by Cyndi Routledge, a master bander who has completed the five-year course taught by the Department of the Interior.
Information gathered at the banding is sent to Laurel, Maryland where a huge data base on hummingbirds is located under the auspices of the United States Geological Survey.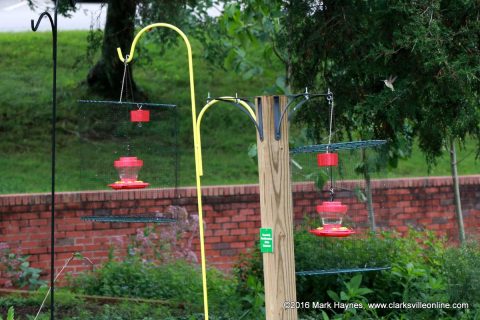 Hummingbirds are captured by using nets over feeders. John Kehl who was in charge of removing the hummingbirds for banding said that he had removed seven hummingbirds in 45 minutes from the mesh traps. He is an apprentice in the banding course.
From 9:00am until 3:00pm arts and crafts for children featured making mobiles from pictures of butterflies attached by strings to coat hangers, creating hummingbird nests from cotton balls that then contained two Tic Tacs to represent eggs, and creating butterflies and hummingbirds from pipe cleaners and coffee filters.
John Froeschauer gave a talk on butterflies in the AV Room from 10:00am to 11:00am and Cyndi Routledge spoke on hummingbirds there from 11:30am to 12:30pm.
From 1:00pm to 2:00pm an interpretive specialist guided visitors around Dunbar Cave.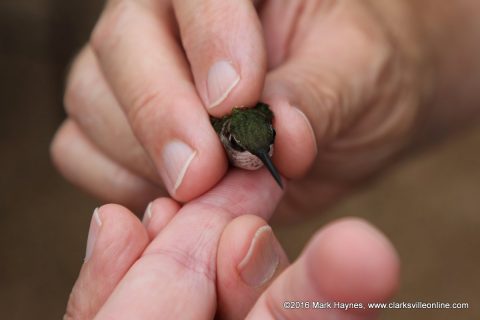 The event was well attended by scores of parents with children and some with dogs in arms. Experts gave answers to numerous questions about both hummingbirds and butterflies.
Hummingbirds are some of the most fascinating of birds. Red-throated hummingbirds are about 3.5 inches long and weigh about 3 to 3.4 grams. One ounce is equivalent to 28 grams. Their heart rate is 250 beats per minute when resting but can rust to 1200 beats per minute when feeding. They can fly at 30 miles per hour at normal speed, but that can increase to 1200 beats per minute when eluding a predator.
Predators include hawks, praying mantis, bullfrogs and even large orb-weaving spiders. Only one in five baby hummingbirds lives to be one year old because of habitat destruction, predators, flying into windows, and weather. Hummingbirds fly alone and not in flocks so inexperience increases mortality.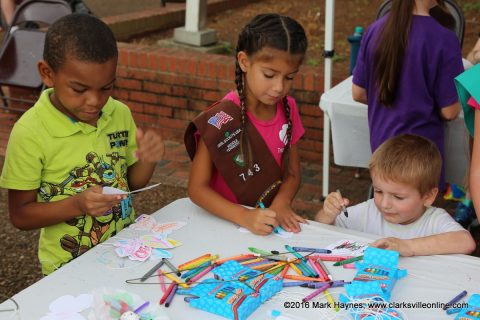 Hummingbirds feed every 15 minutes and 80 per cent of their diet is insects like no-seeums and tiny spiders. Sugar water supplements their diet. If you have a hummingbird feeder, you can make up a gallon of sugar water at the time and keep it in the refrigerator. You need four parts water to one part sugar. It can be kept for one week at the time in the refrigerator. You must rinse the feeder thoroughly each time with water only, no soap! Ant traps are available where feeders are sold to prevent ants from entering the feeder.
Members of Southeastern Avian Research encourage residents to keep their feeders up all year because although the red-throated hummingbirds migrate, western hummingbirds and some of the other 13 species of hummingbirds in Eastern United States to visit your feeder. These other species actually winter over; if you see one of these species at your feeder in winter, you should report this to Cyndi Routledge at or 931.206.3517, the researcher for Middle Tennessee and West Tennessee and north Mississippi.
Hummingbird females do all the work of building the nest, laying the eggs, feeding and care of the young. The male merely fertilizes the eggs and mates with as many females as possible. Made of plant fibers and hair, the nest is lined with down from dandelions and thistle; it is attached to a downward sloping branch of a tree in the case of the ruby-throated hummingbird and that is located between 5 and 80 feet above ground.
The opening of the nest is about the size of a quarter and the nest may be reworked year after year. Only two eggs are laid and that occurs one egg per day. Hatching takes between 12 and 15 days, but nestlings stay in the nest from18 to 23 days. Adolescent hummingbirds are larger than the parents because the parents take such good care of the babies, according to Routledge.
Hummingbird feeders need to be placed where they can be watched out of the shade about five feet above ground above spots where cats and reach them. The only time hummingbirds can be witnessed during the winter is at breakfast time, so feeders should be located where they can be seen in early morning.
Dunbar Cave's Hummingbird and Butterfly Festival is an event that all families should be putting on their calendars whenever it is scheduled. This free event is fascinating for children and adults alike.
Plan ahead for next year!
Photo Gallery