Nancy Brown, American Heart Association CEO, comments on evaluation of sugary drink taxes in Berkeley, California published in the American Journal of Public Health.
Dallas, TX – In 2014, Berkeley, California paved the way in our nation once again with policies that support healthy living. Berkeley was the first city in our nation to implement a tax on sugary drinks at the minimum level recommended by the American Heart Association of one penny per ounce to raise revenue for improving community health and nutrition.
Researchers have assessed the initial impact of the Berkeley tax in a new study published in the American Journal of Public Health [1].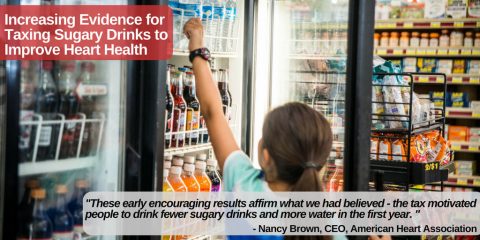 The results indicate the tax changed behavior among low-income residents in favor of heart-healthy living.
We are delighted to see these early encouraging results affirm what we had believed — the tax motivated people to drink fewer sugary drinks and more water in the first year.
These results contribute to a growing evidence base in support for passing similar tax measures in cities and states across the United States. Comparable to the impact demonstrated by the use of taxation in Mexico [2], low-income families are choosing healthier drinks more often, rebuffing the myth that these taxes are regressive.
In fact, if trends continue, public health experts predict that taxes have the potential to be one of the most effective policy strategies to achieve health equity.
There is abundant evidence for both children and adults to begin making the switch from sugary drinks to water, low-fat milk and 100% juice. Sugary drinks – including fruit-flavored drinks, sports drinks, sweet teas, sodas and energy drinks – have little nutritional value and are a culprit in high rates of heart disease, diabetes and tooth decay.
Parents, child care providers, school leader and restaurateurs are better equipped than ever with new knowledge that sugary drinks should be a once-a-week treat at most [3]. Unfortunately, research shows children are drinking their age in sugary drink servings each week.
The American Heart Association will continue to advocate for policy measures to make heart-healthy living easier in all communities.  We find this new evidence encouraging that we are on the right path to increase healthy equity across our nation.