Montgomery County, TN – Shiloh Industries is the newest Clarksville-Montgomery County Green Certified business.
Montgomery County Mayor Jim Durrett, City of Clarksville Chief of Administration Charlie Gentry, Executive Director of the Chamber of Commerce Melinda Shepard and CMC Green Certification Steering Committee Members Daryl Pater, Tim Swaw, and Bill Harpel came out to share their appreciation with Shiloh's leadership and staff.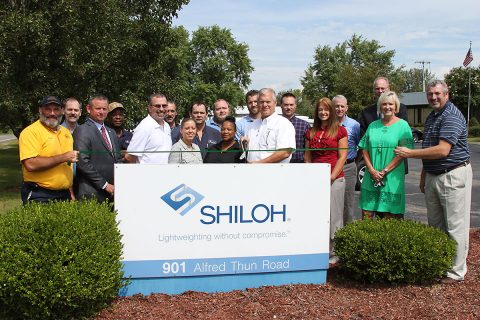 Derek Jaeger, Environmental, Corporate Health and Safety Specialist, was the lead contact for the green certification effort for Shiloh Clarksville, but it has taken the effort of all local employees to obtain the certification.
"When we acquired the Clarksville facility, Shiloh made many renovations to help improve the environmental sustainability of the plant. We replaced all halides with energy efficient lighting, and improved the general housekeeping of the facility," said Jaeger. "Since opening our doors, we connected with Bi-County SWM and other waste recyclers to minimize our environmental impact."
Shiloh's leadership has long been an advocate of sustainability with a goal of obtaining landfill-free designation for all capable facilities.  Currently 11 plants have achieved this milestone.
"Shiloh employees are challenged to conserve natural resources by reducing, reusing and recycling in all of our global operations. We constantly strive to increase our pollution prevention efforts at the source of our production processes by eliminating unnecessary waste. We also actively promote the use of conservation techniques and the reuse of materials wherever possible," Jaeger continued.
"Shiloh Industries is the leader in automotive lightweighting solutions with a focus on enhancing the environment. Automakers are under pressure to meet and exceed the increasing global emission standards in an effort to decrease greenhouse gases. To aid in this initiative, our innovative lightweighting technologies improve material consumption and CO2 emissions through the reduction of part weight and overall vehicle weight, resulting in increased fuel efficiency," said plant manager, Gerald Craycraft. "We look forward to getting up to full production in 2018 in Clarksville and by adding a new line beginning in 2018."
Shiloh Industries, Inc. is a leading global supplier of light weighting, noise and vibration solutions to the automotive, commercial vehicle and industrial segments, capable of delivering solutions in aluminum, magnesium, steel and high-strength steel alloys to original equipment manufacturers and suppliers.
The company offers the broadest portfolio of light weighting solutions in the industry through its BlankLight®, CastLight™ and StampLight™ brands. Shiloh designs and manufactures components in body, chassis and powertrain systems with expertise in precision blanks, ShilohCore acoustic laminates, aluminum and steel laser welded blanks, complex stampings, modular assemblies, aluminum and magnesium die casting, as well as precision machined components.
Shiloh has over 3,600 dedicated employees with operations, sales and technical centers throughout Asia, Europe and North America.
For more info about the company and their work in Clarksville, visit www.shiloh.com
For information on how your business can participate in the Green Certification Program, contact Michelle Newell at