Tennessee Athletics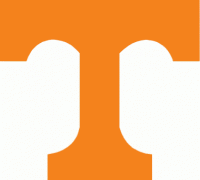 Knoxville, TN – Jalen Hurd recovered a fumble in the end zone during the first overtime period to complete a 10-point comeback over Appalachian State and allow the Vols to escape Neyland Stadium with a season opening win on Thursday night.
No. 9/10 Tennessee trailed 13-6 entering the fourth quarter, but Josh Dobbs hit Josh Malone on a 67-yard pass down the left sideline. Malone had 81 yards on the 6 play, 92-yard drive which tied the game at 13 with 10:30 remaining in the game.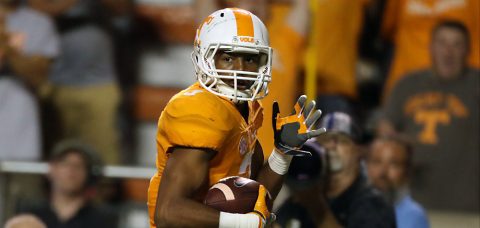 "At the end of the day we found a way to win the football game," Head Coach Butch Jones said. "We had some players step up and make some critical plays. Just about anything and everything went wrong. We found a way to win, got it to overtime and had a clutch play to Josh Malone."
The Vols (1-0) fell behind after Cameron Sutton muffed a punt on the first drive. Appalachian State recovered the ball and promptly marched 36 yards, capped by a five yard rushing touchdown by Taylor Lamb.
The Mountaineers pushed their advantage to 13-3 with 8:53 remaining in the second quarter as Lamb floated a ball down the right sideline to Marcus Cox. Cox caught the 33-yard score on a wheel route out of the backfield.
That score held until halftime, Appalachian State (0-1) outrushed the Vols, 82-56 in the first half and held possession for 16:30 as they controlled the tempo.
The Vols momentum changed early in the second half as Sutton picked off Lamb's pass on the opening drive. Tennessee was able to turn the App State miscue into three points on Medley's second field goal of the game. That brought the margin to seven entering the fourth quarter.
The Vols went to overtime for the second consecutive season opener, but Dobbs kept the opening drive of the extra session alive with a winding six-yard run on third and six. Three plays later, Dobbs dashed for the corner of the end zone, but lost the ball as he tried to extend into the end zone. Hurd recovered the put UT ahead.
Micah Abernathy, in his first career start, broke up Lamb's pass in the end zone on fourth and five to secure the Tennessee's seventh straight win and eighth straight season-opening victory.
"I've never been part of a frustrating win. A win is a win. Again, in this profession you have 12 opportunities to win. Again, I'm proud of our team. I'm proud of our players. I thought that they showed some resiliency. Again, we played a really good football team. You don't win 17 out of 19 games if you're not a good football team. I have the utmost respect for them. Did we do some things that were uncharacteristic? Absolutely. I can guarantee you this, we will get them corrected. I think there's a lot of great teaching points that came about that we have to get corrected. Again, we found a way to win," Butch Jones stated.
Tennessee in Season Openers
Tennessee owns a 90-24-6 (.775) all-time record in 120 season openers. UT has won eight-straight season openers and 20 of its last 22. Tennessee took a 59-30 win over Bowling Green on September 5th, 2015, at Nissan Stadium in Nashville. The Vols have won 22 consecutive season openers played in Tennessee, dating to 1986.
Hurd Strong
Jalen Hurd rushed for 112 yards, surpassing the 100-yard barrier for the fourth consecutive game. The junior running back also passed Jamal Lewis (487) and Travis Stephens (488) to move into ninth on the school's all-time most carries list.
Career Nights
Sophomore Darrin Kirkland and junior Cortez McDowell set career highs with nine tackles apiece. The two linebackers stepped up for Jalen Reeves-Maybin who was ejected in the first quarter for a targeting hit.
Most OT Wins in NCAA History
The Vols picked up their 12th overtime win in school history to break a tie with Missouri at 11 for the most overtime wins in NCAA History. It also snapped a three game overtime losing streak at home.
Up Next
On Saturday, September 10th the Vols will take on Virginia Tech in the Battle at Bristol at 7:00pm CT on ABC. College Gameday will be on hand at Bristol Motor Speedway to witness the contest expected to have the largest crowd to ever witness a college football game.
Video Highlights
Box Score
Appalachian State (0-1) vs. Tennessee (1-0)
September 1st, 2016 | Knoxville, TN | Stadium: Neyland Stadium | Attendance: 100074
| | | | | | | | |
| --- | --- | --- | --- | --- | --- | --- | --- |
| Score by Quarters | 1 | 2 | 3 | 4 | OT | [5] | Score |
| Appalachian State | 7 | 6 | 0 | 0 | 0 | [0] | 13 |
| Tennessee | 3 | 0 | 3 | 7 | 7 | [7] | 20 |
Scoring Summary
APP -UT
1st
10:56
APP
Taylor Lamb 5 yd run (Michael Rubino kick)
5 plays, 36 yards, TOP 1:43
7 – 0
06:14
UT
Aaron Medley 23 yd field goal
15 plays, 70 yards, TOP 4:42
7 – 3
2nd
08:53
APP
Marcus Cox 33 yd pass from Taylor Lamb (Michael Rubino kick failed)
12 plays, 77 yards, TOP 6:00
13 – 3
3rd
03:00
UT
Aaron Medley 39 yd field goal
11 plays, 48 yards, TOP 3:54
13 – 6
4th
10:30
UT
Josh Malone 67 yd pass from Joshua Dobbs (Aaron Medley kick)
6 plays, 92 yards, TOP 2:04
13 – 13
OT
15:00
UT
Jalen Hurd 0 yd fumble recovery (Aaron Medley kick)
7 plays, 25 yards, TOP 0:00
13 – 20