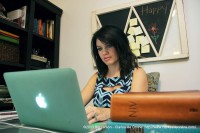 Clarksville, TN – A few years ago, I was working at a table in the church lobby. A pastor's wife (whose husband no longer worked in the Clarksville area) told me sheepishly that they weren't doing much in the way of volunteerism anymore.
I said sincerely and empathetically, "Well sometimes your family has to be your ministry." I meant it – for her of course. My ministry was the WORLD. Or at least it seemed.
I served on Sundays, greeting new people and answering questions about small groups. My husband and I led a small group, trained small group leaders, and attended small group conferences.
I regularly wrote small group studies. I served on a volunteer board in the community, we counseled couples, I offered pre-marital counseling, taught DivorceCare, helped three churches with their small group ministries (in varying degrees). We even led middle school small groups.
Byron and I also matched over 50 kids (of prisoners) each Christmas with volunteers for gift giving and helped deliver several of them. Oh and I started a ministry, chartered it, and did a bit of work with it, and served in the local jail.
We. Stayed. Busy.
And this was all in addition to life: grad school, work, running a small business, and taking care of our home and children and our marriage. Kind of. We led a lot of small groups about marriage, so that was better than nothing and quite good at times. But it wasn't enough.
But the more I served, the emptier I got.
And it wasn't just the church, or the community, it was socially. We had a lot of get togethers in our home, tons of cookouts and celebrations. We enjoyed it for some time. But even after we stopped enjoying it, we kept doing it. Partially because we thought it was expected of us, and partly because it seemed that we were rarely invited to do much else.
We were the busiest loners we knew.
In summary, our marriage (and sometimes our children) was put on the back burner, we were over scheduled, empty, alone, and even – at times – financially strained (I mean, I was volunteering so much, that my available time to work was affected.) But we were saving the world, right?
Well we didn't actually have an illusions of that. We knew we were doing good work, and we don't regret that one bit. But we made too many sacrifices, we lost our balance, we did too much, and we hurt ourselves because of it. It reminds me of people that give their whole paycheck to charity and then can't afford their water bill. Our water was never shut off, but we were sure as heck drained.
So what happened to change everything?
I realized that I didn't have to be useful to everybody to be useful at all. I recognized that I didn't have to overachieve to serve God's purpose for me. And I started not only saying NO, but I quit chronic planning, addictively volunteering, and starting resigning from everything I could resign from. It was awful and amazing all at once.
I embraced my introverted side, implemented strong boundaries, and started taking care of my family. And I should have done it a long, long time ago.
My time is valuable, we all say it, but do we realize just how much? Could an extra few minutes a day give you and your spouse time to hold hands and talk about life? Could a few minutes at night reconnect you with your kids after a rough morning?
My dear friend reminds me, "When we say YES to something, we are saying NO to something else." The time we give to the world has to come from somewhere, and that's okay. Just be sure that the time you give doesn't hurt your health, your financial stability, your marriage, or your family. The next time someone asks you to help with something, I encourage you to consider it. But don't forgot to ask yourself, "Where am I taking this time from? My down time, the quality of my paid work, my marriage, my sleep?"
No matter how great you are at planning, organizing and balancing, you aren't magic, the days are still made of finite time, and you can only do so much. Trust me. I know.
…
I have a lot to say on the matter of life balance, over volunteerism and putting yourself and your family first. Stay tuned for:
Becoming an Introvert: The Cure from Exhaustion
P.S. We don't actually think we are a "power couple." Our lives consist of sweaty/dirty work, kids' homework, running kids around like a glorified/unpaid Uber drivers and listening to romance books on Audible while pairing socks. Sometimes, we eat gelato. Speaking of, mine is melting…