Clarksville, TN – When journalist Kelsey Timmerman wanted to know where his food came from and who produced it, he began an adventure that would take him around the world.
Now he travels the globe and shares the stories of the people he meets, educating audiences and promoting dialogue about how to improve our world economy.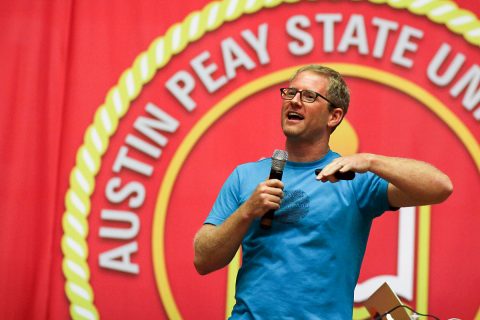 Timmerman, author of "Where Am I Eating?: An Adventure Through the Global Food Economy," will visit Austin Peay State University's Dunn Center at 7:00pm, Thursday, September 29th, as the featured speaker of the University's annual freshman common reading program, The Peay Read. The event is free and open to the public.
Timmerman's book, which all APSU freshmen are reading this fall, tells fascinating stories of the farmers and fishermen around the world who produce the food we eat, explaining what their lives are like and how our habits affect them.
The Peay Read is designed to provide a unifying experience and contribute to the shared academic experiences for freshman students. Leading up to Timmerman's visit, APSU freshmen will participate in a variety of activities related to the book, compose essays and develop creative interpretations of the work.
Partnering with international hunger relief non-profit Stop Hunger Now, 150 freshmen also participated in a related service project on the Saturday before fall classes. The meal-packaging event provided 10,000 meals in less than two hours, which were distributed to one of the 73 countries in which Stop Hunger Now works to end food insecurity.
Timmerman, also the author of the New York Times bestseller "Where Am I Wearing: A Global Tour to the Countries, Factories, and People That Make Our Clothes," spoke on campus last fall about that book, taking the audience on a journey through Asia and Latin America and sharing the lives of those he met.
For more details about this year's reading selection of The Peay Read, visit www.apsu.edu/Read or visit Peay Read on Facebook.
For more information about Timmerman's speaking event or The Peay Read, call the APSU Office of Student Affairs at 931.221.7341.