Clarksville, TN – Art can be seen as a window into the world, and Austin Peay State University art and biology double major Nicole Santoyo's recent work has done that, offering a look into a familiar world through the lenses of an unfamiliar visitor.
Santoyo was awarded a 2015-16 Presidential Research Scholarship (PRS) for her presentation, titled "Southern Epic: Addressing Contemporary Tennessean Life," a series of oil paintings addressing what she saw as a misrepresentation of the South; namely, a tendency to focus on presenting life in states like Tennessee as more idyllic and glamorous than the reality.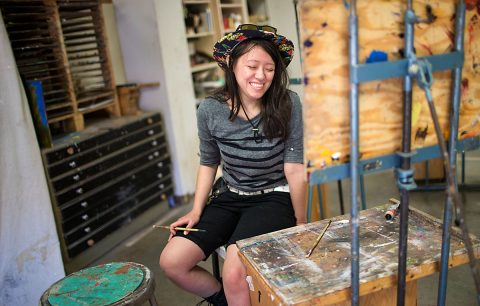 The inspiration for Santoyo's work came from, in no small part, her own upbringing. The daughter of military parents, she said that the South she was introduced to when she arrived in Tennessee was a far cry from the one she had experienced in books and film.
"I wanted to put forward a more interesting depiction of the South than what we usually see in art and other media," Santoyo said. "I wanted to create something that a young person might see and agree with – I feel like a lot of art depicting the South removes life in the 21st century from the (equation)."
Santoyo traveled throughout Middle Tennessee, taking photos of what she saw as a more realistic view of the region. From the grandeur of rocky cliffs or man-made smoke stacks dotting the landscape to a still life of a bag of fast food, Santoyo found what she saw as life in the "real" American South. Over the course of a year, Santoyo returned to the locations she selected, taking more and more reference material that she would ultimately use to create her oil paintings.
"At first, I didn't really even know what I was going to find, but I put a lot of legwork into getting photos and other pieces of inspiration that would become my paintings," Santoyo said. "I was really struck by a lot of the scenery I found in smaller places like Erin, Tennessee, and in the towns in Stewart County."
Paul Collins, associate professor of art at Austin Peay, served as Santoyo's mentor during the project, and noted that her ability to express her surroundings went far beyond even his own expectations.
"While Nicole's proposal was to document the Tennessee landscape, I think she consistently found herself reimagining the landscape as an extension of her experience in the landscape," Collins said. "As a result, the colors of what she was depicting went from 'every day' to dreamy, as she worked through her images.
"I loved her work and I loved the color and humor that Nicole brought to everything she did."
In April, Santoyo joined a small group of Austin Peay students in presenting her work at the National Council on Undergraduate Research (NCUR), held in Asheville, North Carolina. The NCUR brings together thousands of students, scholars and guests to celebrate the research, scholarship and creative work done by undergraduate students.
Santoyo said that her work raised eyebrows, as her goal of challenging the idyllic notions of life in the South garnered an expected – but welcome – reaction.
"It was really fun to present at NCUR because no one there really knew me, so they weren't afraid to challenge me and go after me for the work I was presenting," Santoyo said. "I got a lot of really intense questions from people about why I thought my work was a more accurate depiction of the South, but it was really fun to have the chance to defend my work."
The APSU Office of Undergraduate Research (OUR) connects APSU undergraduates with opportunities to conduct research and creative activity.
For more information on OUR, as well as research funding opportunities for students, visit www.apsu.edu/our