APSU Sports Information
Charleston, SC – A massive third-set run turned the tide in favor of Austin Peay State University's volleyball team as they posted a four-set victory (25-16, 22-25, 25-27, 25-17) against Elon, Saturday morning in the Bulldog Invitational at McAlister Field House.
Austin Peay (8-6) nearly saw Elon run away and hide early in the third set. The Phoenix used a pair of 4-0 runs to build a 9-2 lead and force a Govs timeout.
The Governors responded to the timeout after an Elon kill with four straight points, slashing the deficit to 9-6 and forcing an Elon timeout. That stoppage had little effect as Austin Peay came out of the timeout and posted back-to-back blocks, closing to within a point, 9-8.
Elon (12-3) would score just nine points the rest of the way as the Governors continued to piece together long runs. Austin Peay took the lead for good at 16-15 after an Elon error, but another pair of Elon miscues forced it to take its final timeout at 18-15.
Again, the stoppage couldn't stem the Govs run as they rattled off three more points to build a 21-15 lead they would not relinquish. After trailing 2-9, Austin Peay finished an impressive 23-8 run on junior Ashley Slay's kill.
Austin Peay carried that momentum into the fourth set where they rolled to a wire-to-wire victory. Elon would force six ties, but the last of those came at 12-12. The Governors scored three straight points to gain breathing room at 15-12 and slowly extended the lead. Senior Sammie Ebright and sophomore Kaylee Taff ended the match with a block.
The Governors scored 65 kills in the four-set affair while posting a .273 attack percentage. Slay led the Govs with 18 kills and a .500 attack percentage. Sophomore Cecily Gable added 17 kills at a .368 attack percentage while junior Kaitlyn Teeter chipped in a 13-kill, 14-dig performance. Sophomore setter Kristen Stucker paced the offense with her 52-assist, four-kill outing that also included 14 digs.
Elon was held to 40 kills – its fewest in a four-set match this season – and a .144 attack percentage. Sydney Busa led the Phoenix offense with 14 kills.
Inside the Box Score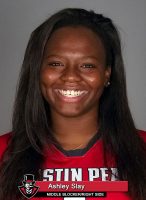 Now That's a Comeback!
Austin Peay trailed 2-9 in the third set after a pair of 4-0 Elon runs. Head coach Taylor Mott called a timeout at 2-8 and saw the effects of that huddle take root with a 5-0 run that slashed the deficit to 8-9. That was the start of a 23-8 set-ending run by the Govs that clinched the set and turned the momentum.
Slay Leads Attack
Junior Ashley Slay finished the match with a season-best 18 kills while also notching a .500 attack percentage. She was one part of a three-woman attack that paced the Govs win.
Gable Finds New Level
Sophomore Cecily Gable built on her then career-best 16-kill outing against Charleston Southern by posting a career-best 17 kills against Elon, Saturday morning. She also recorded a .368 attack percentage with just three errors in 38 attempts.
Teeter Keeps Thumpin'
Junior Kaitlyn Teeter kept her double-digit streak alive, extending it to four matches with a 13-kill effort against Elon. She also had four blocks and a service ace. Teeter has 55 kills (3.67 per set) during her four-match run.
Austin Peay concludes its four-match stay at the Bulldog Invitational with a 4:00pm (CT) contest against Savannah State.
Box Score
ELON vs. Austin Peay
| Team | | 1 | 2 | 3 | 4 | Records |
| --- | --- | --- | --- | --- | --- | --- |
| Austin Peay | (3) | 25 | 22 | 25 | 25 | 8-6 |
| ELON | (1) | 16 | 25 | 17 | 17 | 12-3 |
Match Details
Game Statistics By Set
Set
ELON
Austin Peay
K
E
TA
%
K
E
TA
%
1
9
5
39
.103
17
6
45
.244
2
14
6
31
.258
14
6
37
.216
3
9
6
32
.094
14
8
33
.182
4
8
4
30
.133
20
4
35
.457
40
21
132
.144
65
24
150
.273