APSU Sports Information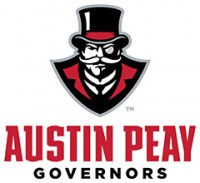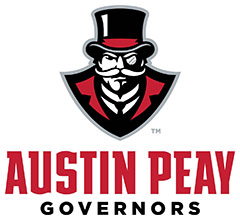 Hopkinsville, KY – Austin Peay State University Athletics, Murray State University Athletics and Heritage Bank announced Monday they have partnered to present the Battle of the Border, featuring a season-long multi-sport competition between the two Ohio Valley Conference rivals.
"It's been a long-standing rivalry between two bordering states and two excellent institutions," says John Peck, CEO of Heritage Bank. "We thought it would be fun to get into the fray on both sides of the state line and, at the same time, highlight the excellent sports histories and talented student athletes that represent Austin Peay and Murray State."
Heritage Bank is working with the two universities regarding the details of how the "battle" will take place. The first event in the competition will be the Governors-Racers September 27th volleyball contest.
"We are excited about this new series with Murray State and Heritage Bank," Austin Peay Athletics Director Ryan Ivey said. "This series dates back many years and has provided both fan bases many exciting contests, so creating a formal rivalry series seemed like a logical next step. This will only add fuel to the fire for all of us."
Complete details of the multi-sport competition will be announced at a later date, but will include matchups in all sports the two universities mutually sponsor.
"We're excited about getting involved with this celebration of Austin Peay in our community," Keith Bennett, Heritage Bank Market President of Montgomery County, said. "Heritage Bank is and always has been a community bank. This is one of those ways we can showcase our support of the many institutions in our area that serve our citizens in such an outstanding way."
"We're ready for the Battle of the Border," added Amy Futrell, Calloway County Market President. "Every day in our community we think it's important to lift up the many valued clients that we are privileged to work with. Murray State University is a tremendous community partner in Calloway County and this campaign will help us recognize that in a light-hearted way."
About HopFed Bancorp, Inc.
HopFed Bancorp, Inc. is the holding company of Heritage Bank headquartered in Hopkinsville, Kentucky. The Bank has eighteen offices in Western Kentucky and Middle Tennessee and a loan production office in Nashville, Tennessee.
The Company has two additional operating divisions including Heritage Wealth Management of Murray, Kentucky, Hopkinsville, Kentucky, Kingston Springs, Tennessee and Clarksville, Tennessee, and Heritage Bank Mortgage Services of Clarksville, Tennessee. The Bank offers a broad line of banking and financial products and services with the personalized focus of a community banking organization.
For more information about Heritage Bank and HopFed Bancorp, Inc., visit www.bankwithheritage.com.