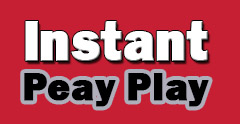 Clarksville, TN – When you get into conference play each game is important, but for Austin Peay State University's football, soccer and volleyball teams this maybe the biggest week of the year so far and one that may set the stage for the rest of the season.
For football, which is still looking for its first win of the season despite putting on a strong showing versus No. 16-ranked Eastern Illinois last Saturday, they renew their rivalry with Murray State – the last team they defeated back on October 18th, 2014 – and the only other team in the Ohio Valley Conference yet to win a game this season.
Just on its face, anytime Austin Peay and Murray State meet you can throw most metrics of their sport out because the two schools are such big rivals, but this matchup will have an interesting twist to it.
First, for Austin Peay it looks like it may have found its footing on the offensive side of the ball in putting up the most points it was scored in a game (35) since the 2013 season when they scored 34 points versus Southeast Missouri on November 16th.
Murray State on the other hand has struggled to score points this season only putting up 58 total in four games, an average of just 14.5 per contest.
Defensively, both teams have struggled this season keeping opponents for finding the end zone, with Austin Peay giving up 51.3 points per game and Murray State 36.8.
For Govs fans the hopes are the APSU Peay defense will find a way to keep the Racers offense in check this week, while continuing to find its stride on offense against a besieged defense.
For volleyball, who enter this week already having won more matches this season than last year already and currently riding a six-match win streak – their longest since winning eight in a row back during the 2010 season – their last OVC champion-winning season.
But more importantly right now, the Governors are 2-0 in conference play heading into this week's action – starting at Murray State on Tuesday, who are also undefeated in OVC play so far, and at Eastern Kentucky on Saturday.
Those are the first two of four straight OVC road contests for the Govs, who last year won only one time in 14 true road contests in 2015 – none come in OVC play.
For soccer, much like volleyball, they enter the week undefeated in OVC play having won on the road last week at Morehead State, 1-0, to open conference play and will continue with two more road OVC matchups this week at Tennessee Martin on Friday and Southeast Missouri on Sunday.
While junior Kirstin Robertson has gardener most of the headlines with eight goals – already the sixth most in a single season in school history – it will be their defense that will need to continue to shine of the Govs are to continue its success, only allowing 1.4 goals per game this season.
So any way you cut it, it's a big week for these three teams – maybe not make or break for all of them – but a big week none the less that will go a long way to seeing just how good these squads can be this season.