APSU Sports Information

Martin, TN – The Austin Peay State University football team outscored UT Martin 24-14 in the second half of Saturday's Ohio Valley Conference contest, but the Govs fell 45-31 to the Skyhawks in Graham Stadium.
The Governors scored 21 of its 31 points in the fourth quarter, and racked up 414 total yards as a unit, the most since 2012 against Tennessee Tech in the furious comeback attempt.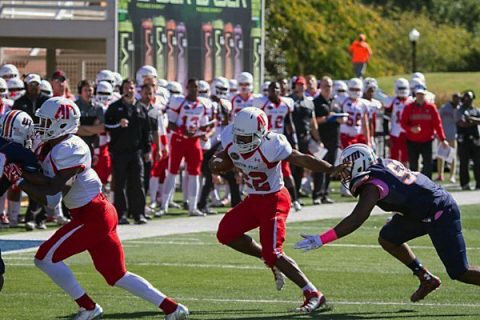 After APSU cut the score down to 14-7 late in the first quarter, the Skyhawks answered with a 4-play, 25-yard scoring drive to take a two-score lead, 21-7, with 12:59 left in the second quarter.
Despite the late comeback attempt, the Govs were never able to trim the margin down to under 14 points
Inside the Box Score
Redshirt senior quarterback Timarious Mitchell passed for 227 yards and two touchdowns, both to junior receiver Kyran Moore who had a career-high 96 yards.
Junior tailback Kendall Morris rushed for 103 yards (7.9 yards per carry) and a 33-yard touchdown, while sophomore quarterback Tommy Hays added APSU's other touchdown with a two-yard scamper into the endzone.
It was Morris' fourth 100-yard game as a Gov and first of the season. His 13 carries was the least in a 100-yard game for the back. Morris is 45 yards shy of eclipsing the career century mark. He has 955 yards after his 103 Saturday.
Junior wide receiver Jared Beard hauled in eight passes on the afternoon, pushing his career receptions mark over 100. He also ranks 10th all-time with 1,212 career yards. Beard becomes the first APSU receiver to account for two or more 100-yard receiving games in a season since 2012.
Austin Peay put together its longest drive of the season, in terms of number of plays, during the second quarter. Hays led a 13-play, 75-yard drive, capping it off with a two-yard rushing touchdown.
In his first career game, Cynterius Lyons forced a fumble which was recovered by freshman Jaison Williams.
Senior Nick Gauna attempted the first punt of his APSU career.  Gauna finished with two punts for 121 yards averaging 60.5 yards per boot. He pinned the Skyhawks inside the 20 yard line twice. He also connected on a 42-yarder, the longest of his short Gov career.
The NCAA's second leading tackler, Gunnar Scholato, finished with 13 total tackles after recording six solo and seven tackle assists.  He also added one sack. Scholato entered player averaging 12.7 tackles per game.
Shaun Whittinghill forced his first career fumble. Whittinghill added six tackles and a sack.
Jaison Williams had six tackles and recovered two fumbles. The first of which he scooped up and returned for 18 yards.
Quotes
Head Coach Will Healy on the 4th quarter scoring outburst
"I think they just made up their mind that they were going to continue competing. I was really proud of their effort in the second half. We did some things that put us in a hole early, but I'm so much more excited about the way they competed in the second half. They knew the second half would be important to show how we can respond."
Head Coach Will Healy on the standout skill players
"If we play hard on the offensive side of the ball, we have a chance to be successful. The turnovers still concern me, and we've got to get that fixed. But I thought as a whole, when they executed at a high level, they played pretty well."
Summary
1st quarter
UTM 13:10 – After APSU was forced to punt on its opening drive, the Skyhawks quickly put points on the board with a 29-yard pass from Troy Cook to Kyle Kerrick.
UTM 9:21 – On the first play of the next UTM drive, Cook hit Ben Axline for a 71-yard touchdown.
APSU 3:49 – Before the first quarter ended, the Govs crossed the goal line with Tommy Hays rushing from four yards out, capping off a 13-play drive.
2nd quarter
UTM 12:59 – UT Martin answered back after taking advantage of good field position, with Jaimiee Bowie rushing into the endzone for a two-yard touchdown.
UTM 4:54 – Cook tossed his third touchdown pass of the game, this one to Greg McKillion from four yards out.
UTM 3:13 – Following an APSU turnover, UTM's Mitch Mersman converted on a 37-yard field goal attempt.
3rd quarter
APSU 6:03 – After the Govs recovered a fumble in their own endzone, APSU led a 12-play drive which resulted in a 42-yard field goal by Nick Gauna.
UTM 3:49 – A six-play UT Martin drive resulted in a two-yard rushing touchdown by quarterback Gunnar Holcombe.
4th quarter
UTM 13:54 – Najee Ray rushed for a 19-yard touchdown, extending UT Martin's lead to 45-10.
APSU 9:56 – On the 11th play of a drive, Kendall Morris broke free for a 33-yard touchdown, his first score of 2016.
APSU 3:16 – Austin Peay kept the momentum going in the fourth quarter, with Kyran Moore recording his first of two touchdowns. This one went for 10 yards from Timarious Mitchell on a short route.
APSU 1:06 – Mitchell finished the game with a 35-yard pass to Moore, who found pay dirt for the second time.
What's Next
Austin Peay concludes its two-game road trip next Saturday, traveling to nationally ranked Jacksonville State for a 1:00pm, kickoff.
Fans can also follow all the action from the 2016-17 season on www.LetsGoPeay.com, on Twitter @LetsGoPeay & @AustinPeayFB and on Facebook at www.facebook.com/LetsGoPeay
Video