Clarksville, TN – Four shows remain for the Roxy Regional Theatre's limited engagement of Richard O'Brien's cult classic "The Rocky Horror Show" beginning with tonight's feature at 7:00pm.
What do you get when you mix a thunderstorm, a flat tire, a creepy castle, a mad scientist, a muscle hunk, an old professor and a couple of other questionable characters? A night out that is destined to be one you will never forget!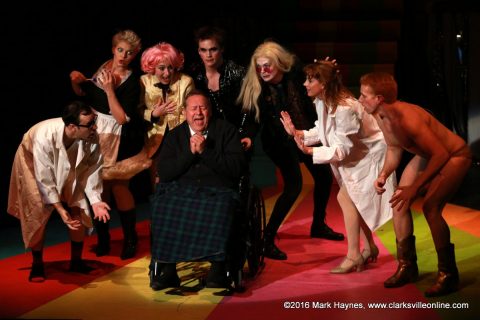 So, dig out your fishnets and sharpen those stilettos … that sweet transvestite and his motley crew are back for the fifth year in a re-imagined remount of this annual Roxy production.
Ryan Alvarado (last seen as Will in Green Day's American Idiot) and Lacey Connell (Blues in the Night and The Cat in the Hat) star as Brad Majors and his fiancee Janet Weiss, two clean-cut young people on the way to visit an old college professor.
When they run into trouble and seek help at the freaky Frankenstein mansion, little do they know that Dr. Frank N. Furter — played by a stiletto and fishnet stocking-clad Stephen Shore (who recently appeared as Johnny Cash in Million Dollar Quartet) — is in the midst of one of his maniacal experiments!
Ryan Bowie once again returns to the role of Riff Raff, alongside Leigh Martha Klinger as Magenta, Emily Rourke as Columbia, Derrick Karg as Eddie, Austin Olive as Rocky and local favorite Art Conn as Dr. Scott. Prepare to dance the "Time Warp" like never before to live music provided by Matthew McNeill on piano, Thad Wallus on guitar, Derrick Karg on bass and Bernard Lott on drums.
This production is recommended for mature audiences only. Audience participation is encouraged, and patrons are invited to dress up in their favorite Rocky Horror attire. Bags of props will also be for sale in the lobby one hour prior to every performance. The following items, however, will not be permitted: rice, confetti, glitter, squirt guns, lighters, matches, candles, silly spray string, or any other objects which may damage the theatre or injure actors and/or audience members.
"The Rocky Horror Show" runs through October 29th, playing Wednesdays and Thursdays at 7:00pm and Fridays and Saturdays at 8:00pm, with a special midnight showing on Saturday, October 29th.
"The Rocky Horror Show" is made possible in part through the generous support of Larry & Barbara Goolsby.
Tickets are $25.00 and may be reserved online at www.roxyregionaltheatre.org, by phone at 931.645.7699, or at the theatre during regular box office hours (9:00am to 2:00pm, Monday through Friday, and one hour prior to curtain).
The Roxy Regional Theatre is located at 100 Franklin Street in Clarksville, TN.
Photo Gallery