Written by Corey Adams
APSU Sports Information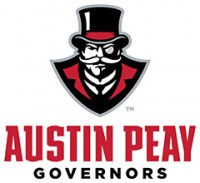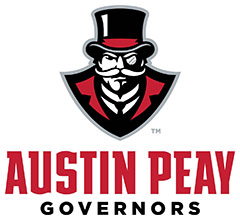 Clarksville, TN – On July 7th last summer, things were quiet here in the United States – just your typical Thursday afternoon. But overseas surrounding a diamond-shaped area in the streets of Geneva, Switzerland, it was a frenzy. It was the day France shocked the soccer world by advancing to the UEFA Euro 2016 final following a 2-0 upset over Germany.
Geneva borders France to the east side, and the locals celebrated the victory for hours, horns honking as each vehicle drove by the crowd of people. Among the gathering was an Austin Peay alum, standing in awe by the abnormality in front of him.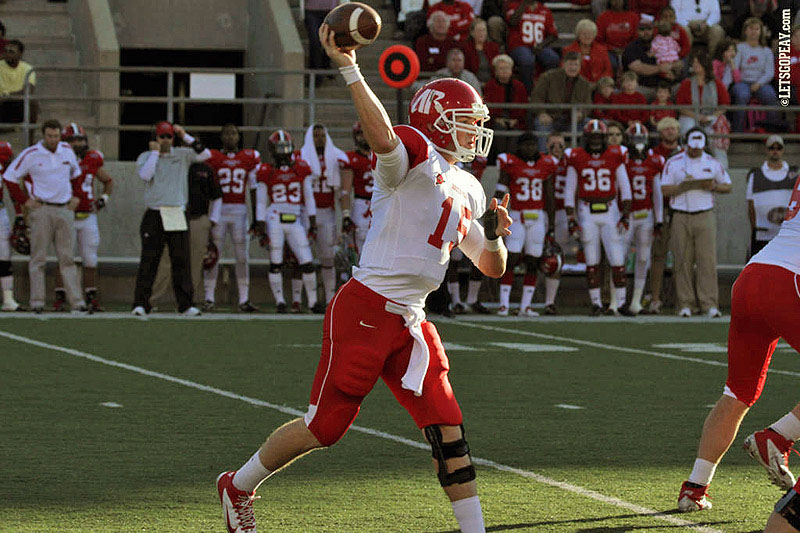 It was Jake Ryan, a name APSU fans were accustomed to hearing over the speakers at pre-renovated Fortera Stadium (known then as Governors Stadium). Ryan was simply a bystander in the mob of people on that Thursday night, having already made some history of his own that day before travelling through the city and absorbing the scenes.
"It's a completely different culture, so just about anything goes," Ryan said. "Everyone just lets it go over there. It was one of the strangest things I've ever seen as far as a celebration for a win. I saw a lot of things that seem strange to me, but were completely normal to everybody around me."
So why was a former Governor in Geneva of all places?
Hours prior to the soccer match, Ryan was on a football field – the American version – spinning a ball like his APSU days. Last winter, the quarterback received an offer to play for the Geneva Seahawks in the Switzerland American Football Association, an unexpected proposal that came out of the blue.
Ryan had been working in his hometown of Knoxville as a contractor/carpenter and real estate agent when an email came across his screen. One week later, he was speaking to the head coach of Geneva, who had found one of Ryan's tapes online. Before he knew it, Ryan was packing his bags to travel across the pond.
"I had actually been out of football since my last year at Austin Peay in 2012," Ryan said. "I had gone to some tryouts and put tapes out there, but never ended up signing a contract."
Fortunately for Ryan, the offensive system the Seahawks ran was very similar to the scheme the signal caller performed under former Austin Peay head coach Rick Christophel. In his four years under Christophel from 2008 to 2012, Ryan became one of the most prestigious passers in Governors football history. Ryan finished his collegiate career ranked second all-time in pass attempts, completions and touchdowns, while also finishing with the third-most passing yards.
In his final game as a Gov, Ryan threw for 310 yards and four touchdowns, leading to a 38-31 victory over Tennessee Tech. Despite a large gap between then and his first snap with Geneva, it didn't take Ryan long to restore his quick release he was known for at Austin Peay.
"It came back a lot faster than I thought would," Ryan said. "Of course, before I went over I trained and threw a bunch of balls, but there's a big difference between training and getting into game speed. The first scrimmage was two weeks before our first game and I didn't feel at all rusty. I had to learn some new terminology, but it was similar reads and it all fell back in line."
The real challenge for Ryan was adjusting to the culture, moving away from the countryside of Tennessee to a new environment.
"It was a definite culture shock," he said. "Coming from the south and moving to Geneva where it's a French-speaking area, it took some getting used to. I don't even know how to describe it, to be honest. The people there are very friendly and everybody welcomed me with open arms."
Ryan arrived in March, serving as one of two import, or American, players allowed by each team in the league. During the regular season, Ryan completed 66 percent of his passes for 1,642 yards and 23 touchdowns in 10 games. Similar to English soccer, the Switzerland American Football Association features three levels – A, B and C – with the Seahawks beginning last season in the B-League. When the summer ends, promotions are up for grabs for lower-tier clubs, which is the situation Geneva faced.
Ryan led the Seahawks to first place in the six-team B-League, earning an opportunity to face the lowest finishing team in the A-League. In the relegation/promotion game against Zurich, the Knoxville native was 25-for-39 with 349 yards and five touchdowns – a dominant performance which helped Geneva win 37-7.
Although he won't return to Geneva next season, Ryan proved to be an efficient passer at the professional level. He has returned to his normal routine in Knoxville, but if approached by another club, Ryan would put consideration into an offer.
Throughout his career, Ryan and the Govs dealt with tough losses, making last summer a satisfying experience for him to finish on top. Regardless of whether or not his football days are over, Ryan capped off his time on the gridiron just like his final APSU game – with a victory. But it didn't come without dealing with adversity, which is something he credits Austin Peay for helping him now.
"For the years I was there, obviously our record wasn't all that great," Ryan said. "Having to battle through that week in and week out helps you in everyday life and you realize just because you get knocked down doesn't mean you don't have to get back up and try again. When Coach Christophel was there, I had tremendous respect for him. We had a rough go at it at first, but coming into work every single day and having to forget the last one and move forward was definitely something I use now in everyday life."