Clarksville, TN – You are invited to the Tennessee USSSA's "Season Finale" event that will be played on November 5th, 2016 (Saturday Only) at Richellen Park in Clarksville, TN.
The format is straight Double Elimination and the cost is only $99.00. (8U entry fee is only $40.00)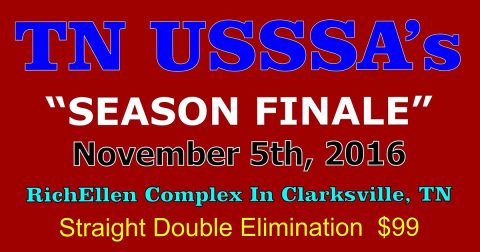 Teams will be seeded in elimination play based on when they registered for the event.
Since this is only a one day event, they are limited on the number of teams we can take.
If you are interested please go to www.TNUSSSA.com and sign up today.
The primary focus of USSSA is the development of programs that allow for teams of all skill levels to compete against one another.
USSSA believes the overall development of all players can be enhanced by the experience and fun of state and national tournament play.
Sections
Sports
Topics
Clarksville TN, RichEllen Park