Tennessee Athletics Department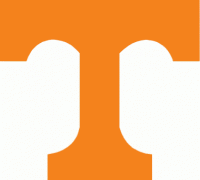 Columbia, SC – South Carolina played turnover-free football in front of a feverish home crowd while handing 18th-ranked Tennessee a 24-21 loss Saturday night at Williams-Brice Stadium.
The Volunteers (5-3, 2-3 SEC) committed three costly turnovers while absorbing their third straight loss.
The Vols return home to Neyland Stadium next weekend when they host Tennessee Tech for homecoming. Kickoff is set for 4:00pm ET on the SEC Network alternate channel. A limited number of tickets remain and can be purchased by visiting AllVols.com or calling 1.800.332.8657.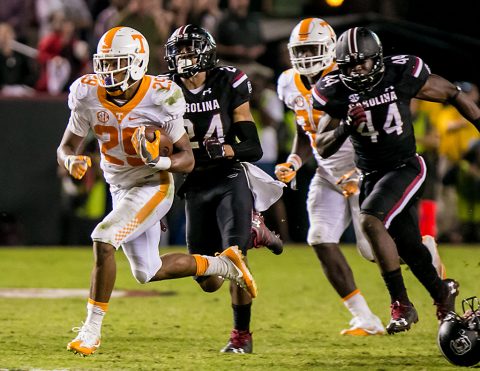 Tennessee junior defensive end
Derek Barnett
recorded three sacks Saturday to move past Leonard Little (1995-97) into second place on the school's career sacks list with (29.0).
Sophomore Vols tailback John Kelly posted career-highs for carries (14) and rushing yards (94).
All-American kick returner Evan Berry sparked some second-half momentum for Tennessee with a 100-yard kickoff return immediately following a field goal that had given the Gamecocks a 10-point lead at 17-7 late in the third quarter. It was Berry's fourth career kickoff return touchdown, tying him with Willie Gault (1979-82) for the most in UT history.
But the Vols lost a fumble at midfield with less than 12 minutes to play in the fourth–Tennessee's second turnover of the night–and South Carolina (4-4, 2-4 SEC) capitalized with a 35-yard touchdown pass from quarterback Jake Bentley to K.C. Crosby that pushed the Gamecocks' lead back to 10 points, 24-14.
Vols quarterback Joshua Dobbs then led the Big Orange on a six-play, 77-yard touchdown drive. His six-yard scoring strike to Jauan Jennings trimmed the Carolina lead to three points with seven minutes remaining. Dobbs completed 12 of 26 passes for 161 yards and one touchdown Saturday. He also carried for 27 yards.
Following Jennings' touchdown, Tennessee's defense held for a desperately needed stop, but the first play of UT's ensuing drive resulted in an interception. A last-minute drive for the Vols advanced to the Carolina 40-yard line, but Aaron Medley's potentially game-tying 58-yard field goal–an extremely low-percentage distance for any college kicker–fell short as time expired.
After receiving the opening kickoff, South Carolina strung together a 10-play scoring drive–aided by three UT penalties–that culminated in a one-yard touchdown run by running back Rico Dowdle, who totaled 127 yards on 27 carries in the game.
Tennessee put itself on the scoreboard late in the first quarter when tailback Jalen Hurd punched in a one-yard run for his third rushing touchdown of the season and the 20th of his career. That capped a nine-play, 53-yard drive for the Big Orange. Hurd, battling injury, was limited to eight carries.
Carolina reclaimed the lead early in the second quarter when Bentley hit Bryan Edwards for a 17-yard touchdown strike.
The Gamecocks' 14-7 lead held through the end of the first half, and for the sixth time in eight games this season, Tennessee found itself trailing at the midway point.
First-half offensive totals were unimpressive for either team, as South Carolina managed only 101 yards and Tennessee tallied 98. On the night, the Gamecocks outgained the Vols 325-297.
After missing UT's last five games due to injury, sophomore linebacker Darrin Kirkland Jr. started and led the Vols with eight tackles.
Bentley, making his first career start for South Carolina, finished with 167 yards and a pair of touchdowns on 15-of-20 passing.