APSU Sports Information

Clarksville, TN – Freshman running back Kentel Williams nabbed his second straight 200 plus all-purpose yard game and his fourth out of the last five games with a rushing touchdown – his score Saturday sparked a 13-0 lead for the Govs – in Austin Peay State's 49-13 loss on the road at Southeastern Conference opponent Kentucky Saturday in Commonwealth Stadium.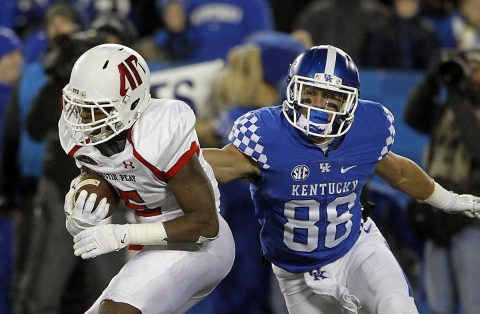 Williams, the reigning STATS Inc. FCS Freshman of the Week, accounted for 124 rushing yards and 116 kick return yards to secure his 241 all-purpose yards.
His 17-yard touchdown gave the Govs a 7-0 lead with 1:04 left in the first quarter.
The Govs 13-0 lead on UK, following a Gunnar Scholato interception return for a touchdown with 14:51 left in the second quarter, marked the second time this season APSU has led an FBS opponent. The Govs led Troy 14-13 early in the second quarter of the season opener.
Turning Point
After Scholato's 25-yard pick six that gave the Govs a 13-0 lead, Kentucky rattled off 49 unanswered points sparked by a Benny Snell Jr. 30-yard touchdown run seven plays later to control of the contest.
Inside the Box Score
Williams, 1,091 all-purpose yards, joined teammate Kyran Moore as one of two Govs to surpass 1,000 all-purpose yards on the season. Moore's 1,244 all-purpose yards is the highest all-purpose total since Ryan White accounted for 1,279 yards in 2011. White was one of two players the last time the Govs had two players over 1,000 all-purpose yards back in 2009. Terrence Holt accounted for 2,373 yards while White added 1,167 yards.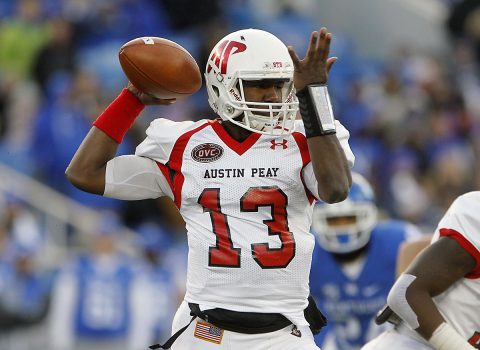 As a team, the Govs finished with 5,382 all-purpose yards setting a new APSU team single-season record surpassing the old record of 5,354 yards previously held by the 2002 squad. The 2016 team also set the all-purpose yards per game record averaging 489.3 all-purpose yards per game.
Williams became the second Gov to rush for over 100 yards in back-to-back season in 2016 with his 124 rushing yards on 25 attempts. He had 175 yards against Eastern Kentucky in the Govs' last game.
Jeremiah Mitchell led the Govs with nine tackles including eight solo stops. He was also one of three Govs with a tackle for loss in the contest.
With is interception for a score to open the second quarter, Scholato became the first Gov to score a defensive touchdown since 2014 when Damien Whitfield ran 12 yards after an interception against Southeast Missouri for a TD.
After their 281 total yards Saturday, the 2016 team became just the second team in program history to rack up 4,000 yards of total offense. They join the 1994 team that gained 4,201 yards of total offense. It is also the second best total offense per game output at 367.5 yards per game. Again trailing only the 1994 team that averaged 381.9 yards per game.
The Govs also finished the season at a 57 percent completion percentage – the fourth best mark in a single-season in program history. Their 127.5 passing efficiency rating is the third best mark in a single season.
After two touchdowns Saturday, the Govs accounted for 51 scores on the season. It's the third best in program history and only the fourth time an APSU team has accounted for over 50 touchdowns. The 1999 and 1969 teams hold the record with 58 touchdowns in a season.
Quotes
Head coach Will Healy on the Govs' effort Saturday…
"For two quarters I thought we played well and hung in with them. I know how talented they are. I watched them on film all week long and knew it would be a daunting task for us but you try to preach to these guys every single day that no matter where you are, no matter what type of stadium you're in, no matter what type of environment you're in, you just go out and go compete. You play to the best of your ability and at the end of the day you live with the statistics. I thought for two quarters we played well."
Head coach Will Healy on what's next for the Govs…
"It's been a very long year and there is no doubt that this program is going to be absolutely unbelievable and a special place to play football. I think we showed glimpses of that this year but we don't have the consistency needed to go win games, but we're going to find that. I told them we have the best strength coach in the United States of America, and we are going to be so mentally and physically tough by the time next season comes around that we'll have no choice but to win football games that we should."
Head coach Will Healy on being over 4,000 total offensive yards…
"That's the kicker. You would trade 11-0 for 2,000 yards any day of the week, but I think what those offensive coaches and those offensive players were able to do all year long is awesome. We'll continue to build on that. We found players as the year went on. Obviously we think Kentel Williams is going to be really special. JaVaughn (Craig) played really well at times and tough each and every week. (Coach) Wes (Satterfield) had a good plan, it was just if we were going to execute it well."
Freshman running back Kentel Williams on leading the team this year…
"This season, I was really just trying to play for my seniors. I wanted to come out with a win because we didn't get any this year and I knew the seniors would have really appreciated that. I really look up to the seniors, especially Rashaan Coleman. We were roommates all year and had a good connection. I always told him no matter what I am going to play for you guys because it's not about me."
Summary
1st quarter
APSU 1:04 – Williams hurdled a defender and scampered 17-yards capping off a nine-play, 63-yard scoring drive giving the Govs a 7-0 lead.
2nd quarter
APSU 14:51 – Scholato jumped in front of a Luke Wright pass and ran 25-yards for the touchdown. APSU missed the point after try but led the Wildcats 13-0.
UK 6:51 – UK got on the scoreboard following a 30-yard run by Snell that ended a seven-play, 37-yard drive for the Wildcats.
UK 3:37 – The Wildcats took a 14-13 lead three minutes later when Stephen Johnson connected with C.J. Conrad for 14 yards and the score.
UK 0:59 – UK took a 21-13 lead into the half on Johnson's second touchdown pass of the frame. This time he hit Garrett Johnson for 40 yards.
3rd quarter
UK 13:42 – Stanley Williams scored on a 25-yard touchdown run.
UK 10:25 – Benny Snell Jr. scored on the first play of a UK drive with a 48-yard touchdown run.
UK 6:30 – Jojo Kemp scored on another one-play drive for the Wildcats. Kemp ran for 40 yards and the score.
4th quarter
UK 12:51 – Kemp scored his second rushing touchdown of the game. This time he punched it in from seven yards out ending a 13-play, 72 yard UK drive.
Fans can also follow all the action from the 2016-17 season on www.LetsGoPeay.com, on Twitter @LetsGoPeay & @AustinPeayFB and on Facebook at www.facebook.com/LetsGoPeay