"Planters Bank Presents…" Film Series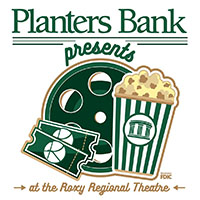 Clarksville, TN – The "Planters Bank Presents…" film series next movie will be "White Christmas". This movie will be shown this Sunday, December 4th, 2016 at the Roxy Regional Theatre at 2:00pm.
"Raiders of the Lost Ark" is about singers Bob Wallace and Phil Davis joining sister act Betty and Judy to perform a Christmas show in rural Vermont.
There, they run into General Waverly, the boys' commander in World War II, who, they learn, is having financial difficulties.
Admission to each film in the "Planters Bank Presents…" series is $5.00 (cash or check only). Tickets are on sale now at the Roxy Regional Theatre box office. Tickets will also be available at the door one hour prior to showtime.
Normal box office hours are 9:00am-2:00pm, Monday through Friday.
Popcorn and bottled water will be available as concessions.
This film series at the Roxy Regional Theatre is made possible by the generous support of Planters Bank and the Clarksville-Montgomery County Arts & Heritage Development Council.
The Roxy Regional Theatre is located at 100 Franklin Street in Clarksville, TN.
"Planters Bank Presents…" Film Series

Movie
Date
Rating
White Christmas
Dec. 4th
G
To Be Announced
Dec. 11th
–
Sections
Events
Topics
Clarksville Montgomery County Arts and Heritage Development Council, Clarksville TN, Franklin Street, Planters Bank, Planters Bank Presents, Roxy Regional Theatre, White Christmas