APSU Sports Information

Evansville, IN – Senior center Tearra Banks recorded the 11th double-double of her career in Austin Peay State University women's basketball team's 68-54 loss to Evansville, Saturday, in the Ford Center.
The Governors never trailed by more than 14 points in the contest, but after closing the gap to four early in the fourth period, Evansville went on an 8-0 run to push its lead back to double-digits.
Despite being double or triple-teamed down low, Banks managed to shoot 8-of-18 from the field for 22 points. She also grabbed a career-high 14 rebounds, while also going 6-of-6 at the free throw line.
Six of Banks' 14 rebounds were offensive boards, helping the Govs outrebound the Purple Aces 42-35 on the glass.
Game Notes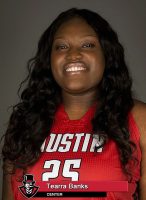 Saturday's game was the 15th Banks has led Austin Peay in scoring and 25th with a team-high in rebounds.
Redshirt sophomore Falon Baker returned to the starting lineup for the first time since November 19th, and finished second on the team in scoring with eight points.
She also extended her streak with a three-pointer to four consecutive games.
In addition to Baker earning the start, head coach David Midlick mixed up his starting five by inserting Madison Rich to the lineup.
In her first start of 2016, Rich recorded four points, three rebounds and an assist.
Junior point guard Bri Williams posted stats in multiple categories, totaling four points, seven rebounds and five assists.
Senior forward Beth Rates blocked two shots, moving her to within three of tying Joanne Arnold on the all-time chart with 99. She also added five points and three points against the Purple Aces.
Up Next for APSU

Austin Peay closes out the home portion of its nonconference schedule 7:00pm, Wednesday, hosting Kennesaw State at the Dunn Center.