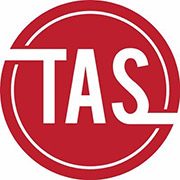 Clarksville, TN – The All State, the student-run newspaper at Austin Peay State University, earned two national awards from the College Media Association (CMA) during the organization's Fall National Media Convention in Atlanta, Georgia, on Saturday, October 29th.
Glavine Day, sports editor, earned a coveted second place national Pinnacle Award for Best Sports Page/Spread for her designs featuring the huge win by the Govs at the 2016 Ohio Valley Conference Basketball Championship.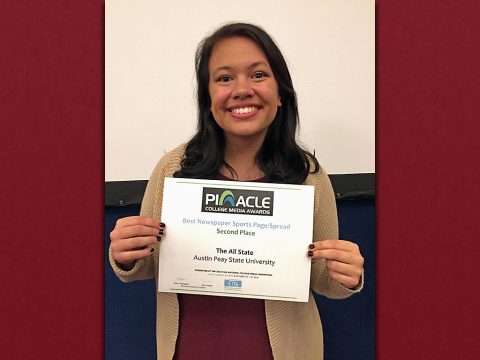 "I just started designing last year when I became sports editor, and to get second place at a national conference for something I haven't been doing very long is a great feeling," Day said.
Dani Hunter, alumna and former staff photographer, also earned a second place Pinnacle Award for Best General News Photography for a photo captured during the 2016 Spring Commencement.
"It's a great honor to be awarded for my work with The All State, and to be a part of its growing recognition as a media outlet," Hunter said.
The Pinnacle Awards are the highest honor a student journalist and media organization can earn from CMA. The 2016 Pinnacle Awards had 2,868 individual category entries from 176 colleges and universities, with 75 judges reviewing submitted work.
"I'm proud to have been a part of such a great organization during my time at APSU, and to have shared my experiences with so many talented students on the staff," Hunter said. "My time spent with The All State was vital toward the development of my professional skills and in shaping my career goals, and I am forever thankful for the opportunities provided to me."
APSU students attending the CMA Fall National Media Convention were:
Editor-in-Chief: Celeste Malone, Murfreesboro
Features Editor: Andrew Wadovick, Memphis
Multimedia Editor: Megan Endsley, Clarksville
Assistant Sports Editor: Noah Houck, Jackson
Sports Editor: Glavine Day, Nashville
Patrick Armstrong, coordinator of Student Publications and adviser to The All State, and Dr. Tammy Bryant, director of Student Affairs programs and assessment, also attended and co-presented a session during the convention titled, "Think You Know Your Staff?: Using Assessment to Enhance Student Engagement and Learning." Armstrong additionally presented a session titled, "Illustrating Hard Stories and Topics."
"Our student staff produces excellent work for The All State, and for them to be earning national awards means they were some of the best in college journalism this year," Armstrong said.
"It is wonderful to see the effort invested by our students recognized on a national and regional level, and they are due all the credit for these accomplishments," Bryant said.
Earlier this year, The All State was named #1 Best College Newspaper in the South and #3 Best College Newspaper Website at the Southeast Journalism Conference.
"After The All State took home so many SEJC awards, the southeast knows who The All State is," Day said, "and I'm really glad I got to play a big part in that."
This year, The All State is celebrating its 85th year at APSU. The newspaper publishes each Wednesday in print, which is distributed on APSU's Clarksville and Fort Campbell campuses. It also publishes regularly online at www.theallstate.org. Readers can also connect with The All State on Facebook, Instagram and Twitter.