Tennessee vs. #8 Gonzaga
Sunday, December 17th, 2016 | 3:00pm CT
Nashville, TN | Bridgestone Arena | TV: ESPN2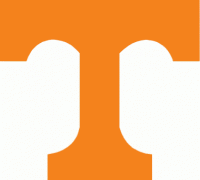 Knoxville, TN – Tennessee treats its midstate fans to a high-profile, regular-season clash against unbeaten and eighth-ranked Gonzaga Sunday at Bridgestone Arena in downtown Nashville. Billed as the The Battle on Broadway, presented by Farm Bureau Insurance of Tennessee, tip-off is slated for 3:00pm CT on ESPN2.
The Vols (6-4) journeyed west for another neutral site showdown with the Bulldogs (10-0) in Seattle last season. Gonzaga emerged with an 86-79 victory.
Tennessee is playing its fourth game in eight days — a stretch that began last Sunday when the Vols were narrowly edged by No. 7 North Carolina, 73-71, in Chapel Hill.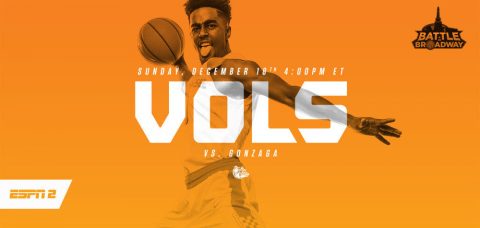 Since then, UT has won two straight over in-state foes, holding off Tennessee Tech on Tuesday night before using a big second half to defeat Lipscomb on Thursday.
Robert Hubbs III has put together the best scoring stretch of his career over the last three games, putting up 20-point performances in each. The senior is averaging a team-leading 22.7 points and 7.7 rebounds over the last three games, including a 22-point, 10-rebound double-double against Lipscomb on Thursday night. For the season, Hubbs is averaging team-highs in points (16.5) and rebounds (5.1).
Flanking Hubbs are a pair of freshmen in forward Grant Williams and Lamonte Turner. Williams pushed his season scoring average to 10.7 ppg after putting up a season-high 30 points against Lipscomb, making him the Vols' first true freshman since 2005 to score 30 in a game.
The 6-5 Williams averages 5.0 rebounds per contest and is Tennessee's top shot blocker at 1.7 bpg. Meanwhile, redshirt freshman Turner is averaging 10.1 ppg and has made a team-high 17 3-pointers.
Gonzaga comes into Sunday's contest unblemished and on nine-days' rest. The Bulldogs last played on December 10th — a 61-43 home win over Akron.
The Series
Overall: GU leads, 3-1
In Knoxville: GU leads, 1-0
In Spokane: No meetings
Neutral Sites: GU leads, 2-1
Current Streak: GU has won three straight
Last Meeting: GU won, 86-79, in Seattle, 12/19/15
Barnes vs. Gonzaga: 0-4
Barnes vs. Few: 0-3
A Win Would
Stand as Tennessee's first win over an AP top-10 opponent since February 26th, 2013, when the Vols won at No. 8 Florida, 75-70.
Give Rick Barnes 36 career head coaching wins against AP top-10 opponents.
Make the Vols 3-1 in their last four games at Bridgestone Arena. Tennessee went 2-1 on Broadway in last season's SEC Tournament.
About Gonzaga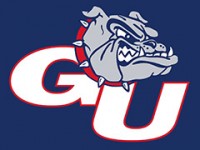 Under the direction of longtime head coach Mark Few, Gonzaga is ranked eighth in both national polls and is one of only six remaining undefeated teams in Division I hoops.
Gonzaga has appeared in the NCAA Tournament in each of Few's 17 previous seasons, and 18 times in a row overall. That marks the fourth-longest streak in the nation behind Kansas, Duke and Michigan State.
This is the first time Gonzaga has started the season 10-0 since joining the NCAA in 1958. The Bulldogs' previous best start was in 2012-13, when they started the season 9-0 before falling to Illinois.
Gonzaga ranks among the national top 25 in four statistical categories: 3-point field-goal defense (.263, fifth), field-goal percentage defense (.367, 12th), scoring margin (+19.6 ppg, 13th) and defensive rebounds per game (29.2 drpg, 21st).
In the Zags' 10 games this season, they've been led by seven different scorers.
Leading scorer and assists man Nigel Williams-Goss (13.4 ppg, .433 3FG%) is a candidate for the Wooden Award, the Naismith Trophy and the Bob Cousy Award.
All-WCC center Przemek Karnowski is back for a fifth year (he missed most of last season—including the Tennessee game—with a back injury). He is averaging 12.4 points and 6.2 rebounds while shooting .556 from the field.
The Bulldogs' 2016-17 roster also is bolstered by the additions of incoming transfers transfers Williams-Goss (Washington) and Jonathan Williams III (Missouri).
The Bulldogs boast a roster full of capable scorers, as seven different players average more than 7.5 points per game (same as the Vols).
December Gauntlet
The Volunteers are in the midst of a 13-day stretch during which they are playing five games.
And Sunday's Gonzaga game is UT's fourth contest in eight days. That includes two games away from home against AP top-10 opponents (the Vols fell at then-seventh-ranked North Carolina last Sunday).
Last Meeting With Gonzaga
Tennessee erased a 16-point halftime deficit and led for portions of the second half, but a combined 60 points from Gonzaga's Domantas Sabonis and Kyle Wiltjer proved too much for the Vols as they fell, 86-79, in "The Battle in Seattle" at KeyArena on December 19th, 2015.
The Vols trailed by as many as 19 in the first half, but needed only the first 10 minutes of the second half to regain the lead after
Devon Baulkman
buried a three with 9:43 to go.
Tennessee and Gonzaga teeter-tottered from there, but the Bulldogs broke a 75-75 deadlock with an 11-4 run to close out the game.
The Zags were led by a career-high 36 points from Sabonis and 24 points from Wiltjer. Sabonis went 12-of-16 from the floor while also pulling down a team-high 16 rebounds.
Kevin Punter Jr. had 23 to lead Tennessee—his seventh consecutive game of 20-plus points. Joining him in double figures were fellow seniors Baulkman (17) and Armani Moore (16) while Detrick Mostella added a season-best 13 points off the bench.
Robert Hubbs III, who missed the last two games after undergoing an arthroscopic procedure on his knee earlier this month, returned to action against the Zags, scoring three points in 19 minutes.
Barnes Familiar With Few
Vols head coach Rick Barnes on his relationship with Mark Few: "I think I met Mark for the first time back when I was at Clemson. It may have been the first or second year at the Top of the World tournament up in Alaska. He was the assistant coach, and they beat us. We've gotten to know each other, and he's a wonderful person and great guy. We just kind of clicked a little bit, but that was the first time I would've met him. I think that would've been my third year at Clemson … maybe in 1995 or 1996."
Hubbs, Williams Visited Together
Tennessee senior Robert Hubbs III and Gonzaga redshirt junior Johnathan Williams took their "official" recruiting visit to Tennessee together, on the weekend of the UT-Florida football game on September 15th, 2012.
Both are from West Tennessee, and they were AAU teammates in the sixth grade.
While Hubbs ended up signing with the Vols, Williams signed with Missouri and head coach Frank Haith (a former Rick Barnes assistant, now at Tulsa). Williams played two seasons with the Tigers before transferring to Gonzaga, where he sat out last season.
Memorable Vol Performances Against Gonzaga
Tennessee and Gonzaga had never met on the hardwood until the 2006-07 season, but the programs are clashing for the fifth time today.
In the "Battle in Seattle" on December 29th, 2007, six Vols scored in double figures, led by JaJuan Smith's 18 points. Sophomore forward Tyler Smith totaled 11 points, 11 rebounds and six assists. Tennessee won that game, 82-72 (one of only four times Gonzaga has lost its Battle in Seattle game).
It wasn't enough to prevent an 83-74 loss in the championship game of the Old Spice Classic, but Vols forward
Tyler Smith
did all he could by totaling 17 points, seven rebounds, and three assists vs. Gonzaga in Orlando, Florida, on November 30th, 2008. The teams would meet again in Knoxville 39 days later…
Cameron Tatum scored 14 straight points for Tennessee after Gonzaga raced out to an early 6-0 lead on Jan. 7, 2009, at Thompson-Boling Arena. Tatum finished with a then-career-high 22 points, tying his previous high of 19 points by halftime. Vols forward Wayne Chism added 15 points and 19 rebounds, but the Bulldogs triumphed in overtime, 89-79, to snap UT's 37-game home win streak.
In last year's 86-79 loss at the "Battle in Seattle" at Key Arena, Kevin Punter Jr. finished with team-highs in points (23) and assists (5) while also pulling down five rebounds.
Gonzaga Is Tennessee's Fourth Top-20 Opponent
By the time the Vols have played their 11th game this season, they will have faced four top-20 teams.
The Big Orange had good showings in losses to then-16th-ranked Wisconsin and then-13th-ranked Oregon (overtime) last month in Maui. Tennessee led for more than 30 minutes at seventh-ranked North Carolina on December 11th before falling 73-71.
None of those four games against top-20 opponents will come at home. Three are neutral-site showdowns, and the UNC clash was a true road game for the Vols.
Hubbs' Efficiency
Through 10 games, senior Robert Hubbs III ranks fourth in the SEC in field-goal percentage, shooting 55.6 percent (65-of-117) for the season.
Of the five players currently comprising the league's top five in field-goal percentage, only Hubbs—listed at 6-5—stands below 6-8.
Hubbs is also just one of two players in the top five to have attempted more than 100 field goals (117) and to average more than 15.0 points per game (16.5) this season. Georgia's Yante Maten (70-of-124; 20.6 ppg) is the other.
Hubbs' impressive shooting efficiency has come while handling the bulk of Tennessee's offensive load. Of those players ranked in the SEC's top-five for field-goal percentage, only Hubbs and Maten lead their respective teams in field-goal attempts.
Aiding Hubbs' cause on the scoring front has been his near-perfect free-throw percentage. Hubbs leads the SEC with a 94.4 percent clip at the line and has missed just two freebies (34-of-36) this season.
20-Point Games By Freshmen
Tennessee has had four different freshmen score at least 20 points in a game this season and it took only 10 games for that to happen.
Media Relations staffers are researching the last time a Tennessee team had four different freshmen produce 20-point outings in season. A partial check of the archives shows it has not been done through the early 1980s (it's likely to never have happened).
Up Next for UT Vols
Tennessee remains in-state for its final contest before the Christmas holiday, traveling to Johnson City to face East Tennessee on Thursday, December 22nd at 6:00pm CT.
The Vols are 15-2 all-time against the Buccaneers — including a 76-67 win in Knoxville last season — but have not made the trip to Johnson City since December of 1963.
From there, UT opens SEC play at Texas A&M on December 29th. In terms of calendar date, the contest in College Station is the earliest conference opener for the Vols since 1989.