Clarksville, TN – A mid-morning traffic stop resulted in a slightly injured police officer and an aggravated assault warrant in the Kroger's Grocery parking lot at 1489 Madison Street.
District 2 Patrol Officer David McLaughlin stopped a black four-door Honda Accord at 11:08am because of outstanding arrest warrants. Eric Todd Jackson initially stopped for the officer, but refused to get out of his car.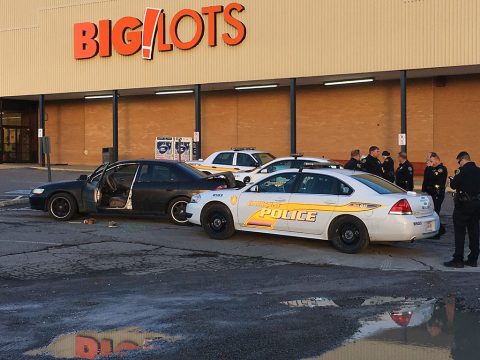 McLaughlin stated in the police report, "As I was attempting to pull Mr. Jackson out of the vehicle, he placed the vehicle in 'drive', hitting me as he fled the scene, with the inside of the door frame striking my right elbow and forearm."
McLaughlin's injuries did not require medical treatment.
Jackson, who has over thirty booking mug shots on file at the Montgomery County Jail since 2007, has previous arrests for drug offenses, patronizing prostitution, burglary, parole violation, evading arrest, driving on a revoked license, probation violations, public intoxication, resisting a stop, forgery, domestic assault, vandalism, and contempt of court.
Jackson is currently wanted in Stewart County for Forgery and Theft of Services. New charges stemming from today's incident are Felony Evading, Driving on a Revoked License, and Aggravated Assault. This morning's charges have a combined bond of $51,000.00.
Jackson is described as a 5'9", 165 lb., 46-year-old white male with brown hair and green eyes. The Tennessee license plate number of the 1999 four-door black Honda Accord is 3D12A6.
Shortly after 3:30pm, District 2 patrol officers located Eric Todd Jackson sitting in his car in the Big Lots parking lot on Riverside Drive. Jackson placed his car in reverse and attempted to leave when officers approached, but his escape route was quickly blocked by several patrol cars.
Officers had to smash the driver side window of the Accord with a collapsible baton and forcibly remove Jackson from the car to make the arrest.
Jackson, who appeared to be under the influence of one or more controlled substances, was transported to Tennova Healthcare for treatment of minor injuries incurred during the arrest.
No additional officers were injured.
Items described as drug paraphernalia were discovered during an inventory of the suspect vehicle. Additional criminal charges stemming from the Big Lots incident are pending.