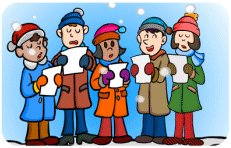 Clarksville, TN – The annual Downtown for the Holidays event was held on Saturday, December 3rd, 2016 by Clarksville-Montgomery County. The event started at 4:00pm.
The festivities included local school groups Christmas caroling on the Montgomery County Court House steps. There was hot chocolate available inside the Montgomery County Courts Complex.
The West Creek High School Honor Choir sang some non traditional songs in acapella as well as "Christmas Bells Are Ringing", "Jesus Is His Name" and others.
The choirs finished singing just before the start of the Clarksville Montgomery County Annual Lighted Christmas Parade.