Tennessee Athletics Department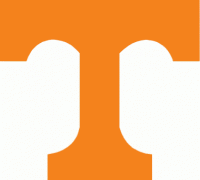 Nashville, TN – Joshua Dobbs racked up 409 yards of total offense and four touchdowns, Derek Barnett set a new Tennessee sack record and the No. 21 Tennessee Volunteers took a 38-24 win over the Nebraska Cornhuskers in the 2016 Franklin American Mortgage Music City Bowl on Friday at Nissan Stadium.
Tennessee (9-4) led from start to finish and posted 521 yards of offense thanks to Dobbs' outstanding career finale. Dobbs, who was named MVP of the game, ran for 118 yards and three scores on 11 carries and finished 23-of-38, throwing for 291 yards and one touchdown.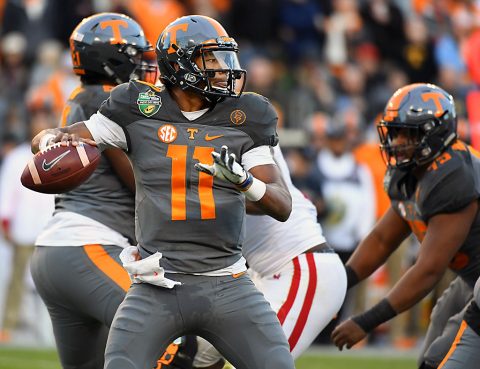 With the win over Nebraska (9-4), UT has won three-straight bowl games for the first time since the 1994, 1995 and 1996 seasons.
The Vols, who wore their Smokey Grey uniforms to honor those affected by the wildfires in Gatlinburg, also limited Nebraska to 61 rushing yards, which is the second-fewest UT has allowed on the year. The 61 rushing yards were the fewest Tennessee has given up to a team from a Power Five conference since holding Vanderbilt to 25 yards on Nov. 22, 2008.
The Cornhuskers scored two touchdowns early in the fourth quarter to rally to within 31-24 with 10:02 left, but could not overcome a UT pass rush that finished with four sacks and seven quarterback hurries or stop the Vols' balanced offensive attack (291 passing yards, 230 rushing yards).
John Kelly ran for 70 yards and one touchdown on 15 carries. Alvin Kamara had seven carries for 31 yards and a game-high seven catches for 46 yards.
Josh Malone had five receptions for 120 yards and one touchdown. His 972 receiving yards on the year rank 10th in school history and his 11 touchdown grabs tied for the third-most by a Vol.
Jauan Jennings added six catches for 59 yards.
Barnett, playing in his hometown, had six tackles, one sack, two pass breakups and four quarterback hurries on a day when several UT defenders made big plays. LaTroy Lewis, Cortez McDowell and Darrin Kirkland Jr. had seven tackles each. Seniors Lewis and Corey Vereen recorded sacks in their final game for the Orange and White. Senior defensive back Malik Forman forced a fumble in the third quarter and recovered it. Rashaan Gaulden had five stops, two pass breakups and a forced fumble. Jonathan Kongbo also recorded the first sack of his career.
Nebraska senior quarterback Ryker Fyfe, who started in place of injured four-year starter Tommy Armstrong, finished 17-of-37 for 243 yards and two touchdowns, both of which were caught by Brandon Reilly. Reilly had four catches for 98 yards.
After a scoreless first quarter, John Kelly gave the Vols the lead early in the second quarter when he turned the corner and sprinted down the left sideline for a 28-yard touchdown run to cap a four-play, 73-yard drive.
On Tennessee's next possession, Dobbs extended Tennessee's lead to 14-0 when he ran up the middle for a 10-yard touchdown. That score was Dobbs' 10th rushing touchdown of the season. He joined Florida's Tim Tebow and Mississippi State's Dak Prescott as the only three quarterbacks in SEC history to record 15 passing touchdowns and 10 rushing touchdowns in multiple seasons.
Nebraska got on the scoreboard 1:36 remaining in the first half when Cornhuskers quarterback Fyfe connected with Brandon Reilly down the right sideline for a 38-yard touchdown.
Tennessee answered with a nine-play, 75-yard drive that ended with a two-yard touchdown run by Dobbs.
The Vols took a 21-7 lead into halftime. UT had 308 yards in the first half to Nebraska's 118. Tennessee gained 145 yards on the ground through two quarters, averaging 7.6 yards per carry.
Tennessee placekicker Aaron Medley hit a season-long 46-yard field goal with 5:52 remaining in the third quarter to push UT's lead to 24-7.
Nebraska responded with a five-play, 75-yard drive. Reilly made an acrobatic nine-yard touchdown catch, landing one foot in the far left corner of the end zone for his second score of the game.
Dobbs set a new Tennessee single-season record for quarterbacks by rushing for his 12th touchdown of the season and third of the day with a three-yard score that completed a nine-play, 76-yard drive early in the fourth quarter. After the extra point, UT's lead grew to 31-14.
Nebraska's Drew Brown made a 45-yard field goal on the Cornhuskers' next possession to cut the Vols' lead to two scores with 12:06 remaining.
Tyler Byrd fumbled on the following kickoff and Nebraska capitalized with a nine-yard touchdown run by Fyfe that cut UT's lead to 31-24 with 10:02 to go.
Dobbs sealed the win when he hit Malone for a 59-yard touchdown strike with 8:45 remaining. The Tennessee defense shut down the Cornhuskers in each of their next three possessions.
With under four minutes to go, Barnett sacked Fyfe for a nine-yard loss on 3rd-and-26 from the UT 43 to set the new Tennessee career sacks record at 33.0. The stadium erupted once the sack was announced and the crowd sang Barnett's name as his teammates and coaches congratulated him on the achievement.
Video