Tennessee (9-4/1-0 SEC) at Vanderbilt (10-4/0-1 SEC)
Thursday, January 5th, 2017 | 8:00pm CT
Nashville, TN | Memorial Gym | TV: SEC Network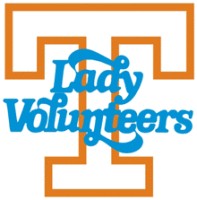 Nashville, TN – Tennessee will look to extend its five-game winning streak, as the Lady Vols head to the state capital to face Vanderbilt at 8:00pm CT (9:00pm ET) on Thursday at Memorial Gym.
The game will be televised on the SEC Network, and also will be available online through WatchESPN. Visit WatchESPN.com or download the WatchESPN app to view the game on a computer or mobile device. Paul Sunderland (PxP), Gail Goestenkors (Analyst) and Steffi Sorensen (Reporter) will describe the action between the Lady Vols and the Commodores.
Fans can also tune into their local Lady Vol Network station to catch Mickey Dearstone describing the action.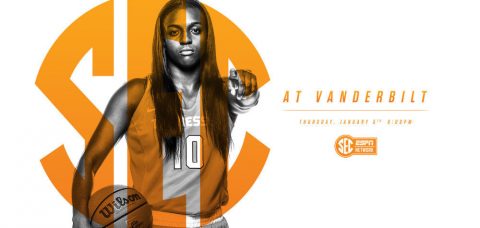 RV/RV Tennessee vs. Vanderbilt
RV/RV Tennessee (9-4/1-0 SEC) hits the road after five straight games at home, taking on Vanderbilt (10-4/0-1 SEC) in Nashville on Thursday night.
The Lady Vols and Commodores will meet for the 77th time in series history, tipping at 8:02pm CT (9:02pm ET) in Memorial Gym.
After opening league play with a 72-65 home victory over #17/23 Kentucky on Sunday afternoon, UT will try to win its sixth-straight contest and snap a three-game road losing skid this season.
Tennessee has not won six straight games since taking eight in a row from January 22nd to February 19th, 2015.
VU, meanwhile, will attempt to end a three-game losing streak after dropping a 77-72 decision at Texas A&M on Monday night in the conference opener.
Vandy is 6-1 at home this season, with its biggest win a 77-73 triumph over (now) #8 Duke on November 20th and its only setback at Memorial Gym a 78-66 loss to (now) #8 Louisville on December 21st.
The Lady Vols are 2-3 on the road in 2016-17, falling at Penn State (now 10-4), #18 Virginia Tech (now 14-0) and at #15 Texas (now 8-4), with wins at James Madison and East Tennessee State.
Broadcast Information
Paul Sunderland (PxP), Gail Goestenkors (Analyst) and Steffi Sorensen (Reporter) will describe the action for the Tennessee-Vanderbilt broadcast on the SEC Network.
All of the games included in the SEC Network (SEC Network, SECN+) package and the ESPN package (ESPN, ESPN2, ESPNU) will be available through WatchESPN, accessible online at WatchESPN.com, on smartphones and tablets via the WatchESPN app, and streamed on televisions through Amazon Fire TV, Apple TV, Chromecast, Roku, Xbox 360 or Xbox One to fans who receive their video subscriptions from an affiliated provider.
Mickey Dearstone will handle the call for the IMG College/Lady Vol Network radio/online broadcast. Airtime is 30 minutes prior to tip-off on network stations.
Tennessee in SEC Play
UT is 368-58 in SEC regular-season games, winning 18 championships through the years and capturing SEC tourney titles on 17 occasions.
During the Holly Warlick era, Tennessee is 51-14 in league games, making Warlick the top-ranked active SEC coach in terms of winning percentage in league play at .785.
South Carolina's Dawn Staley is the next coach behind Warlick at .661, followed by UK's Matthew Mitchell at .645.
In only her fifth season as a head coach, Warlick already ranks fifth in total league wins among active SEC coaches.
The Lady Vols are 25-9 in the first conference road game of a season, having won six in a row and 17 of their last 18.
Tennessee is 3-2 in SEC road debuts vs. Vandy, defeating the Commodores, 57-49, on January 5th, 2015, the last time the first league away game was in Nashville.
Trio of Juniors Leading the Way
Tennessee has been paced by its "Big Three" junior trio of 6-foot-6 center Mercedes Russell, 6-1 guard Diamond DeShields and 6-2 forward Jaime Nared.
Those three players are the team's top scorers and rebounders through 13 games, and they have combined for 16 double-doubles and 33 double-figure scoring games (including eight 20+ efforts).
A preseason All-SEC Second Team pick, Mercedes Russell is having a breakout season.
Her stats include a team-leading 16.8 ppg. and 9.3 rpg. while hitting 57 percent on field goals and 67 percent on free throws.
Russell has notched double-doubles in eight of her first 13 games this season to give her 19 for her career.
In her first two seasons of play, Russell had only four games of 15 or more points. She has 15 or more points in 11 of 13 games this season.
Nared is off to the best start of her career, as well, averaging 15.4 points and 7.9 rebounds while shooting 90 percent from the free throw line and is second on the team with 15 steals.
She rang up double-doubles in four consecutive games, tallying 18 points and 11 rebounds vs. Penn State, 11/10 vs. Virginia Tech, 16/10 vs. Tennessee State and 19/11 vs. Baylor before it came to an end with a career-high 22 points and only five rebounds vs. Texas. She added more D-Ds vs. Appalachian State (15/10) and Troy (21/14).
Nared already has seven of the top scoring efforts of her career in her first 13 games this season with a career-high 22 vs. Texas, 21 vs. Troy, 20 vs. UNCW, 19 vs. James Madison and Baylor, and 18 vs. Penn State and Kentucky.
Nared's four-game streak of doubles-doubles marked the first time since early in 2015-16 she had strung together consecutive games scoring in double figures since doing so vs. Stetson (12), Missouri (13) and Florida (10). Her streak of scoring in double figures is now at 10 games.
Nared's father, Greg, played basketball at Maryland and is now the director of camps and community basketball with the NBA's Dallas Mavericks.
A preseason All-SEC First Team selection, DeShields is a do-it-all player who is averaging 15.8 points per game to rank second on the team. She ranks second in assists (3.1) and blocks (1.5) and is fourth in rebounding (6.2) and steals (1.0). She is shooting 41% from the field, 36% on threes and 78% from the charity stripe.
DeShields has scored 15 or more points in seven of her past nine games and has recorded a pair of double-doubles to match her total of a year ago.
She has dished out five or more assists in four games thus far.
DeShields is the daughter of retired Major League Baseball standout Delino DeShields and brother of current Texas Rangers outfielder Delino DeShields Jr.
Big Three Eyeing Mark of Three Meeks
Only one time in Tennessee women's basketball history has there been a season end with three Lady Vols averaging 15.0 points per game.
The 1997-98 campaign featured the "Three Meeks," including junior Chamique Holdsclaw (23.5) and freshmen Tamika Catchings (18.2) and Semeka Randall (15.9), accomplishing that feat.
This season, the junior trio of Mercedes Russell (16.8), Diamond DeShields (15.8) and Jaime Nared (15.4) will attempt to become the second group to hit that mark.
Key Lady Vol Numbers
Tennessee now stands 2-2 vs. ranked teams this season after winning its last two games vs. Top 25 opponents.
The Big Orange defeated #10/10 Stanford and #17/23 Kentucky at home, while previously losing to #4/4 Baylor at home and falling at #17/17 Texas.
UT is receiving votes in both polls (enough to rank 26th in the Associated Press poll and tie for 30th in the USA TODAY Coaches Poll this week).
The Lady Vols are 15th (third among SEC schools) in the current NCAA Women's Basketball RPI, with valuable wins over No. 12 Stanford and No. 17 Kentucky and notable losses to No. 11 Baylor, No. 22 Virginia Tech and No. 33 Texas.
UT is among seven teams who won their first SEC game this season and sits in a tie for first place in the league.
Tennessee has played the nation's eighth-toughest schedule, according to the NCAA, after facing a slate ranked toughest in the nation a year ago.
UT stands at No. 2 in the nation in average home attendance, drawing 8,614 per contest.
Stats Behind the Streak
During Tennessee's five-game winning streak, the Lady Vols are averaging 84.6 points and allowing 64.0 for a margin of +20.6.
Three players (Diamond DeShields, 17.3; Mercedes Russell, 17.2; and Jaime Nared, 17.0) are averaging 17.0+ points per game.
Alexa Middleton is scoring in double figures at 12.4 per contest and is a team-leading 9-of-18 beyond the arc.
UT is shooting .486 on field goals and .419 from three-point land.
Mercedes Russell (.632) and Schaquilla Nunn (.619) are both hitting above 60 percent from the field.
The Lady Vols are hitting .742 from the charity stripe, led by Jaime Nared at 22-of-23.
UT has 90 assists vs. 69 turnovers during the span, led by Jordan Reynolds' 34/10 ledger.
Statistically Speaking
Tennessee is averaging 82.5 points per game at home and shooting .460 from the field and .425 from the three-point line.
On the road, UT is averaging 70.0 and shooting .409 (FG) and .293 (3FG), but keep in mind the Lady Vols haven't been on the road since their narrow loss to Texas on December 11th.
UT has held opponents to .397 percent or less from the field since the Texas game.
Over the past four contests, opponents haven't shot better than .229 from three-point land.
Tennessee has 12 20-point scoring games spread over five different players this season, with Alexa Middleton, Mercedes Russell and Jaime Nared leading the way with three each.
Mercedes Russell was one of three SEC players (Ronni Williams, UF; Katie Frerking, AU) to hit 10 field goals in her first SEC game this season. Russell finished with 22 points vs. Kentucky.
Tennessee has allowed 70 or more points only four times this season and has held five teams under 60.
The Lady Vols are 5-0 this season when they record seven or more steals in a game.
Tennessee is 8-0 when it outscores or ties its opponents in fast-break points.
In the Lady Vols' losses, they tallied four, six, four and four fast break points vs. Penn State, Virginia Tech, Baylor and Texas, respectively. UT was held to only eight fast break points (to UK's 17) and managed to generate enough out of its half-court offense to get the job done vs. the Wildcats.
After beating Troy, 110-84, and UNCW, 90-54, Tennessee now has six wins of 25 points or more this season and three of 30 or more. In 2015-16, UT had only five wins with a margin of 25+ and three victories of 30+ all year long.
Over the past three games, three Lady Vols are averaging 20+ points, including Diamond DeShields (21.0), Mercedes Russell (20.0) and Jaime Nared (20.0).
When she plays 15 or more minutes per game, which she has done four times, Schaquilla Nunn is averaging 10.3 points and 9.3 rebounds and shooting .591 from the field.
Tennessee has won the battle of the boards in nine of 13 games, including the last three and four of the past five. The Lady Vols' margin for the year is +6.5.
The Series vs. Vanderbilt
Tennessee holds a 67-9 all-time record vs. Vanderbilt, dating back to January 18th, 1976.
The Lady Vols are a perfect 31-0 in Knoxville, 26-7 vs. the Commodores in Nashville, and 10-2 at neutral sites, with the latter being all postseason contests.
In the last 10 meetings in Nashville, Tennessee has a 7-3 record vs. Vandy, but has won two straight and three of its last four at Memorial Gymnasium.
These squads have been to overtime on one occasion, with Tennessee seizing a 92-79 decision in Nashville on January 19th, 1997.
Holly Warlick is 7-1 as head coach vs. Vanderbilt, including 4-0 in Knoxville and 3-1 in Nashville.
Tennessee senior Jordan Reynolds has a 5-1 record vs. Vanderbilt, including 3-0 in Knoxville and 2-1 in Nashville. Senior transfer Schaquilla Nunn is making her first visit to Memorial Gym as a Lady Vol.
Strangely enough, UT has held Vandy to 49 points in three of the past four meetings and to 51 in their last meeting for an average of 49.5 ppg. over the past four contests.
The first of those games came two seasons ago at Memorial Gym in Nashville, as the #7/9 Lady Vols held off Vanderbilt, 57-49, on January 5th, 2015.
That 49-point total by Vandy was the lowest scored by the Commodores in Nashville in the UT series since VU tallied 27 in a 96-27 loss in the first meeting on January 18th, 1976.
UT's victorious 57-point sum in the 2015 meeting in Nashville, meanwhile, was the lowest ever by the Lady Vols in the series.
Warlick had a hand as a player in the #4 Lady Vols' 77-53 road victory over Vanderbilt on November 21st, 1979.
The senior point guard dished out a game-high 10 assists and added four points and a rebound with only one turnover in 27 minutes of action in her only career contest vs. the Commodores.
About the Vanderbilt Commodores
Vanderbilt returns nine letter winners and three starters from last season's squad, which finished 18-14 overall and 5-11 in the SEC (tied for 11th).
The top returning player is 5-11 sophomore guard Christa Reed, who is the team's second-leading scorer at 11.3 per contest.
Junior guard Rachel Bell is the scoring leader at 12.4 per game, while senior forward Marqu'es Webb is the squad's top rebounder with a 9.0 average.
A quintet of freshmen is contributing to the squad, as well, led by Kayla Overbeck (9.4 ppg., 6.7 rpg.) and Erin Whalen (8.8 ppg.).
Vanderbilt is led by first-year head coach Stephanie White, who departed the WNBA's Indiana Fever to take over the Commodore program after Melanie Balcomb turned over the reins.
An outstanding player at Purdue from 1995-99, UT was fortunate to forge a 3-1 record vs. the Boilermakers during her time there.
The lone victory over UT, however, came in 1998-99, when White and Purdue beat the Lady Vols, 78-68, on November 15th in the State Farm Hall of Fame Tipoff Classic in West Lafayette, IN. The Boilermakers would go on to win an NCAA Championship that season.
Vanderbilt associate head coach Carolyn Peck, who is a native of Jefferson City, Tennessee, and a Vandy graduate, was an assistant at Tennessee from 1993-95. She had been serving as a TV color analyst before Stephanie White asked her to join her staff in Nashville after being hired in summer 2016.
Peck was White's head coach at Purdue from 1997-99, claiming the NCAA title in her second season at PU's head coach.
A Look Back to Last Season
Tennessee won, 58-49, in Knoxville on January 21st and claimed a 69-51 victory in Nashville on February 11th.
At the game in Nashville, five Lady Vols scored in double figures, including a season-high 18 points from Jaime Nared. Diamond DeShields scored 12 and added nine rebounds. Mercedes Russell posted 11 points and grabbed eight boards. Te'a Cooper scored 11, while Bashaara Graves added 10 points.
Tennessee dominated inside, outscoring Vanderbilt 42-20 in the paint. The Lady Vols out-rebounded the Commodores by a 36-24 margin to win the game by 18.
The Lady Vols held Vanderbilt's leading scorer Christa Reed to only three points on 1-9 shooting from the field. Reed had been averaging 11.0 points per game entering this contest.
Earlier in the season, in Knoxville, No. 18/22 Tennessee relied on its stingy defense and a strong third quarter to remain undefeated at home against Vanderbilt, winning by nine and improving to 31-0 all-time in Knoxville against the Commodores.
The Lady Vols had to withstand a late fourth-quarter rally from their in-state rival after leading by as many as 13 points in the final frame.
Freshman guard Te'a Cooper led Tennessee with 13 points and Tennessee forced the Commodores into 23 turnovers while holding them to just 37 percent shooting for the game.
Vandy's Rebekah Dahlman led all scorers on the night with 17 points on 5-of-9 shooting, including three makes from behind the arc.