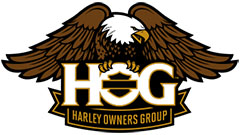 Clarksville, TN – Now that 2016 is behind us, the Tuckessee Chapter of the Harley Owner's group, or H.O.G, is hosting it's annual Open House, Saturday night beginning at 6:00pm. This meeting is open to anyone who is interested in becoming a member of the Tuckessee H.O.G Chapter.
If you haven't been involved with your local HOG chapter before, this is an excellent opportunity to meet & ride with like-minded people. So if anyone you know is curious what this "HOG thing" is all about, invite them out, everyone is welcome! Social hour begins at 6:00pm in the HOG House behind Appleton's Harley -Davidson, located on the 41-A by-pass.
Food and drink will be provided, with chapter members providing Hamburgers, Brats, cold drinks and more. There is no charge to attend the event. If you are interested in becoming a part of an active, dynamic motorcycle family, then you are welcome to join at the open house. You must be a member of the Harley-Davidson National H.O.G organization to join the local group.
The Harley Owners Group® (H.O.G.) is an organization founded and sponsored by Harley-Davidson® Motor Company. The group was established to offer motorcycling benefits and services to Harley-Davidson enthusiasts throughout the world, and to develop a close relationship between the Harley-Davidson rider, the Harley-Davidson dealer and Harley-Davidson Motor Company.
The opportunity to start an independent chapter affiliated with the Harley Owners Group is offered to bring members together for the common interest of promoting motorcycling activities. The goal of each chapter is to generate an increased level of enthusiasm for riding Harley-Davidson motorcycles. The (H.O.G.) Chapter, (is) a family-oriented and a nonpolitical organization.