Tennessee (8-8, 1-3 SEC) at Vanderbilt (8-8, 2-2 SEC)
Saturday, January 14th, 2017 | 7:30pm CT
Nashville, TN | Memorial Gymnasium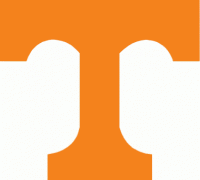 Knoxville, TN – Tennessee heads west to Nashville this weekend to face off with Vanderbilt Saturday at 7:30pm CT on the SEC Network.
The Vols (8-8, 1-3 SEC) and Commodores (8-8, 2-2 SEC) are meeting for the 192nd time on Saturday night. The in-state foes met three times last season — Vanderbilt claimed both regular season meetings while Tennessee came away with a thrilling win over the 'Dores in the SEC Tournament.
Saturday marks the second of at least three games in the Music City this season for the Vols.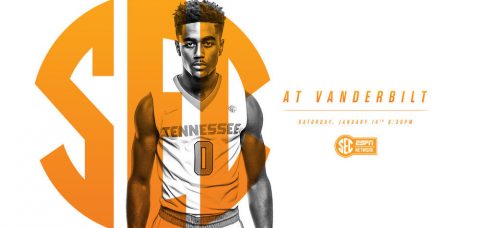 In December, UT faced eighth-ranked Gonzaga at Bridgestone Arena — the site of the 2017 SEC Men's Basketball Tournament, which runs March 8th-12th.
Both Tennessee and Vanderbilt enter Saturday's game looking to bounce back from losses earlier in the week. UT fell at home to South Carolina, 70-60, while Vandy dropped an 87-81 decision to No. 6 Kentucky.
The Series
Overall: UT leads, 117-74
In Knoxville: UT leads, 70-19
In Nashville: VU leads, 54-39
Neutral Sites: UT leads, 8-1
Current Streak: Tennessee has won one
Last Meeting: UT won, 67-65, in Nashville (SECT), 3/10/16
Rick Barnes vs. Vanderbilt: 2-2
Rick Barnes vs. Bryce Drew: No meetings
About the Vanderbilt Commodores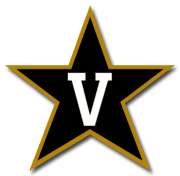 Under the direction of first-year head coach Bryce Drew, Vanderbilt owns an 8-8 (2-2 SEC) record heading into the back half of its 2016-17 regular-season schedule.
The Commodores are 6-2 at home this season, with their only losses at Memorial Gym coming to Bucknell in late November and to sixth-ranked Kentucky on Tuesday night.
Vanderbilt is the top 3-point shooting team in the SEC, boasting a .394 3-point percentage. The Commodores' 409 attempts from distance this season rank second in the league behind Auburn's 410.
Leading Vandy's 3-point barrage is junior Riley LaChance (10.2 ppg). The guard from Brookfield, Wisconsin, leads the SEC in 3-point field goal percentage, shooting at a .557 (34-of-61) clip from beyond the arc. Matthew Fisher-Davis—the Commodores' leading scorer at 17.0 ppg—is also among the conference's leaders in 3-point shooting, as his .402 (47-of-117) mark ranks seventh.
Fisher-Davis is averaging 20.5 ppg in SEC games and is coming off a 19-point performance against Kentucky Tuesday. He scored a career-best 33 points on 11-of-20 shooting (seven 3-pointers) against Auburn on January 4th.
Senior Luke Kornet (12.9 ppg) and junior Jeff Roberson (10.3 ppg) round out Vanderbilt's double-digit scorers. Roberson is also the team's top rebounder at 7.3 rpg (fourth in the SEC) while Kornet—who stands 7-1—averages 6.4 rpg.
In SEC play, Kornet is ranked in the top 10 of seven different categories: rebounding, 3-point percentage, made threes, blocked shots, offensive rebounds, defensive rebounds and minutes played.
The quartet of Fisher-Davis, Kornet, LaChance and Roberson have combined to play more than 61 percent of Vanderbilt's total minutes this season. Of those four, only Kornet (29.3 mpg) averages fewer than 30.0 mpg.
Vols Successful on State Circuit
Since the start of the 2005-06 season, the Vols have beaten every in-state Division I team. Those schools include Austin Peay (1-1), Belmont (3-0), Chattanooga (4-1), East Tennessee State (7-0), Lipscomb (2-0), Memphis (4-5), Middle Tennessee (5-1), Tennessee Tech (4-0), Tennessee State (3-0), UT Martin (2-0) and Vanderbilt (15-9).
During that span, UT is 50-17 (.746) against in-state Division I teams.
Memorable Vol Performances Against Vanderbilt
Josh Richardson (now with the Miami Heat) helped the Vols rally from two separate double-digit deficits in the second half by scoring 15 of his game-high 22 points in the final stanza to lift Tennessee to a 67-61 comeback win over Vanderbilt in the 2015 SEC Tournament in Nashville on March 12th, 2015. In what was the second-to-last game of his career, Richardson also led all players with three steals and was a perfect 6-for-6 from the free-throw line.
Dyron Nix (17 points, 18 rebounds) and Doug Roth (10 points, 10 rebounds) recorded double-doubles and Tennessee beat Vanderbilt 79-69 in overtime in Stokely Athletics Center February 4th, 1987, in Knoxville.
Dick Johnston made six free throws in double-overtime to lift UT to a 77-72 win over the Dores in Nashville on February 2nd, 1970. Jimmy England led the charge with 27 points, and Bobby Croft had an 18-16 double-double.
Danny Schultz holds UT's single-game scoring record against Vanderbilt, as he dropped 35 points on the Dores on February 15th, 1964, in Nashville.
Tennessee All-Century Team member Paul "Lefty" Walther (1948-49) never lost to Vanderbilt during his career as a Vol. The Covington, Kentucky, native helped lead Tennessee to a 4-0 record over the Dores, beating Vandy by an average of 9.8 points.
Last Meeting With Vanderbilt
Tennessee dominated the first half and withstood a late Vanderbilt surge to defeat the Commodores, 67-65, on March 10th, 2016, at Bridgestone Arena and advance to the SEC Tournament quarterfinals.
For a moment, No. 5 seed Vanderbilt looked like it had sent the game into overtime. However, Wade Baldwin IV's layup with time expiring was waived off after replays showed the ball still rolling off his fingers with zeros on the clock.
Detrick Mostella led Vols with 18 points to go with six rebounds and three assists and scored 12 in the second half. Armani Moore had 14 points, five boards and three assists. Admiral Schofield finished with 12 points and seven boards. Derek Reese collected a game-high 10 rebounds and scored seven points.
The Vols led by as many as 14 points in the second half before a Vandy rally made it a two-possession game for the final 10 minutes. A dunk by Damian Jones with 2:43 left gave Vanderbilt a slim 59-58 lead. Robert Hubbs III put UT back in front for good on the Vols' next possession when he hit a 3-pointer following an offensive rebound.
Tennessee took a 34-22 lead into halftime. Moore and Schofield led the team with eight points each in the first half.
The Vols played arguably their best first-half defense of the season, limiting Vanderbilt's offensive opportunities. Vandy's 22 first-half points were the fewest UT allowed in any half last season. The Commodores shot just 31.3 percent from the floor in the first half and went 1-of-13 from 3-point range.
Vanderbilt committed 10 turnovers in the first half and missed its last seven shots before halftime.
Baldwin led VU with 13 points. Matthew Fisher-Davis and Jones had 12 points each.
Tennessee Playing at Least 20 Games In-State this Season
The Vols will play at least 20 games in the state of Tennessee this season (that includes at least one game at the SEC Tournament in Nashville).
Saturday's Vanderbilt game in Nashville will be UT's 11th in-state game of the year. The Vols are 6-4 in The Volunteer State thus far.
Williams Getting To The Line
Freshman forward Grant Williams has scored 34 percent of his total points this season at the free-throw line. His 58 makes are a team-high.
Williams' 24 made free throws in SEC play represent exactly half of his total scoring in conference games.
His aptitude at getting to the foul line has given him an impressive average of 1.67 points per field-goal attempt overall and 1.92 points per field-goal attempt in SEC play.
6-5 Williams Among SEC's Top Shot-Blockers
Standing just 6-5, Tennessee true freshman Grant Williams ranks tied for first in the SEC in blocked shots during league play, with an average of 2.8 bpg.
Williams' 2.0 bpg overall this season ranks tied for fourth among SEC players.
The Charlotte, North Carolina, native tied UT's single-game record with six blocks at Texas A&M on December 29th, and he has recorded at least three blocks in seven different games so far this season.
Williams' wingspan exceeds 6-10.
Up Next for UT Vols
The Vols remain on the road and with a quick turnaround, traveling to face Ole Miss on Tuesday night (8:00pm CT, SEC Network).
Tennessee holds a 25-24 record in Oxford and has not played there since 2015.