APSU Sports Information

Knoxville, TN – After opening their 2017 season Sunday morning, the Austin Peay men's tennis dropped a 7-0 match on the road at the University of Tennessee Monday afternoon.
The Vols swept through the doubles point taking the No. 3 and No. 2 matches 6-3 before picking up the 6-4 at No. 1 doubles.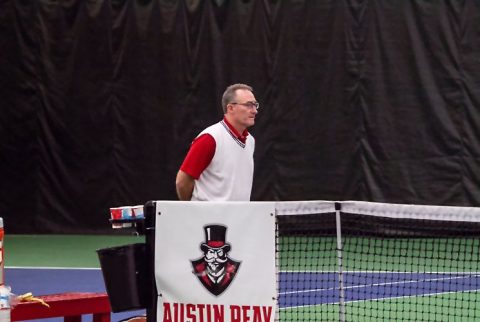 Tennessee took all five of the six singles matches in straight sets except at the No. 5 spot.
Alex Kartsonis fell 6-3 in the first set but came back and earned the 7-5 set to win to force the point to be decided in the tiebreak. Unfortunately, UT's Luca Wiedenmann won the tiebreaker 10-4 to kept the point for the Vols.
The Govs will take the next 11 days off before returning to action on January 27th at home against George Washington.
UT 7, APSU 0
Singles
1. Timo Stodder (TENN) def. Manuel Montenegro (APSU) 6-1, 6-3 2. Luis Valero (TENN) def. Almantas Ozelis (APSU) 6-1, 6-2
3. Srdjan Jakovljevic (TENN) def. Aaron Jumonville (APSU) 6-2, 6-1 4. Scott Jones (TENN) def. Aleh Drobysh (APSU) 6-0, 6-2
5. Luca Wiedenmann (TENN) def. Alex Kartsonis (APSU) 6-3, 5-7, 1-0 (10-4) 6. Sunay Bhat (TENN) def. James Mitchell (APSU) 6-2, 6-1
Doubles
1. #26 Jack Schipanski/Luis Valero (TENN) def. Aleh Drobysh/Almantas Ozelis (APSU) 6-4
2. #47 Scott Jones/Timo Stodder (TENN) def. Aaron Jumonville/Manuel Montenegro (APSU) 6-3 3. Srdjan Jakovljevic/Luca Wiedenmann (TENN) def. Chad Woodhamp/Alex Kartsonis (APSU) 6-3
Order of finish: Doubles (3,2,1); Singles (4,1,6,3,2)