Tennessee Athletics Department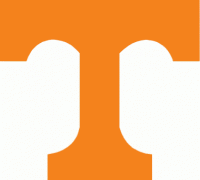 Oxford, MS – Despite three players finishing in double figures the Tennessee Men's Basketball team suffered an 80-69 setback at the hands of Ole Miss on Tuesday.
After trailing most of the first half, the Vols (9-9, 2-4 SEC) shot out of the gate in the second and raced to a 52-39 lead after Admiral Schofield converted a layup along the baseline at the 15-minute mark. Very little went right for UT following that basket as the homestanding Rebels (11-7, 2-4 SEC) outscored UT 41-17 over the final 15 minutes.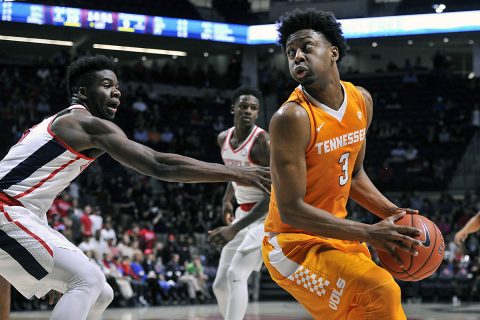 Tennessee was led by 15 points apiece from Robert Hubbs and
Lamonte Turner
.
Jordan Bowden
finished with 14 points. Hubbs paced the Vols on the glass with seven rebounds as UT was out-rebounded 50-42 on the night.
Ole Miss used a 13-2 run to regain the lead at 57-56 with 9:23 to play, but Tennessee kept the game within striking distance. The Vols pulled within one at 68-67 when Lew Evans knocked down two freebies, but the Rebels responded with a 10-0 spurt to seal the outcome.
The game was slowed by a combined 66 free throws attempted by the two teams. Neither team flourished at the line as Tennessee shot 13-of-24 (.542) at the line and Ole Miss was 27-of-42 (.643). A total of 55 fouls were whistled in the game, including 28 in the first half which left seven Vols entering intermission with two fouls.
The Vols trailed by as many as 11 points before halftime and trailed for a total of 15:31 in the opening 20 minutes. Tennessee ended the half on a 7-0 run that included two field goals by Hubbs and a Turner triple just before the halftime buzzer, to enter intermission tied, 38-38. UT then scored 14 of the first 15 points after halftime, marking a 21-1 run on either side of the break.
Hubbs led the Vols with 13 points in the opening half. Bowden scored all 12 of his first-half points–highlighted by three 3-pointers–in the final eight minutes of the period.
Tuesday's game marked Tennessee's first appearance in Ole Miss's one-year-old hoops facility, The Pavilion at Ole Miss. Attendance was 6,085.
Up Next
After back-to-back road games, Tennessee now returns home to Knoxville for a three-game homestand that begins Saturday against Mississippi State. Tipoff vs. the Bulldogs is set for 5:00pm CT on the SEC Network.
Video Highlights