NR/RV Tennessee Lady Vols (11-6/2-2 SEC) vs. Auburn Tigers (13-5/3-1 SEC)
Thursday, January 19th, 2017 | 6:02pm CT
Auburn, AL | Auburn Arena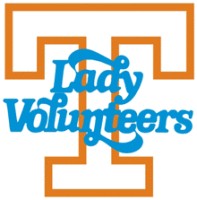 Auburn, AL – Tennessee will look to carry the momentum following a big win over #6 Notre Dame into its match-up against Auburn on Thursday at 6:00pm CT (7:00pm ET) at Auburn Arena.
The game will be carried on SECN+ and will be available online through WatchESPN. Visit WatchESPN.com or download the WatchESPN app to view the game on a computer or mobile device. Brit Bowen (PxP) and Joe Ciampi (Analyst) will describe the action between the Lady Vols and the Tigers.
Fans can also tune into their local Lady Vol Network station to catch Mickey Dearstone describing the action.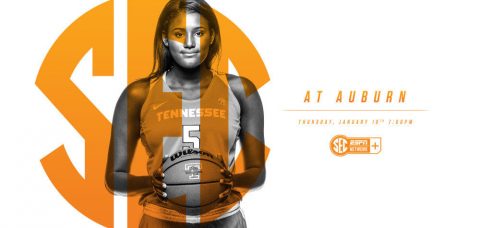 Tennessee vs. Auburn
NR/RV Tennessee (11-6, 2-2 SEC) returns to conference play and heads on the road for a Thursday match-up at Auburn (13-5, 3-1 SEC). Tip is slated for 6:02pm CT (7:02pm ET) at Auburn Arena. This is the 52nd meeting between UT and AU.
UT heads to The Plains, buoyed by its biggest win of the season, a 71-69 upset of #6/6 Notre Dame in Knoxville on Monday night. The victory enabled UT to beat its highest ranked opponent since toppling a #4/5 South Carolina squad, 73-61, in Knoxville on March 2nd, 2014.
After beginning the season 4-4, the Lady Vols have won seven of their past nine contests.
UT will try to get back on the winning track in league play after losing its last two SEC games, 74-64, at home to #4/4 Mississippi State and 67-62 at Ole Miss last Thursday night.
The Lady Vols enter with a 3-4 road mark.
Auburn has won four of its past five, including back-to-back league games vs. Ole Miss (83-60) and at Vanderbilt (64-59).
The Tigers will have had seven days between games, as they last played on January 12th in Nashville.
Auburn is 5-2 at home this season, with its losses coming to #5/5 South Carolina (73-47) on January 5th and to (now) #17/16 Virginia Tech (92-87 OT) on December 18th.
With the Lady Vols having played Notre Dame on Monday, plus a road trip to Auburn and another home game on Sunday vs. Vanderbilt, this will be a three-game week for Tennessee.
Broadcast Information
Brit Bowen (PxP) and Joe Ciampi (Analyst) will describe the action for the Tennessee-Auburn online broadcast on SECN+.
All of the games included in the SEC Network (SEC Network, SECN+) package and the ESPN package (ESPN, ESPN2, ESPNU) will be available through WatchESPN, accessible online at WatchESPN.com, on smartphones and tablets via the WatchESPN app, and streamed on televisions through Amazon Fire TV, Apple TV, Chromecast, Roku, Xbox 360 or Xbox One to fans who receive their video subscriptions from affiliated providers.
Mickey Dearstone will handle the call for the IMG College/Lady Vol Network radio/online broadcast. Airtime is 30 minutes prior to tip-off on network stations.
We Back Pat Week
The Tennessee-Notre Dame game was part of the Southeastern Conference's observance of We Back Pat Week. There were several PSAs, poignant videos and check presentations that took place Monday night.
The Lady Vols' visit to Auburn on Thursday also will be a We Back Pat game.
Fans at all SEC schools are encouraged to show their support for the dream of the late legendary Lady Vol basketball coach Pat Summitt to defeat Alzheimer's disease.
Please visit www.patsummitt.org to learn more about The Pat Summitt Foundation and to make a donation.
Foundation's Role
Pat Summitt and son Tyler founded The Pat Summitt Foundation in 2011 to help find a cure for Alzheimer's so that one day no family has to hear that a loved one has been diagnosed with Alzheimer's disease.
The Pat Summitt Foundation is fighting Alzheimer's disease with a comprehensive approach, awarding grants to organizations that provide:
Research to treat, prevent, cure and, ultimately, eradicate this disease.
Education and awareness of Alzheimer's, its onset and treatment.
Support services to patients, their families and caregivers.
The Pat Summitt Clinic, which opened in December 2016 at the University of Tennessee Medical Center in Knoxville, will greatly improve access to healthcare services for families and patients facing Alzheimer's disease in a facility created to advance Alzheimer's research, caregiver support and, ultimately, lead to a cure.
Tennessee Notes vs. Auburn
Tennessee holds a 41-10 all-time record vs. Auburn, dating back to February 9th, 1980.
The Lady Vols are 20-2 in games held in Knoxville, 13-4 in games played at Auburn and 8-4 at neutral sites.
UT is 0-1 vs. AU on January 19th, with the #2/2 Lady Vols falling 70-65 at the #10/10 Tigers in 1991.
UT is 2-0 vs. AU in overtime games, winning extra-frame contests in Knoxville vs. the Tigers in 1996 and 2004.
The Lady Vols have won nine in a row in the series and 25 of the past 27, with the last loss coming on March 7th, 2009, when the Tigers handled UT, 78-58, in the semifinals of the SEC tourney in North Little Rock, AR.
Tennessee has won in its last five trips to The Plains and in 14 of its past 15 visits.
UT, ranked No. 6 at the time, defeated the Tigers, 54-42, at Auburn Arena in the Lady Vols' last visit there on January 15th, 2015.
The last Tigers win on their home court in the series came on Jan. 25, 2009, as #6/5 Auburn defeated #10/12 Tennessee, 82-68.
#6/5 AU also defeated the #19/24 Lady Vols later that season in the 2009 SEC Tournament semifinals, 78-58, in North Little Rock, AR, on March 7th, 2009.
Auburn has managed to claim only two victories in Knoxville, with those coming on January 9th, 1988 (#2/3 AU def. #4/4 UT, 71-68) and February 8th, 1986 (#11/13 AU def. #10/12 UT, 66-60), meaning it's been 29 years and 17-straight UT home wins since it last occurred.
Tennessee has limited Auburn to 66 points or fewer the last nine times they've met and to 61 or less on seven of those occasions, including 52 last season and 42 in 2015.
Chamique Holdsclaw scored a career-high 39 points vs. the Tigers on February 14th, 1998, marking the sixth-highest point total in Lady Vol history.
Tennessee and Auburn played for the 1989 NCAA Championship in Tacoma, WA, with the Lady Vols prevailing, 76-60.
Tennessee also beat the Tigers in regional finals in 1987 and 1991 en route to NCAA Final Fours they would end up winning.
UT and AU four times played for SEC Tournament titles from 1985 to 1990, with the Lady Vols winning three of those.
About the Auburn Tigers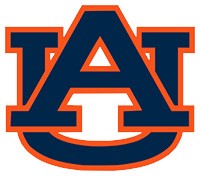 Auburn returned four starters and eight letterwinners from a squad that produced a 20-13 record a year ago, including a tie for seventh in the league with Tennessee.
AU made the NCAA Tournament, advancing to the second round before falling to Baylor, 84-52, in Waco.
The Tigers were picked to finish sixth by the coaches and seventh by the media this year in the SEC preseason polls.
Brandy Montgomery (15.8 ppg., 44 3Gs), a 5-10 senior guard, was a preseason All-SEC second team pick by the coaches.
Katie Frerking, a 6-1 senior guard/forward, paces the Tigers in scoring (16.1) and rebounding (7.1) as well as in steals with 54.
Auburn is directed by Terri Williams-Flournoy, who has an 84-66 record in her fifth season (2012-present) at the school. She is 227-170 overall in her 13th year as a head coach, with a previous stop at Georgetown (2004-12).
Redshirt junior guard Tiffany Lewis began her career at Clemson before transferring to Auburn. She played at the same high school at UT's Alexa Middleton (Murfreesboro, Tennessee/Riverdale H.S.).
Lewis' older sister, Tory, played softball at Tennessee and currently is the team's graduate assistant manager.
Tennessee in SEC Play
UT is 369-60 in SEC regular-season games, winning 18 championships through the years and capturing SEC tourney titles on 17 occasions.
During the Holly Warlick era, Tennessee is 52-16 in league games, making Warlick the top-ranked active SEC coach in terms of winning percentage in league play at .765.
South Carolina's Dawn Staley is the next coach behind Warlick at .672, followed by UK's Matthew Mitchell at .648.
In only her fifth season as a head coach, Warlick already ranks fifth in total league wins among active SEC coaches.
Last Meeting Between These Teams
Diamond DeShields scored 25 points, Bashaara Graves scored 18 points and Mercedes Russell posted a double-double to lead No. 12/11 Tennessee to a 79-52 win over Auburn on January 10th, 2016, at Thompson-Boling Arena.
The Lady Vols (11-4, 2-1 SEC) dominated the paint, outscoring Auburn (11-5, 1-2 SEC), 48-26, down low. UT also enjoyed a 42-30 rebounding edge.
DeShields enjoyed a great all-around game, going 9-of-14 from the floor and contributing seven assists and six rebounds.
Graves scored 14 of her 18 points in the second half and shot an efficient 8-of-9 on the day.
Russell scored 10 points and hauled down 13 rebounds to post her fifth double-double on the year.
Tennessee's bench contributed 22 points in the win. Alexa Middleton had eight points, four rebounds and two assists off the bench and Jordan Reynolds had four points, four rebounds and five assists.
Tra'Cee Tanner paced Auburn with 12 points and 10 rebounds. Brandy Montgomery had 11 points and Janiah McKay had 10 points.
Last Meeting at Auburn
Sixth-ranked Tennessee won its 11th consecutive game on January 10th, 2015, with a 54-42 victory at Auburn. The 11-game winning streak is the longest by Tennessee since a 25-game streak at the end of the 2010-11 season.
The Lady Vols improved to 15-2 overall and remained perfect in the SEC at 5-0. The Tigers fell to 9-9 and stayed winless in the league at 0-5.
Sophomore Jordan Reynolds and junior Andraya Carter each scored 11 points to lead Tennessee's well-balanced scoring attack. Cierra Burdick added 10 points, her fourth game in a row in double figures. Isabelle Harrison had nine points and a game-high 11 rebounds.
Auburn was led by Tra'Cee Tanner's 14 points. The Tigers were held to just 32.2 percent from the floor on 19-of-59 shooting.
Auburn Rallies for Road Win at Vandy
Auburn overcame a 17-point third-quarter deficit to pick up its third SEC win of the season, defeating Vanderbilt 64-59 in SEC women's basketball action on January 12th at Memorial Gym in Nashville.
Three players scored in double-figures for the Tigers (13-5, 3-1 SEC), led by 18 from senior Katie Frerking and 16 from senior Brandy Montgomery.
It was the second comeback of 17 points for Auburn this season; the Tigers also rallied from a 17-point deficit in the fourth quarter against Indiana on November 27th.
The Commodores (10-7, 0-4 SEC) led 45-28 with 5:27 to play in the third quarter, shooting 66.7 percent in the period. But aided by three straight Vandy turnovers, Auburn went on a 12-0 run to cut the deficit to as few as five points, ending the third quarter down seven at 49-42.
Auburn forced Vanderbilt into 24 turnovers, converting those into 24 points — 17 of those points coming on 10 second-half turnovers. Frerking had three steals, while McKay, Erica Sanders and Jessica Jones had two apiece.
McKay finished with 13 points. Frerking led Auburn with eight rebounds while Jessica Jones had seven.
Lady Vols Upset #6/6 Notre Dame, 71-69
Jaime Nared drained a game-winning 15-foot jumper with 10.3 seconds remaining, Diamond DeShields scored 20 points and Tennessee clawed its way back to seize a 71-69 upset win over No. 6/6 Notre Dame on Monday at Thompson-Boling Arena in UT's We Back Pat game.
After trailing for most of the game, the Lady Vols (11-6) flipped the script on Notre Dame (16-3) in an exciting fourth quarter. The win was Tennessee's first against Notre Dame since March 30th, 2008, ending a six-game losing streak to the Fighting Irish.
DeShields' high-energy play at both ends of the floor to start the fourth turned a nine point deficit (62-53) into a two-point deficit (62-60). DeShields had eight points, five rebounds, one block and one assist in the fourth quarter to spark the Tennessee comeback while Notre Dame was just 3-for-14 in the fourth.
DeShields was 7-of-17 from the floor and had six boards and four assists to go with her game-high 20 points. Russell had 13 points and four rebounds. Jordan Reynolds had 12 points on an efficient 6-of-10 shooting night to go with seven rebounds and four assists. Nared added 12 points, five boards and two assists.
Marina Mabrey led Notre Dame with 17 points and her 3-point shooting (3-for-5) and mid-range shooting kept the Fighting Irish in control for most of the contest. Arike Ogunbowale added 14 points.
Super Comeback
Tennessee trailed by as much as 15 points in the Notre Dame game, marking the Lady Vols' largest comeback since rallying from a 17-point deficit against Gonzaga on March 28th, 2015, in the NCAA Sweet Sixteen to defeat the Bulldogs, 73-69, in overtime.
The win over the Irish also marked UT's second comeback victory over a ranked opponent this season. On December 18th, the Lady Vols rallied from an 11-point, first-quarter deficit to beat No. 10 Stanford, 59-51.
Beating Two Top-10 Teams This Year
On December 18th, Tennessee picked up its first win over a top-10 team this season, taking down #10/10 Stanford, 59-51, in Knoxville.
UT followed suit on January 16th, upsetting #6/6 Notre Dame, 71-69, in Knoxville.
Tennessee came from 15-down in the second quarter (14-down in the third) vs. the Irish to record their biggest comeback since bouncing back from 17-down to overtake Gonzaga in the NCAA Sweet 16 on March 28th, 2015.
The Lady Vols also came from 11 down to beat the Stanford, previously Tennessee's biggest comeback victory since the Gonzaga game.
UT had wins over two top-10 teams a year ago, including vs. #9/9 Ohio State (78-62) on March 25 in the NCAA Sweet 16 and at #7/7 Oregon State (53-50) on December 19th. The win over Ohio State also was when UT was unranked.
The Stanford win was UT's first victory over a top-10 team at home since taking down #10/10 Kentucky (73-72) on February 15th, 2015.
Notre Dame was the highest ranked opponent UT has beaten since toppling #4/5 South Carolina in Knoxville on March 2nd, 2014.
Holly has 11 wins over top-10 teams to her credit.
Coming Up on the Schedule
The Lady Vols will be back home on Sunday at 4:00pm CT (ESPN2), as Vanderbilt comes to town for the second meeting this season. UT won the first contest, 70-57, in Nashville on January 5th.
Following that in-state battle, the Lady Vols play their next two on the road – at Florida on Jan. 27 and #5/5 South Carolina on January 30th.
The Live Pink, Bleed Orange game, which brings awareness to the fight against breast cancer, will be held on February 2nd, as UT plays host to LSU at 6:00pm CT.
Auburn welcomes Kentucky to town on Sunday at 2:00pm CT in its next contest.
Key Lady Vol Facts
Tennessee now stands 3-3 vs. ranked teams this season after winning three of its last four games vs. Top 25 opponents (two of whom were top 10).
Tennessee has played the nation's third-toughest schedule, according to the NCAA, after facing a slate ranked toughest in the nation a year ago.
The Big Orange defeated #6/6 Notre Dame, #10/10 Stanford and #17/23 Kentucky at home, and fell to #4/4 Mississippi State at home, while previously losing to #4/4 Baylor at home and falling at #17/17 Texas.
The Lady Vols are 15th (third among SEC schools) in the current NCAA Women's Basketball RPI, with valuable wins over top RPI teams No. 2 Notre Dame, No. 11 Stanford and No. 19 Kentucky. UT has notable losses to #4 Mississippi State, No. 10 Baylor, No. 14 Texas and No. 20 Virginia Tech.
Tennessee is still receiving votes in the USA TODAY Coaches Poll this week, good for 29th.
UT dropped completely out of the AP Poll after the Ole Miss loss (January 16th poll). The Lady Vols had been receiving votes in the previous four polling periods.
Statistically Speaking
Tennessee has won the battle of the boards in 13 of 17 games, including the last seven and eight of the past nine. The Lady Vols' margin for the year is +6.0.
UT was only the second team this season to out-rebound Mississippi State, doing so with a 48-39 advantage.
Diamond DeShields (18.8), Mercedes Russell (16.5) and Jaime Nared (16.3) all are averaging more than 16 points per game in league play, with Russell making it a double-double with a 10.5 average on the boards.
Currently, Mercedes Russell has the ninth-highest single-season rebounding average in UT history. at 9.3 rpg.
Jaime Nared currently has the third-highest single-season free throw percentage in UT history at .910 and is fifth in career average thus far at .822.
In all games, Tennessee is averaging 75.1 points per game and shooting .424 from the field and .343 from the three-point line.
At home, UT is averaging 79.5 and shooting .447 (FG) and .391 (3FG). On the road, the Lady Vols are scoring 68.9 ppg. and shooting .392 from the field and .284 on threes. UT hits .760 of its free throws on the road and .727 at home.
UT has held seven of nine opponents (Ole Miss shot .400/Notre Dame .483) since the Texas game to .397 percent or less from the field.
The 71 points Tennessee scored in the win over Notre Dame were the second-most allowed by the Irish all season. The 69 points UT held the ND to were the fewest scored by Muffet's McGraw's squad in the series since 2008.
Tennessee has 15 20-point scoring games spread over five different players this season, with Jaime Nared and Diamond DeShields leading the way with four, followed by three each from Alexa Middleton and Mercedes Russell.
UT has allowed 70 or more points only five times this season and has held six teams under 60.
The Lady Vols are 6-1 this season when they record seven or more steals in a game.
Tennessee is 9-1 when it outscores or ties its opponents in fast-break points.
In the Lady Vols' losses, they tallied four, six, four, four, six and eight fast break points vs. Penn State, Virginia Tech, Baylor, Texas, Mississippi State and Ole Miss, respectively.
UT was held to only eight fast break points (to UK's 17) and lost the battle 10 to 4 to Notre Dame, but managed to generate enough out of its half-court offense to get the job done vs. the Wildcats and Fighting Irish.
UT held Vandy without a fast-break point on Jan. 5, marking the only time this season UT had held an opponent without any.
Tennessee also forced Vanderbilt into 21 turnovers, tying the season high for a Lady Vol opponent (with Tennessee State).
After beating Troy, 110-84, and UNCW, 90-54, Tennessee now has six wins of 25 points or more this season and three of 30 or more. In 2015-16, UT had only five wins with a margin of 25+ and three victories of 30+ all year long.
When she plays 15 or more minutes per game, which she has done four times, Schaquilla Nunn is averaging 10.3 points and 9.3 rebounds and shooting .591 from the field.
Tennessee's bench scoring over the past five games has included six in wins over Kentucky and Vanderbilt, four and two, respectively, in losses vs. Mississippi State and Ole Miss, and eight vs. Notre Dame.
UT is 5-6 in games in which it surrenders double-figure totals in points off turnovers. It is 8-0 when it surrenders 10 or fewer.