APSU Sports Information

Clarksville, TN – Alex Kartsonis claimed the Austin Peay State University men's tennis team's only point in a 6-1 loss to George Washington Friday afternoon at the APSU indoor tennis courts.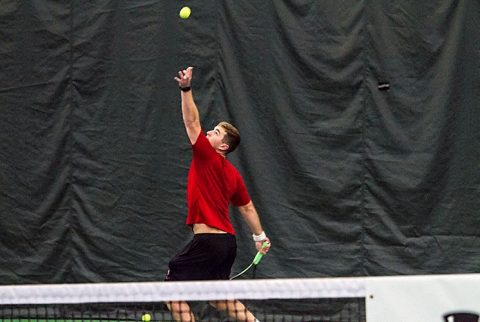 APSU's
Almantas Ozelis
and
Aleh Drobysh
won their No. 1 doubles match 6-3 over Fernando Sala and Christos Hadjigeorgiou, but GW went on to take the final two doubles matches to earn the point.
Kartsonis picked up the Govs' lone point when he defeated Jakub Behun, 7-6, 6-4, at his No. 5 singles spot.
The Govs will travel to Chattanooga Saturday to take on the Mocs for their next match.
Box Score
George Washington 6, APSU 1
Singles
1. Chris Reynolds (GW) def. Manuel Montenegro (APSU) 6-4, 6-7 (5-7), 6-2
2. Chris Fletcher (GW) def. Almantas Ozelis (APSU) 6-4, 5-7, 6-1
3. William Tutecky (GW) def. Aaron Jumonville (APSU) 2-6, 6-4, 6-4
4. C. Hadjigeorgiou (GW) def. Aleh Drobysh (APSU) 6-1, 6-4
5. Alex Kartsonis (APSU) def. Jakub Behun (GW) 7-6 (7-5), 6-4
6. Fernando Sala (GW) def. James Mitchell (APSU) 8-7 (7-3)
Doubles
1. Almantas Ozelis/Aleh Drobysh (APSU) def. Fernando Sala/C. Hadjigeorgiou (GW) 6-3
2. Chris Reynolds/William Tutecky (GW) def. Manual Montenegro/Aaron Jumonville (APSU) 6-4
3. Chris Fletcher/Jakub Behun (GW) def. Chad Woodham/Alex Kartsonis (APSU) 6-2