APSU Sports Information

Chattanooga, TN – With the match knotted at three, Alex Kartsonis rallied after dropping the first set to take his No. 5 singles match 5-7, 6-2, 7-5, and give the Austin Peay State University men's tennis team its first win in 2017, a 4-3 win over Chattanooga Saturday night.
UTC won the doubles point to take an early 1-0 lead.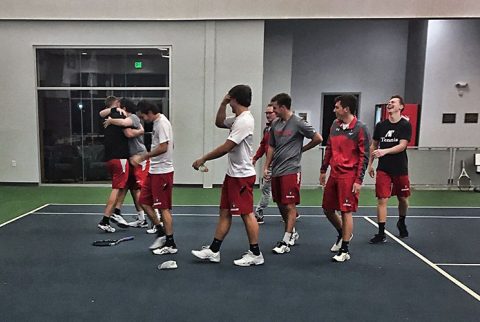 However, Manual Montenegro tied the match at one with a straight set 6-4, 6-3 win over UTC's Nic Wilson in the No. 1 singles match.
The Mocs picked up a win at No. 4 singles match, but Aaron Jumonville responded for the Govs claiming a 6-3, 3-6, 6-3 win in his No. 3 singles match to retie the match at two.
Almantas Ozelis gave the Govs its first lead of the match with a straight set 6-4, 7-5 win in his No. 2 singles match, but this time it was UTC turn to force a tie after win in the No. 6 singles match.
With the match on the line, Kartsonis rallied from a 5-7 opening set loss to take the final two sets 6-2 and 7-5 to seal the Govs victory.
The Govs will return to action on Saturday, February 4th at home in the APSU Indoor Tennis Center.
Box Score
APSU 4, UTC 3
Singles
1. Manual Montenegro (APSU) def. Nic Wilson (UTC) 6-4, 6-3
2. Almantas Ozelis (APSU) def. Niklas Gerdes (UTC) 6-4, 7-5
3. Aaron Jumonville (APSU) def. Pablo Llebeili (UTC) 6-3, 3-6, 6-3
4. Simon Bustamante (UTC) def. Aleh Drobysh (APSU) 6-4, 6-4
5. Alex Kartsonis (APSU) def. Max Grobbelaar (UTC) 5-7, 6-2, 7-5
6. Michael Birnbaum (UTC) def. James Mitchell (APSU) 6-2, 3-6, 7-5
Doubles
1. Nic Wilson/Niklas Gerdes (UTC) def. Almantas Ozelis/Aleh Drobysh (APSU) 6-4
2. Aaron Jumonville/Manual Montenegro (APSU) def. Michael Birnbaum/Max Grobbelaar (UTC) 6-4
3. Simon Bustamante/Paul LaHue (UTC) def. Chad Woodham/Alex Kartsonis (APSU) 6-2
Match Notes:
Austin Peay 1-3
Chattanooga 0-3
Order of finish: Doubles (13,2); Singles (1,4,3,2,6,5) T-2:58 A-52