Tennessee Athletics Department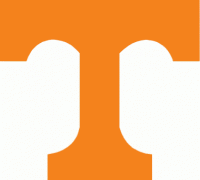 Auburn, AL – Tennessee used an explosive first half and saw four players finish in double figures as it downed the Auburn Tigers, 87-77, Tuesday night at Auburn Arena. With the victory, the Volunteers extended their win streak to a season-best four games.
It was UT's third consecutive win over Auburn (14-8, 3-6) dating to last season.
Admiral Schofield paced the Vols (13-9, 5-4 SEC), scoring 18 points in 24 minutes off the bench. Grant Williams scored 17 points — 15 of which came in the first half — before fouling out late in the contest and Jordan Bowden dropped all 15 of his points in the second period. Robert Hubbs III came up a rebound shy of a double-double, finishing with 11 points and a team-high nine rebounds.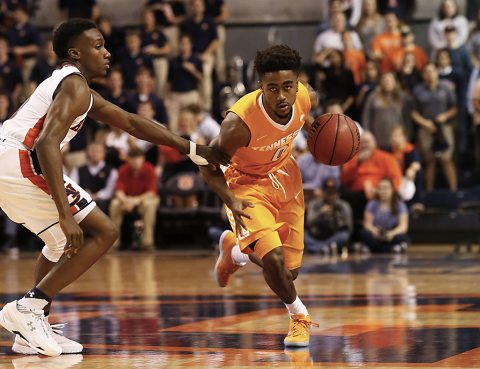 Tennessee used a 15-0 run spanning more than five minutes to build a first-half lead that grew as large as 18 points at the 6:11 mark. That rally allowed the Vols to take a 46-30 lead into intermission.
The Vols — who shot 53 percent during the opening 20 minutes — could have led by much more at the half, as the Tigers' 29 percent shooting was bolstered by five 3-pointers by freshman guard Jared Harper. He led all scorers at the break with 18 points and finished with 21 for the game.
Tennessee grew the lead to as much as 22 in the second-half, reaching that advantage on two occasions. Bowden opened up his scoring barrage early in period, completing a three-point play at the 17:45 mark that put UT ahead 54-32. Minutes later, a Lew Evans 3-pointer gave the Vols a 63-41 lead with 11:55 still to go.
Auburn, which was 8-2 at home entering the game, refused to go away quietly. Utilizing a trapping full-court press and a fast tempo, the Tigers got to within eight with under a minute to play, but Tennessee knocked down enough free throws down the stretch to keep Auburn at bay.
Victory Margin Impressive in Last Three vs. Auburn
Tennessee collected its third straight win over Auburn on Tuesday night — a streak that dates to last season when UT picked up a 71-45 win over the Tigers on February 2nd, 2016, in Knoxville. The Vols then went on to defeat Auburn in the first round of the SEC Tournament, 97-59, exactly one month later.
UT's last three wins over Auburn have come by a combined 64 points — an average of 21.3 ppg.
Vols Have Not Trailed Recently
Tennessee recorded its second consecutive wire-to-wire victory on Tuesday night as it never trailed against Auburn. The last time UT trailed was when it fell behind No. 4 Kentucky, 25-23, with 7:25 left in the first half. Since then, 106:16 has passed since the Vols have fallen behind an opponent.
Up Next for UT Vols
Tennessee returns to the road this weekend, traveling to Starkville, Mississippi, for a Saturday showdown at Mississippi State. Tipoff is set for 3:30pm ET / 2:30 p.m. CT on the SEC Network. The Volunteers defeated the Bulldogs, 91-74, in Knoxville on January 21st.