#RV/25 Tennessee vs. LSU
Thursday, February 2nd, 2017 | 6:00pm CT
Knoxville, TN | Thompson-Boling Arena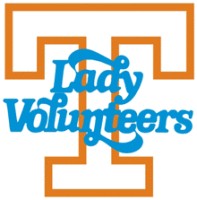 Knoxville, TN – Tennessee returns home for the annual Live Pink, Bleed Orange game against LSU on Thursday night, as the Lady Vols look to extend their three-game winning streak.
The game tips off at 6:00pm CT and will be available online on SECN+ and through WatchESPN. Visit WatchESPN.com or download the WatchESPN app to view the game on a computer or mobile device. Bob Kesling (PxP), Andraya Carter (Analyst) and Maddy Glab (Reporter) will describe the action between the Lady Vols and the Lady Tigers.
Fans can also tune into their local Lady Vol Network station to catch Mickey Dearstone describing the action.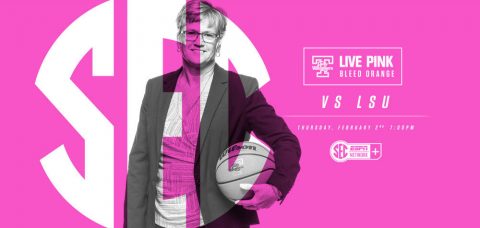 #RV/25 Tennessee vs. LSU
#RV/25 Tennessee (14-7, 5-3 SEC) plays host to LSU (15-6, 4-4 SEC) in the annual Live Pink, Bleed Orange game on Thursday at Thompson-Boling Arena.
The 62nd meeting between these programs will tip at 6:02pm CT on SECN+.
Thursday's contest will be the second in a stretch that sees UT playing three games in seven days.
Holly Warlick's squad also is making its only home appearance in a scheduling sequence that features three of four games on the road from January 26th to February 5th. The contest at Georgia on Sunday ends that run.
The Lady Vols bring a three-game winning streak into Thursday night's game and have won four of their past five and 10 of their last 13 contests.
UT posted its third victory over a top-10 team this season, taking down #4/4 South Carolina in Columbia on Monday night, 76-74.
LSU meanwhile, snapped a three-game losing streak in a stretch vs. South Carolina, Kentucky and Texas A&M, winning at home over Arkansas, 53-46, on Sunday.
The Lady Tigers' losses are all respectable, to UConn, Kansas State, Mississippi State, South Carolina, Kentucky and Texas A&M. LSU has solid wins over NC State, North Carolina and Missouri.
The Lady Vols are 9-2 at home this season, with the only losses coming to #4/4 Baylor on December 4th (88-66) and #4/4 Mississippi State on January 8th (74-64).
LSU, meanwhile, is 2-2 on the road this season, including 1-2 in league play.
Broadcast Information
Bob Kesling (PxP), Andraya Carter (Analyst) and Maddy Glab (Reporter) will describe the action for the Tennessee-LSU broadcast on SECN+.
All of the games included in the SEC Network (SEC Network, SECN+) package and the ESPN package (ESPN, ESPN2, ESPNU) will be available through WatchESPN, accessible online at WatchESPN.com, on smartphones and tablets via the WatchESPN app, and streamed on televisions through Amazon Fire TV, Apple TV, Chromecast, Roku, Xbox 360 or Xbox One to fans who receive their video subscriptions from affiliated providers.
Mickey Dearstone will handle the call for the IMG College/Lady Vol Network radio/online broadcast. Airtime is 30 minutes prior to tip-off on network stations.
The Live Pink, Bleed Orange Game
The Live Pink, Bleed Orange branded game is held to bring awareness to the fight against breast cancer.
Lower Level tickets for Thursday's Live Pink, Bleed Orange game are available for purchase at AllVols.com or by calling 865.656.1200.
In advance of the game, an online auction with proceeds benefiting Susan G. Komen East Tennessee and Champions for a Cause will be held until Wednesday, February 8th, at 8:00pm. Please visit http://1tn.co/2je9vhH to take a look at the exclusive items up for auction including: Guest Coaching Opportunities, VIP and Behind-the-Scenes Experiences, Autographed Balls, and more!
Upon entry to the Arena, every fan will receive a pink "Live Pink, Bleed Orange" t-shirt courtesy of Academy Sports & Outdoors, the Y, United Healthcare, Coca-Cola, Golden Flake and Threds.
The first 1,500 fans will receive a pink rally towel provided by United Healthcare.
Fans are invited to snap free photos in the Knox Photo Booth at Section 127 on the concourse during pre-game, courtesy of United Healthcare.
Lady Vol Basketball is honored to welcome three guest coaches who are fighters or survivors of breast cancer, nominated by Susan G Komen East Tennessee and Champions for a Cause.
UT Medical Center's Mobile Mammography unit will be providing digital screening mammograms at Circle Park on Thurs., February 2nd, from 1:00pm-4:00pm and outside of the arena on Phillip Fulmer Way across from the G10 garage entrance from 4:30 to tip-off. Screenings take approximately 20-25 minutes. Women age 40 and older are eligible, and insurance is filed for each participant.
Be sure to bring your insurance card to your appointment. If you are uninsured and 40 years of age or older, you may be eligible for a screening covered by grant funding. For more information or to schedule an appointment, call the UT Breast Health Outreach Program at 305-9753.
Prior to tip-off, Champions for a Cause founders — Head Lady Vols Coach Holly Warlick and Head Coach of the Lady Tigers, Nikki Fargas, will present the University of Tennessee Cancer Institute with a $15,000 donation earmarked for a new mobile mammography unit, to help provide access to breast health education and screenings for all.
During a pre-game recognition, both head coaches will also present Linda Pigott with a pink ball as a symbol of strength and courage.
Linda is a former high school teammate of Coach Warlick's who earned her Bachelor's degree and Education Specialist degree from The University of Tennessee and is currently in her 33rd year of working in education as a school psychologist for Knox County Public Schools. She was diagnosed with stage one breast cancer in June of 2010 and is continuing to fight breast cancer every single day.
Members of the 2017 Tennessee softball team will be on-hand before the game, meeting fans on the concourse and will be introduced during a halftime recognition along with Co-Head Coaches Ralph and Karen Weekly prior to halftime entertainment provided by Coulter Grove Middle School Unicycle performance.
Home Sweet Home
This is the 30th season that the Tennessee women's and men's basketball teams have called Thompson-Boling Arena home, and the Lady Vols own an incredible 424-34 mark (.926) in the venue.
All-time, the Lady Vols have a 577-58 (.909) home record in contests played at Thompson-Boling Arena, Stokely Athletics Center and Alumni Gym.
UT is 9-2 at home in 2016-17.
Thompson-Boling Arena has an official seating capacity of 21,678.
UT has led the nation in attendance 19 times in the past 25 years, finishing second the past two years after an 11-season run at No. 1.
Tennessee ranks second in the nation in home attendance this season at 8,917 through 11 dates.
Tennessee in SEC Play
UT is 372-61 in SEC regular-season games, winning 18 championships through the years and capturing SEC tourney titles on 17 occasions.
During the Holly Warlick era, Tennessee is 55-17 in league games, making Warlick the top-ranked active SEC coach in terms of winning percentage in league play at .764.
South Carolina's Dawn Staley is the next coach behind Warlick at .674, followed by UK's Matthew Mitchell at .649.
In only her fifth year as a head coach, Warlick already ranks fifth in total league wins among active SEC coaches and has won regular season titles in 2013 and 2015, and a tourney crown in 2014.
Sizing Up the Lady Vols
Tennessee ranks #14 in the most recent NCAA Women's Basketball RPI.
The Lady Vols stand #2 in the latest NCAA Toughest Schedule Report behind UConn.
After eight weeks in the receiving votes category, UT moved back into the USA Today Top 25 Coaches Poll on January 31st, checking in at #25. The Lady Vols were #25 on November 29th before dropping out after the loss to Baylor.
Holly Warlick's squad is receiving votes in the AP (28th) Poll again, with the most recent poll coming out before UT and South Carolina played. The Lady Vols were ranked No. 22 in the November 28th poll before falling out after losing to Baylor. This makes nine weeks UT was not in the AP Top 25.
The NCAA Division I Women's Basketball Championship Sport Committee revealed its first of three top-16 rankings in seed order on January 23rd.
While UT is not among the 16 teams, it has beaten #3 South Carolina (76-74), #7 Notre Dame (71-69), #12 Stanford (59-51) and #15 Kentucky (72-65). UT lost to #2 Baylor (88-66), #4 Mississippi State (74-64) and #10 Texas (72-67).
The latest edition of Charlie Creme's Bracketology has the Lady Vols in Durham, N.C., as a No. 6 seed facing #11 seed Charlotte in the first round of the NCAA Oklahoma City Regional.
UT has played more ranked teams than any other SEC school (7) and has the second most wins over ranked teams (4) and second most over top-10 teams (3) in the league.
South Carolina is 5-0 vs. ranked teams, while UT is 4-3, Kentucky is 2-2, Texas A&M is 2-1 and Mississippi State is 1-1. USC is 4-0 vs. top-10 teams, while UT is 3-2.
The Series vs. LSU
UT has a 47-14 advantage in the series, including a a 20-3 record in Knoxville, 15-7 slate in Baton Rouge and a 12-4 mark at neutral sites.
Tennessee has won 10 of the last 12 meetings, including a 4-1 mark in the last five visits by the Lady Tigers to Knoxville.
These teams are 1-1 in overtime contests, with each team winning one on its home court, and UT leads in postseason play, 13-4.
Holly Warlick has a 4-2 record vs. Nikki Fargas and LSU, including 1-1 in Knoxville, 2-1 in Baton Rouge and 1-0 at neutral sites.
Tennessee improved to 20-3 in series games played in Knoxville on January 22nd, 2015, as the #5/7 Lady Vols cruised, 75-58.
Tennessee lost in its last trip to Baton Rouge on February 21st, 2016, as LSU upended #24/rv UT, 57-56.
The programs faced off in the 2012 SEC Tournament Championship game at Nashville's Bridgestone Arena on March, 4th, with UT prevailing by a score of 70-58 to win its third-straight tourney title and 16th overall.
The Lady Vols and Lady Tigers met in the 2004 and 2008 NCAA Final Four semifinals, with UT narrowly winning by scores of 52-50 and 47-46, with the 2008 squeaker sending Lady Vol Candace Parker and company to the title game and an eventual win over Stanford, 64-48, at Tampa, FL, in Tennessee's last NCAA title and trip to the Final Four.
About the LSU Lady Tigers
LSU returned six letterwinners, including three starters, from a team that finished 10-21 overall and 3-13 in league play for 13th place in 2015-16.
The Lady Tigers were picked 11th by the coaches and 12th by the media in the 2016-17 SEC preseason polls.
LSU currently sits in eighth place in the league standings.
Redshirt junior Raigyne Moncrief and redshirt sophomore transfer (NC State) Chloe Jackson pace the scoring attack, tossing in 14.9 and 14.2 points per game, respectively.
Moncrief also leads the team in rebounding (5.7), assists (2.9) and steals (3.6).
LSU has recorded an astounding 279 steals in 21 games, which is an average of 13.3, and it has forced opponents into 21.8 turnovers per contest.
The Lady Tigers allow 62.9 points per game in league play, but they are only scoring 58.4 after tallying 42, 52 and 53 in their last three contests.
Staff Connections
LSU, of course, is directed by Oak Ridge native and former Lady Vol player (1990-94), graduate assistant (1998-99) and assistant coach (2002-08) Nikki (Caldwell) Fargas, who is in her sixth year at the helm of the Lady Tigers.
She was a freshman on UT's 1991 NCAA National Championship Team and coached on the Lady Vols' 2007 and 2008 NCAA title squads.
Also on the Lady Tigers' staff is former UT player (2000-04) and grad. asst. (2004-05) Tasha Butts (assistant), who played at UT when both Warlick and Fargas were assistants.
In her first season at LSU is Mickie DeMoss, who served as an assistant (1985-2001) and associate head coach (2001-03) at Tennessee before departing for a head coaching job at Kentucky. She later returned to UT to serve as an assistant (Holly Warlick was then associate head coach) from 2010-12.
DeMoss aided in the securing of six NCAA titles (1987, 1989, 1991, 1996, 1997, 1998) at UT.
Tennessee associate director of sports medicine Ashley Wilson is a 2006 graduate of LSU and worked there as a student trainer from 2002-06.
Milestone Watch
Schaquilla Nunn has 997 career rebounds (910 at Winthrop) and needs only three to reach 1,000.
Nunn reached 1,000 career points (including 982 at Winthrop) earlier this season. She stands at 1,075 through the South Carolina game.li>
Mercedes Russell has 925 career points and needs 75 to join the 1,000-point club.
Russell has 666 career rebounds and needs 134 to move into UT's list of players with 800 or more rebounds. There are 17 who've made the cut.
Diamond DeShields needs 150 points to hit 1,000 points at UT. She has 1,498 total combining her totals at Tennessee and North Carolina.
The Last Time These Teams Met
Despite a 17-point second half from Diamond DeShields, Tennessee was unable to capitalize at the free throw line, losing 57-56 to LSU on February 21st, 2016, at the Maravich Center in Baton Rouge, La.
Although the Lady Tigers lost their 10-point halftime lead on multiple occasions in the second half, LSU (9-18, 3-11 SEC) ended its three-game losing streak to Tennessee (16-11, 7-7 SEC), which dropped to .500 in conference play.
Mercedes Russell missed a pair of free throws with Tennessee leading by one with five seconds remaining. Following the second miss, LSU's Alexis Hyder was fouled with three seconds left. Hyder made both free throws to give the Lady Tigers the 57-56 lead, and Andraya Carter was unable to hit a three-point attempt at the buzzer.
DeShields led all scorers with 19 points on 8-of-13 shooting. Bashaara Graves added nine, while Russell and Te'a Cooper scored seven apiece. Alexis Hyder led the Lady Tigers with 15.
The Lady Vols used a 7-2 run to retake the lead at 50-49 following Mercedes Russell's made free throw with 2:54 remaining in the game, but that lead would slip in the final seconds of the game after Tennessee went 2-for-6 from the free throw line in the final 15 seconds of the game.
Free throws proved to be the difference in the outcome, as LSU shot 82 percent (14-of-17) while Tennessee shot 56 percent (9-of-16) from the charity stripe.
Last Time They Met in Knoxville
#5 Tennessee stayed perfect in SEC play, posting a 75-58 victory over LSU on January 22nd, 2015. The win came during `We Back Pat' Week, as basketball icon Pat Summitt was in attendance at Thompson-Boling Arena.
The Lady Vols moved to 16-3 overall and 6-0 in the SEC.
LSU, which came to Knoxville fresh off back-to-back wins over #15 Mississippi State and #10 Kentucky, fell to 10-9 and 4-3 in the league.
Senior Isabelle Harrison scored a season-high 25 points and grabbed a game-high eight rebounds. She made 9-of-11 from the field. Her career high of 26 came against LSU in January 2014.
Sophomore Andraya Carter tallied 13 points, making all three of her 3-point attempts.
LSU was led by Danielle Ballard, who scored 15 points and grabbed six rebounds. Raigyne Moncrief also tallied 15 points while corralling five rebounds.
Tennessee posted its fifth wire-to-wire win and second in the SEC. Lady Vols shot a season-high 55.6 from the field and made 6-of-11 from 3-point range.
Lady Tigers Top Razorbacks at Home
The LSU women's basketball team snapped a three-game losing streak, defeating Arkansas for the second time this season, 53-46, at the Maravich Center in Baton Rouge on Sunday afternoon.
With the win, LSU improved to 15-6 overall; 4-4 in the SEC. Arkansas fell to 13-8 overall and 2-6 in the league. The Lady Tigers are 10-3 at the PMAC this season, with two of those losses being to nationally-ranked UConn and South Carolina.
Senior Jasmine Rhodes led the Lady Tigers with a season-high 13 points off a 6-of-11 shooting effort from the field. It was the first time this season that Rhodes has led LSU in scoring.
Raigyne Moncrief registered her second double-double of the season; the seventh of her career, with 12 points and 12 rebounds.
Moncrief, who leads the SEC in steals, logged seven steals against Arkansas and added three assists. Rina Hill contributed nine points, three rebounds, three assists and two steals and Alexis Hyder kicked in eight points of her own.
The Razorbacks led for the entire first half, as they came out shooting the ball well, going 3-for-3 from three-point range on their way to 20 first-quarter points.
Lady Vols Topple #4 South Carolina
Despite a late three-pointer to tie the game by No. 4 South Carolina, junior Jaime Nared's clutch free throws in the final seconds stunned the Gamecocks for a huge road victory Monday night at Colonial Life Arena in Columbia, 76-74.
Nared, who was 11 of 12 from the free throw line in the second half, drew a foul with five seconds remaining in the game and converted on both attempts to ice the game for the Lady Vols.
Tennessee (14-7, 5-3 SEC) picked up its third Top-10 win of the season and its first Top-5 win on the road since 2007 against UConn.
South Carolina (18-2, 8-1 SEC) lost its first conference game of the season and saw its 30-game SEC home winning streak come to an end.
Nared finished with a career-high 27 points, five rebounds, three assists and three steals. Redshirt junior Diamond DeShields accounted for 21 points, eight rebounds, five assists, two blocks and two steals. It was the third consecutive outing in which DeShields had scored at least 20. Mercedes Russell posted her 12th double-double of the season and 23rd of her career, carding 16 points and 10 rebounds.
South Carolina had four players reach double-digit scoring. Bianca Cuevas-Moore led the Gamecocks with 18 points, including the game-tying 3-pointer with 15 seconds left in the contest.
Coming Up on the Schedule
Following the annual Live Pink, Bleed Orange game, Tennessee heads to Athens to take on Georgia on Sunday at 3:00pm CT. ESPN2 will have the telecast.
The Lady Vols will next be at home for back-to-back tilts vs. Missouri (February 9th, 7:00pm, SEC Network) and Texas A&M (February 12th, 2:00pm, ESPNU).
LSU, meanwhile, plays host to Alabama on Sunday.