"Planters Bank Presents…" Film Series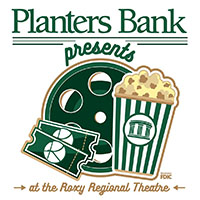 Clarksville, TN – The "Planters Bank Presents…" film series next movie will be Disney and Pixar's "Toy Story". This movie will be shown this Sunday, February 5th, 2017 at the Roxy Regional Theatre at 2:00pm.
"Woody," a drawstring cowboy doll (voiced by Tom Hanks), is jealous of new-toy-in-town, spaceman action figure "Buzz Lightyear" (voiced by Tim Allen) in this computer-generated fantasy of an eclectic assortment of toys and their comical misadventures.
Woody and Buzz must band together to survive when they find themselves in the outside world.
Admission to each film in the "Planters Bank Presents…" series is $5.00 (cash or check only). Tickets are on sale now at the Roxy Regional Theatre box office. Any remaining tickets will be available at the door one hour prior to showtime.
Normal box office hours are 9:00am-2:00pm, Monday through Friday.
Popcorn and bottled water will be available as concessions.
This film series at the Roxy Regional Theatre is made possible by the generous support of Planters Bank and the Clarksville-Montgomery County Arts & Heritage Development Council.
The Roxy Regional Theatre is located at 100 Franklin Street in Clarksville, TN.