Tennessee Athletics Department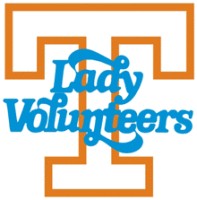 Knoxville, TN – No. 25 Tennessee led for nearly the entire game and used a strong fourth quarter to pull away from an upset-minded LSU squad on Thursday night for a 77-58 win at Thompson-Boling Arena in the annual Live Pink, Bleed Orange game.
Jaime Nared and Diamond DeShields both posted double-doubles and four UT players scored in double figures, as the Lady Vols (15-7, 6-3 SEC) won their fourth straight game. Tennessee shot a blistering 53 percent from the field and dominated down low, out-rebounding the Tigers, 42-28, while outscoring them by 20 points in the paint.
Nared, the reigning SEC Co-Player of the Week, followed up her career-high 27-point performance at No. 4 South Carolina with a game-high 26 points to lead UT in scoring for the sixth time this season.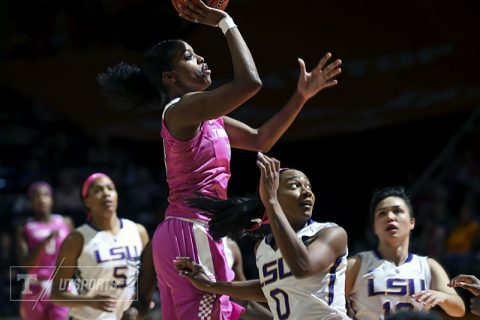 She needed just one quarter to reach double-digits, dropping 11 points in the opening frame to extend her double-figure scoring streak to 19 straight contests.
DeShields nearly recorded a triple-double despite a quiet first half, finishing with 15 points, 11 rebounds and eight assists. Mercedes Russell also had another strong performance, tallying 18 points, eight rebounds and two blocks for the Orange and White.
Raigyne Moncrief and Ayana Mitchell were the only two LSU players to score in double figures, finishing with 20 and 14 points, respectively.
Only three Tennessee players scored in the first half as Nared, Russell and Schaquilla Nunn combined for all 34 of the Lady Vols' points in the opening 20 minutes to give the Lady Vols a seven-point lead at the break. Moncrief paced LSU (15-7, 4-5 SEC) with 12 first-half points to keep the Tigers within striking distance.
Nared and Russell combined to score the team's first 25 points before Nunn poured in eight second-quarter points on a perfect 3-of-3 shooting. The redshirt senior transfer also pulled down her 1,000th career rebound late in the half. Nunn finished with a season-high 13 points and also pulled down nine boards, just missing joining Nared and DeShields as Lady Vols with double-doubles.
After being held scoreless in the first half, DeShields got it going in the third quarter with nine of her 15 points, as Tennessee scored 22 in the quarter to extend its lead to nine heading into the fourth.
The Lady Vols opened the fourth quarter on a 9-4 run to push their lead to a game-high 16 points, but LSU quickly responded with a 7-2 run of their own to cut the lead back down to 11. However, that would be as close as the Tigers would get, as UT scored the final seven points to ice the game away.
"Big Three" Tame Tigers
Tennessee's "Big Three" of Diamond DeShields, Jaime Nared and Mercedes Russell came up big once again for the Lady Vols, combining for 59 of the team's 77 points on the night. All three of them now have scored in double figures in the same game 10 straight times and 16 times total this season.
Nared in Double Digits…Again
Tennessee junior Jaime Nared extended her double-digit scoring streak to 19 consecutive games. The Portland, OR, native only needed one quarter to reach double figures, scoring 11 of the team's 17 points in the first quarter. Nared finished with a game-high 26 points for the game after going for a career-high 27 in the upset win at No. 4 South Carolina on Monday.
Home Sweet Home
With tonight's win, the Lady Vols improved to 10-2 at home this season, with their only two losses coming against top-five foes Baylor and Mississippi State. UT has outscored its opponents 963-763 at Thompson-Boling Arena this season.
Up Next for UT Lady Vols
The Lady Vols travel to Athens to take on the Georgia Lady Bulldogs on Sunday at 3:00pm CT. The game will be broadcast nationally on ESPN2.
Video