Tennessee (13-9/5-4 SEC) at Mississippi State (13-8/4-5 SEC)
Saturday, February 4th, 2017 | 2:31pm CT
Starkville, MS | Humphrey Coliseum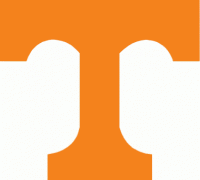 Knoxville, TN – Tennessee begins the back half of SEC play on Saturday when it travels to Starkville for a rematch with Mississippi State. Tipoff is set for 2:30pm CT on SEC Network.
The Vols (13-9, 5-4 SEC), winners of four straight games, are playing their second straight road contest after picking up an 87-77 win at Auburn on Tuesday night. It was UT's fourth true road win of the season after having just achieved one such victory during the entire 2015-16 season.
That lone triumph away from home a year ago came at Humphrey Coliseum when Tennessee earned an 80-75 win over Mississippi State (13-8, 4-5 SEC).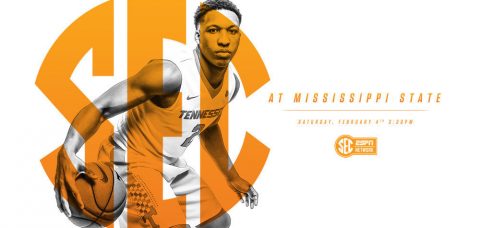 A win Saturday would give UT four consecutive victories in Starkville, not to mention three straight wins in the overall series after it picked up a 91-74 win over the Bulldogs in Knoxville just two weeks ago.
Senior Robert Hubbs III continues to lead the team in scoring (14.8 ppg) while ranking second in rebounding (5.3 rpg). Not far behind is true freshman Grant Williams, whose 11.5 ppg makes him the only other Vol on the active roster averaging doble figures. Williams also paces UT on the boards at 5.5 rpg and also owns a team-leading 1.9 bpg average.
Coming off the bench, redshirt freshman Lamonte Turner has emerged as the team's top distributor, averaging 3.0 apg. Still, true freshman guard Jordan Bone is closing the gap in the No. 2 spot, dishing out 2.9 apg.
Mississippi State comes in Saturday's game having dropped four of their last five, including two straight on the road at Alabama and at in-state foe Ole Miss. The Bulldogs are 8-4 at home this season.
The Series
Overall: UT leads, 81-42
In Knoxville: UT leads, 45-11
In Starkville: UT leads, 29-27
Neutral Sites: UT leads, 7-4
Current Streak: Tennessee has won two straight
Last Meeting: UT won, 91-74, in Knoxville, 1/21/17
Rick Barnes vs. Mississippi State: 5-0
Rick Barnes vs. Ben Howland: Barnes leads, 5-1
A Win Would
Extend Tennessee's current win streak to five games.
Give the Vols their fifth true road win of the season.
Stand as Tennessee's first consecutive SEC road victories since winning back-to-back games at Missouri and at South Carolina in January 2015.
Push Rick Barnes' record at Tennessee above the .500 mark.
About the Mississippi State Bulldogs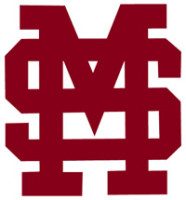 Mississippi State (13-8, 4-5 SEC) returns home to The Hump after falling at Ole Miss by a score of 88-61. It was the second straight loss for the Bulldogs, who have dropped four of their last five games.
Mississippi State sits at No. 120 in the official NCAA RPI listing. The Bulldogs are 8-4 at home, with losses to Lehigh, East Tennessee State, Alabama and Kentucky.
In SEC play, MSU averages 74.6 ppg while surrendering 77.2 ppg. MSU's rebounding margin in league play is -5.7, and it also owns a -1.6 turnover margin in conference games.
The Bulldogs boast the second-best 3-point field-goal defense during SEC play, as league opponents are shooting just .308 from beyond the arc.
Sophomore guard Quinndary Weatherspoon averages a team-best 17.5 points in SEC play, which ranks tied for seventh in the league.
Freshman guard Lamar Peters is the only other Bulldog averaging more than 10 points in SEC play (12.3 ppg).
Peters and fellow backcourt mate I.J. Ready combine to dish out 7.3 assists per game during conference play, and both are currently battling injuries.
Starting forward Aric Holman leads the league with 2.4 blocks per game in SEC play.
Memorable Vol Performances Against Mississippi State
Junior Dale Ellis grabbed a school-record seven steals as the Vols defeated the Bulldogs 54-44 at "The Hump" in Starkville on January 20th, 1982.
Bill Justus's two game-winning free throws in the third overtime in Starkville on March 6th, 1967, gave the Vols the outright SEC regular-season title. Justus scored 14 in the contest.
While Justus earned the credit for sealing the win in Starkville in 1967, the Vols would not have contended for the win without 35 points from Knoxville native Ron Widby, who went on to be a Pro Bowl punter for the NFL's Dallas Cowboys.
Ernie Grunfeld scored 37 and Bernard King added 30 as the "Ernie & Bernie Show" rolled to a 97-87 win in Starkville. on January 25th, 1975.
Last Meeting With MSU
Robert Hubbs III scored 19 points to lead four Vols in double-figures as Tennessee took a 91-74 win over Mississippi State on January 21st, 2017, at Thompson-Boling Arena.
Tennessee limited its mistakes, committing just seven turnovers against the Bulldogs, and dominated the glass with a season-high 49 rebounds to Mississippi State's 35. UT's 14-rebound advantage was also its largest of the season. After an even first half, the Vols used a pair of second-half runs to take control of the game.
UT's 91 points in the win marked its most in SEC play this season and the most MSU has surrendered this year.
Hubbs enjoyed an efficient night of shooting, going 8-for-11 while also posting five rebounds and three assists. Grant Williams scored all 17 of his points in the Vols' dominant second half. Admiral Schofield had 15 points and seven rebounds, and Jordan Bowden added 14 points and seven boards.
Hubbs led all players with 13 points at halftime after making six of eight shots in the first half. Both teams shot under 40 percent in the first half, with the Vols at 38.9 percent (14-of-36) and MSU at 37.9 percent (11-of-29). The Bulldogs briefly took the lead when Schnider Herard made a layup 18 seconds into the second half. Williams knocked down a 3-pointer 17 seconds later to spark a 15-4 Tennessee run over the next three minutes and give the Vols a 52-42 advantage.
Tennessee used a 29-11 run spanning eight minutes to pull away and secure the victory.
Vols' S.O.S. No. 1 Nationally
Through the games of February 1st, statistical analyst Ken Pomeroy rated Tennessee's strength-of-schedule as the most difficult in the nation.
Jeff Sagarin rates UT's SOS No. 3 nationally, and ESPN tabs it as fourth-toughest in Division I.
Back-To-Back, Wire-To-Wire
Tennessee has led each of its last two games from wire-to-wire. The Volunteers never trailed while defeating Kansas State and Auburn.
Dating to UT's January 24th upset of then-fourth-ranked Kentucky, the Vols have not trailed in their last 106 minutes and 16 seconds of game action.
In Year Two Under Barnes, Vols' Road Wins Have Quadrupled
Tennessee was 1-11 in true road games last season, with its lone road win coming at Mississippi State.
In Rick Barnes' second year guiding the program, UT has already logged four true road wins this season — at ETSU (December 22nd), at Texas A&M (December 29th), at Vanderbilt (January 14th) and at Auburn (January 31st).
Barnes' Vols 1-4 In Rematch Games
Saturday's game at Mississippi State is the first of Tennessee's five SEC rematch games this season.
Last season, the Vols were 1-4 in regular-season rematch games (SEC Tournament games not included). The lone victory came against Auburn in Knoxville.
In addition to MSU, Tennessee's other home-and-home opponents this season are Kentucky, Ole Miss, South Carolina and Vanderbilt.
Efficient Trio Leading The Way
During its current four-game win streak, Tennessee has seen its offense flow through senior wing Robert Hubbs III, sophomore forward Admiral Schofield and freshman forward Grant Williams. • Over that four-game span, that trio's combined field-goal attempts per game have increased by 45 percent, and their combined points per game also have increased significantly. • Each of those three Vols are shooting better than 50 percent during the win streak, and the team's scoring margin has skyrocketed accordingly.
| CATEGORY | FIRST 18 GAMES | LAST 4 GAMES |
| --- | --- | --- |
| FG Attempts Per Game | 21.6 | 31.3 |
| Percentage of Team FGAs | 36.2% | 49.6% |
| Points Per Game | 29.4 | 44.8 |
| Team's Scoring Margin | +3.0 | +10.3 |
Up Next for UT Vols
Tennessee returns to Knoxville for back-to-back home games next week, beginning with a Wednesday-night showdown with Ole Miss (5:30pm CT, SEC Network). In this season's first meeting on January 17th, the Rebels handed UT an 80-69 loss in Oxford.
The Vols then play host to Georgia on Saturday (4:00pm, ESPNU).