Clarksville, TN – A Wednesday night rollover crash on Fort Campbell Boulevard injured two people and left a major intersection blocked for over an hour.
Patrol officers were dispatched to the two-car collision at Fort Campbell Boulevard and Cunningham Lane at 5:43pm. One driver was said to have minor injuries. The other driver was transported to Tennova Healthcare in serious, but stable condition.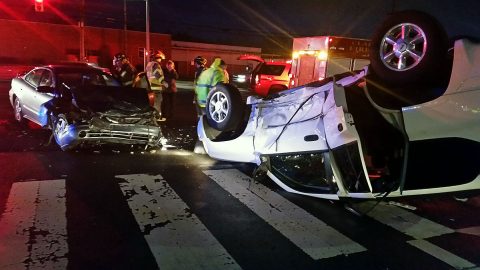 A white GMC Envoy and a gray Pontiac Grand Am were both heavily damaged.
Investigating Officers said it appeared that the driver turning from Fort Campbell Boulevard on to Cunningham Lane failed to yield the right-of-way to oncoming traffic.
That driver was cited for Failure to Use Reasonable Care.
The roadway was fully reopened about 7:00pm.