Tennessee Athletics Department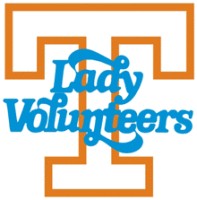 Knoxville, TN – Diamond DeShields fired in 22 points, as the Lady Vols pulled away from the Tigers in the fourth quarter to win, 77-66, in Thompson-Boling Arena on Thursday night.
Although the teams fought neck and neck through the first three periods of play, #24/25 Tennessee (16-8, 7-4 SEC) exploded in the fourth to put a gritty Missouri team (16-9, 6-5 SEC) away behind 75 percent shooting from the field during the period.
UT had four players in double digits for the night. DeShields' 22 points marked the ninth time this season she cracked the 20-plus plateau. She also added six rebounds, three assists and a pair of steals in the contest.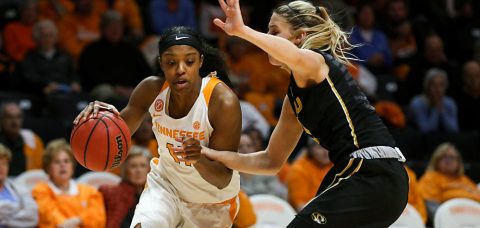 Jaime Nared, Mercedes Russell and Jordan Reynolds added 18, 12, and 12, respectively, as the Lady Vols pulled out the win versus the Tigers. Reynolds also posted an SEC-high eights assists and four rebounds on the night.
Cierra Porter led the Tigers with 19 points and 10 rebounds. Mizzou also got strong performances from Sierra Michaelis and Sophie Cunningham, who scored 17 and 16, respectively.
In a first quarter that saw multiple lead changes, the Lady Vols came out of it holding a 14-11 lead. Russell totaled the majority of UT's first quarter score, with eight points.
After a three-pointer from Meme Jackson to start the second period, Tennessee went silent, allowing Missouri to go on a 14-0 run to take the lead 25-17. Once the Lady Vols' five-minute scoreless streak ended, both teams went through a flurry of scores to see the first half end with a 35-30 lead for MU.
UT managed to pull even with the Tigers heading into the final stanza of the game, 54-54. DeShields and Nared headlined the third quarter, as they combined for 17 of the team's 24 points.
DeShields and Reynolds were clutch in the final 10 minutes of the game, helping the Lady Vols outscore Mizzou by 11 points.
A Helping Hand
Jordan Reynolds broke her previous SEC high in assists, as she dished out eight assists. Her previous high was seven versus Georgia on 2/5/17.
Holding Back the Tigers
Tennessee's defense held Missouri to a season low in 3-pointers made with two. MU's previous low was versus Abilene Christian in their season opener on November 11th. The Tigers averaged making 6.5 threes a game on 19.7 attempts for the season.
Keeping Up with the Big Three
Tennessee's trio of DeShields, Nared and Russell combined for 52 points and 17 rebounds. Coming into the outing, UT's Big Three averaged 55.9 points a game in conference play, which was 76.1 percent of Tennessee's total points scored. This is the 17th time all three have scored in double figures and the 11th time in the last 12 games.
As the SEC's leading scorer in conference play, DeShields posted another stout performance with 22 points on 8-of-12 shooting, 6 rebounds, 3 assists and 2 steals. Her four 3-pointers set her new season high.
Up Next for UT Lady Vols
The Lady Vols will be staying home for their second game this week, as they welcome Texas A&M to Knoxville for a Sunday match-up. The game will be televised nationally on ESPNU at 2:00pm.