Tennessee Athletics Department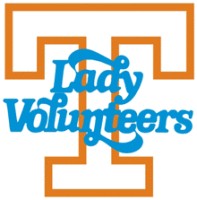 Knoxville, TN – Texas A&M's Khaalia Hillsman scored the game-winning putback with four seconds left as No. 24/25 Tennessee fell to the Aggies, 61-59 on Sunday at Thompson-Boling Arena.
Mercedes Russell led the Lady Vols (16-9, 7-5 SEC) with 17 points and 11 rebounds for her 14th double-double of the season. Texas A&M (19-6, 9-3 SEC) outscored UT 14-5 in the fourth quarter to maintain third place in the conference standings.
Alexa Middleton scored 14 points and recorded four assists, and Jaime Nared added nine points and seven rebounds.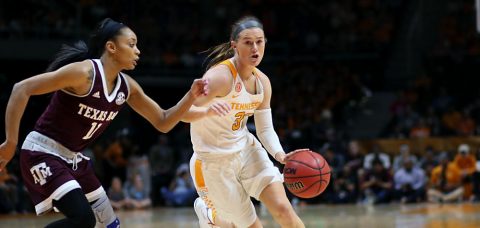 Danni Williams led the Aggies with 18 points.
Hillsman logged a double-double with 10 points and 10 rebounds, while Curtyce Knox notched a double-double of her own, finishing with 10 points and 10 assists.
After holding a 20-15 advantage following the first quarter, Tennessee opened the second quarter with a 12-6 run over the first three minutes to build an 11-point lead. Texas A&M kept the score close as the Lady Vols went into the half ahead, 38-32.
Russell led the Lady Vols with 11 points in the first half, while Williams led the Aggies with 11 points of her own. Tennessee shot 46 percent from the floor in the opening half, with 18 points in the paint. Meme Jackson and Middleton combined for 12 points on mid-range jumpers.
Texas A&M came out of the gates hot in the second half, tying the game at 38-38 at the 7:21 mark of the third quarter. The Aggies took their first lead of the game after a Jasmine Lumpkin jumper with just over two minutes to go in quarter put Texas A&M in front, 47-46. Alexa Middleton answered with back-to-back 3-pointers to spark an 8-0 Tennessee run to close out the third.
Texas A&M started the fourth with a 12-5 run, and Knox knocked down a 3-pointer from the right wing to tie the game at 59 with 2:44 remaining.
"The fourth quarter just got us. We gave up offensive rebounds, and we jump-shot the basketball and didn't rebound as well. You're up six with three minutes to go then we gave up [back-to-back threes]. Texas A&M battled and just had a little bit more of a will than we did down the stretch," said Tennessee Head Coach Holly Warlick.
"This was a must-win for us, and this was a great opportunity for us. We let it slip away. We still have a lot of basketball to go, but this one obviously hurts a little bit," stated Warlick.
Middleton Over Last Seven Games
Over the last seven games, Middleton is averaging 9.2 points per game, shooting 27-of-55 (.491) from the floor. Tennessee is 5-2 over that stretch. This marked Middleton's third double-figure scoring game in SEC play.
Minimizing Mistakes
Tennessee committed just seven turnovers against the Aggies, marking its fewest in SEC play this season. The Lady Vols have committed fewer than 10 turnovers six times this season and are 5-1 in such games.
Russell's Double-Doubles
Russell's 14 double-doubles on the season tie Candace Parker's 14 double-doubles from the 2007-08 season for the third-most by a Lady Vol junior in program history. Russell now has 25 double-doubles in her career, which ranks 10th in UT's all-time records.
Up Next for UT Lady Vols
The Lady Vols will travel to Tuscaloosa, as they face Alabama on February 16th. It will have an 7:00pm CT tip on SECN+.
Video