Tennessee (14-11/6-6 SEC) at #13/#11 Kentucky (20-5/10-2 SEC)
Tuesday, February 14th, 2017 | 6:04pm CT
Lexington, KY | Rupp Arena | TV: ESPN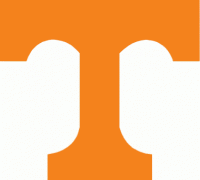 Knoxville, TN – Tennessee heads to Lexington for a Tuesday-night showdown with No. 13 Kentucky. Tipoff at Rupp Arena is slated for 6:00pm CT on ESPN.
The Vols (14-11, 6-6 SEC) and Wildcats (20-5, 10-2 SEC) are meeting for the second time in three weeks. In the first meeting between the border rivals, UT picked up an 82-80 victory over fourth-ranked UK in Knoxville. Tennessee was led that night by 25 points from Robert Hubbs III.
Hubbs continues to lead the Vols in scoring, averaging 14.3 ppg.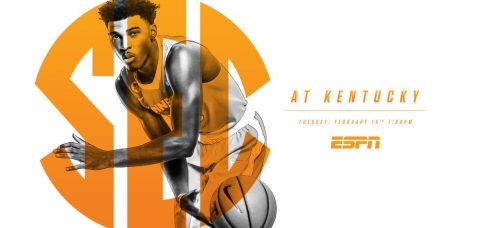 He is followed closely by true freshman Grant Williams (12.5 ppg), who is coming off one of the best performances of his young career after matching his season-high with 30 points in Saturday's narrow 76-75 defeat to Georgia.
Williams has now scored in double figures in six consecutive games while Hubbs enters Tuesday's game just 34 points shy of 1,000 career points.
Kentucky earned two victories last week, defeating LSU at home, 92-85, before going on the road and topping Alabama, 67-58, over the weekend.
The Series
Overall: Kentucky leads, 152-69
In Knoxville: UK leads, 52-49
In Lexington: UK leads, 89-16
Neutral Sites: UK leads, 11-4
Current Streak: Tennessee has won one
Last Meeting: Tennessee won, 82-80, in Knoxville 1/24/17
Rick Barnes vs. Kentucky: 3-3
Rick Barnes vs. John Calipari: Barnes leads, 4-3
A Win Would
Stand as just the fifth all-time victory for the Vols at Rupp Arena.
Give the Vols their first season sweep over Kentucky since the 1998-99 season.
Stand as Tennessee's 15th victory of the season, matching the program's 34-game win total from last season
Mark the 20th time an unranked Tennessee team has beaten a ranked Kentucky squad.
About the Kentucky Wildcats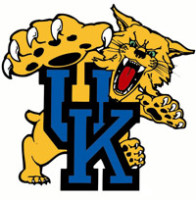 The 15th-ranked Wildcats (20-5, 10-2 SEC) enter the week on the heels of a 67-58 victory at Alabama on Saturday. Kentucky's official RPI is No. 9.
After posting 92 points in a win at LSU earlier in the week, UK's 67 points in Tuscaloosa marked its second-fewest of the season. The Wildcats were led by 17 points from Malik Monk, 14 from Edrice "Bam" Adebayo and an 11-point, 11-rebound double-double from Isaiah Briscoe.
True freshman Monk, who has scored in double figures in every game this season, continues to lead the SEC in scoring at 21.7 ppg. He is joined in the league's top 10 by fellow freshman guard De'Aaron Fox, who scores at a 15.7 ppg clip.
Fox also leads the SEC in assists, averaging 5.4 helpers per game.
In his latest mock draft, ESPN's Chad Ford projects both Monk (fourth) and Fox (11th) as lottery picks in the 2017 NBA Draft.
Despite Saturday's low-scoring affair at Alabama, Kentucky remains one of the top scoring teams in the country. Its 89.3 ppg average ranks fourth in the nation and is the second-best scoring average by a Power Five school, trailing only UCLA's nation-leading 92.5 ppg.
UK also leads the SEC in scoring margin (+15.6), field-goal percentage (.485), rebounding offense (40.3 rpg), blocked shots (5.8 bpg), assists (16.8 apg) and assist-to-turnover ratio (1.4).
The Wildcats got off to a 7-0 start in SEC play before suffering their first conference loss at Tennessee on January 24th. The Vols represent Kentucky's first SEC rematch of the season.
Series Notes
The Kentucky series is UT's oldest and most-played among SEC opponents. The Vols and Wildcats first met on February 5th, 1910, and have clashed 221 times over the years.
Since the AP poll was established, an unranked UT team has beaten a ranked Kentucky team 19 times.
No program in college basketball has logged more wins over Kentucky than Tennessee (69).
Kentucky is one of only three SEC?schools (along with Alabama and Missouri) to lead its all-time series against the Volunteers.
Four Tennessee All-Americans were Kentucky natives: Allan Houston, Chris Lofton, Danny Schultz and Paul "Lefty" Walther.
The Vols have beaten the Wildcats just four times at Rupp Arena, posting victories in 1977, 1979, 1999 and 2006.
Last Meeting with Kentucky
Tennessee earned its first win over an AP top-five opponent since 2010 with an 82-80 victory over No. 4 Kentucky on January 24th, 2017, at Thomson-Boling Arena. The Volunteers' last win over a top-five team came on December 11th, 2010, when UT defeated No. 3 Pitt, 83-76.
The win also marked the first over a ranked opponent this season for the Volunteers after losing their previous five against ranked foes. UT has defeated the Wildcats in their last two visits to Knoxville after securing an 84-77 victory on Rocky Top last year.
Tennessee put forth one of its most complete performances of the year on both ends of the floor. The Vols scored the third most points of any of UK's opponents this season while shooting 47 percent from the field (30-for-64) and holding the Wildcats to their third-lowest point total of the year.
The Big Orange came up big on the defensive end all night long, holding the Wildcats to 12 points under their season average. Tennessee also held Kentucky to 42 percent shooting, well below their season average of nearly 50 percent.
The trio of Robert Hubbs III, Admiral Schofield and Grant Williams led the Vols throughout the night with 25, 15 and 13 points, respectively. Hubbs' 25 points were tied with UK's Malik Monk for a game high. Williams did a little bit of everything for the Vols, setting career-highs with six assists and three steals while also pouring in 13 points, grabbing six rebounds and posting four blocks.
After a back-and-forth start to the game, UT grabbed a 31-30 lead with 4:19 to play in the first half and never trailed the remainder of the evening
The Tennessee bench played a huge part in the win, outscoring Kentucky's, 37-4.
Barnes & Calipari: 1,250+ Wins
Saturday's game features the two winningest coaches (total career Division I wins) in the SEC.
John Calipari is the league's active leader in career wins, with 640.
Rick Barnes
is a close second with 633 victories to his credit.
Among all active Division I head coaches, Barnes and Calipari rank eighth and ninth, respectively.
Barnes and Calipari became friends while working a Pitt basketball camp in the late 1970s. The star player at that camp? Current Arizona head coach Sean Miller.
Big Orange Thorn in Cal's Side
Since UK coach John Calipari returned to the college game in 2000-01, Tennessee has dealt him seven losses. No other program has more wins over Calipari-coached teams during that span.
| TEAM | WINS |
| --- | --- |
| Tennessee | 7 |
| Louisville | 7 |
| Cincinnati | 5 |
| Ole Miss | 4 |
| Southern Miss | 4 |
Cal Among Tennessee's Most-Faced Active Coaches
On Saturday, John Calipari will coach his 21st career game against the Vols. Among active college coaches, that will stand as the third-most career meetings against Tennessee.
| COACH | MEETINGS | UT'S RECORD |
| --- | --- | --- |
| Kevin Stallings | 37 | 21-16 |
| Tubby Smith | 26 | 7-19 |
| John Calipari | 20 | 7-13 |
| Rick Pitino | 20 | 3-17 |
| Mark Gottfried | 14 | 5-9 |
| Andy Kennedy | 14 | 6-8 |
Barnes' Vols 2-5 in Rematch Games
Tuesday's game at Kentucky is the third of Tennessee's five SEC rematch games this season. The Vols are 1-1 in rematches this season.
Last season, the Vols were 1-4 in regular-season rematch games (SEC Tournament games not included). The victory came vs. Auburn in Knoxville.
In Year Two Under Barns, Vols' Road Wins Have Quadrupled
Tennessee was 1-11 in true road games last season, with its lone road win coming at Mississippi State.
In Rick Barnes' second year guiding the program, UT has already logged four true road wins this season–at East Tennessee State (December 22nd), at Texas A&M (December 29th), at Vanderbilt (January 14th) and at Auburn (January 31st).
Vol Freshmen Providing Unbelievable Production
Tennessee's crop of freshmen has accounted for 58.2 percent of the team's assists, 48.3 percent of team's scoring (930 of 1,926 points) and 47.0 percent of the team's total minutes played this season.
A freshman leads the team in rebounding (Grant Williams, 5.5 rpg), field-goal percentage (John Fulkerson, .567), assists (Lamonte Turner, 3.2 apg), blocks (Grant Williams, 2.0 bpg) and steals (Jordan Bowden, 1.0 spg).
Freshmen have accounted for 69 starts, and the Tennessee starting five has included three freshmen 20 times this season.
A freshman has owned or tied for top-scorer honors in eight of UT's 25 games.
Tennessee has had four different freshmen score at least 20 points in a game this season (six times). It took only 10 games for that to happen, and it is believed to have never happened before in program history.
Food for thought: Folks love to obsess over "stars" and prospect rankings, but, as the wise Kara Lawson says, "Who ranks the rankers?"
UT Among D-I Free Throw Leaders
Through the games of February 12th, Tennessee ranked 20th among Division I teams with 638 total free-throw attempts.
The Volunteers attempt 25.5 free throws per game.
UT's 458 total free throws made ranks 22nd among Division I teams this season.
Freshman forward Grant Williams has scored 29 percent of his total points this season at the free-throw line. His 89 makes and 137 attempts are both team-highs. He averages 5.5 FT attempts per game.
Williams' 53 made free throws in SEC play represent nearly a third of his total scoring in league games.
Williams Joins King, Houston in Elite Freshman Scoring Club
Tennessee true freshman Grant Williams has scored 30 points twice this season–against Lipscomb on December 15th and against Georgia on February 11th.
In doing so, he joins Hall of Famer Bernard King and Tennessee career scoring leader Allan Houston as the only Vols ever to log multiple 30-point games as freshmen.
King did it 10 times, Houston eight, and five other Vol freshmen did it once.
Phillips Playing Turnover-Free
Sophomore guard Shembari Phillips has played more than 68 consecutive minutes without a turnover, a streak that spans six games (68:17).
The Atlanta native–who is shooting 50 percent from 3-point range this season (14-of-28)–has eight assists during that span.
Up Next for UT Vols
Tennessee returns to Thompson-Boling Arena on Saturday when it plays host to Missouri for a 12:00pm CT tip on SEC Network. The Tigers are making their first trip to Knoxville since the 2013-14 season.