APSU Sports Information

Cape Girardeau, MO – Austin Peay State University men's basketball team closed out the 2016-17 season strong in an 88-79 victory against Southeast Missouri that Austin Peay controlled for much of the contest.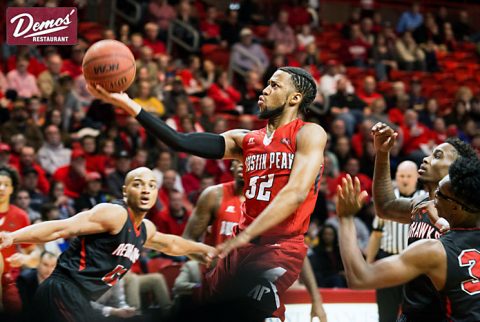 A thunderous
Jared Savage
dunk got the Govs going early and Austin Peay would lead for much of the first half thanks largely to
John Murry
(17 points) and nine apiece from Savage and
Kenny Jones
. However, a 13-point Austin Peay lead with 3:59 to go shrank to a single point at the break following a 17-5 Southeast Missouri run.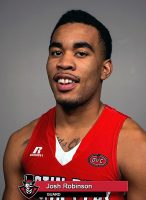 Southeast Missouri would take an early lead in the second half, but a 19-8 Austin Peay propelled Austin Peay to an eight-point lead with less than 13 minutes remaining.
Southeast Missouri would tie it up and briefly take the lead on an Antonius Cleveland jumper with 6:17 remaining.
The Govs would close out the game on a 17-7 tear highlighted by seven points from Murry and clutch three-pointers on back-to-back possessions by Savage and Josh Robinson.
Those threes would take it from a one-possession game to an eight-point APSU lead at the 3:47 mark—Southeast Missouri would not get within a possession the rest of the way.
The Difference
On a day that saw Austin Peay outrebounded by five and go minus-six in turnover ratio, the Governors were able to hold Southeast Missouri—who came into the contest hitting 49.0 percent from the floor in league play—to 37.5 percent; although Trey Kellum, Antonius Cleveland and Denzel Mahoney each scored 20 for the Redhawks, the other six players to see the court for Southeast Missouri combined to go 9-for-34 (23.5 percent) from the field.
Notably
John Murry brought his Austin Peay career to a close in style. The senior from Indianapolis scored a career-high 33 points, hitting 5-for-6 from beyond the arc and 10-for-11 at the free-throw line. He also equaled his career-high with seven rebounds. And true to form, he needed but 4:06 (15:35-11:29 in the first half) to net 10 points, the 11th time this season he's scored 10 in fewer than five minutes.
The gives Austin Peay seven victories in conference play for the second straight season, the first time since 2012 the Govs have at won at least seven against OVC foes in back-to-back seasons.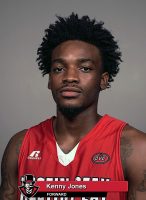 Murry's former teammate at Owens (Ohio) Community College, Kenny Jones finished his APSU career with 18 points and 10 boards—his season's 10th double-double. He finished 8-for-11 from the floor, marking the 18th time in 30 games he hit at least 60 percent from the field.
The Govs knocked down a season-high 14 three-pointers, giving them 227 for the season—third-highest mark in school history.
Jared Savage scored 20 points—his first 20-point game since December 28th (at Western Kentucky)—and had two steals; he had multiple steals in six of Austin Peay's seven Ohio Valley Conference victories this season.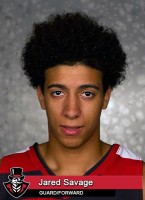 Southeast Missouri's 37.5 percent mark from the floor was lowest by an Austin Peay opponent in 2016-17.
Austin Peay's bench was shut-out in scoring for the third time this season.
Josh Robinson finished with 14 points, leaving him with a season mark of 20.3 ppg—the first Gov since Drake Reed (2008-09) to average 20 points for an entire season.
Austin Peay shot a season-best 18-for-19 from the free-throw line (94.7 percent).
Coaching Quotables
Head Coach Dave Loos
Overall
"I'm really proud of how these guys came and played today after what transpired on Thursday at UT Martin. They knew they weren't in the tournament but they really showed up here today."
On defense
"We did some good things defensively today; I thought down the stretch our zone made a difference. It changed the pace."
On John Murry and Kenny Jones
"I was proud of both of them. John has really played well this year and Kenny has been very consistent over two years. It was a good thing to send them out with a win."