Clarksville, TN – The late Betty Joe Wallace taught history at Austin Peay State University for almost 40 years, and many of her former students and colleagues praise her as a pioneer who helped create a more progressive campus.
"She was the first cigar-smoking feminist I ever met," Dr. Carlette Hardin, dean of the APSU Martha Dickerson Eriksson College of Education, said.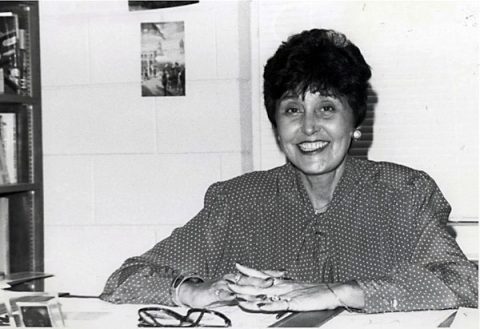 "In 1969, she became my academic advisor, and we had long, long talks about the role of women in society. She really shaped my thinking on many things about women," stated Hardin.
In 1968, Wallace chaired a University committee that looked at adding courses in African American studies to the campus, and in 1978, she developed Austin Peay's first Women's Studies Course.
She went on to help found and serve as director of both the African American Studies and the Women's and Gender Studies programs. She won the APSU Alumni Association's Distinguished Professor Award in 1989, and she spent much of her career training hundreds of the area's history and social studies teachers from 1974-2003.
Wallace died in 2014, but two of her former colleagues—Dr. Michèle Butts, APSU professor of history, and Dr. Jill Eichhorn, associate professor of English and coordinator of the Women's and Gender Studies program—are looking to honor her by establishing the Betty Joe Wallace Lectureship Fund. The goal is to raise enough money to create an endowed lectureship that will bring a nationally recognized speaker to campus each spring during Women's History Month.
To kick off this campaign, the University is hosting a special Betty Joe Wallace Memorial Dinner at 6:00pm on Thursday, March 2nd, in the APSU Morgan University Center Ballroom. The cost of the dinner is $30.00 per person, and Ronnie Carter ('88), a founding member of the U.S. Transportation Security Administration (TSA) and one of Wallace's former students, will serve as the evening's guest speaker.
After graduating from APSU, Carter served as a professional military officer in the United States Marine Corps. He later joined the United States Marine Corps Reserve, serving the War Fighting Command/Joint Operations Center at Quantico, Virginia.
In 1996, he was named an executive adviser to cabinet-level officials in the Tennessee Department of Environment and Conservation and the Tennessee Department of Transportation.
In 2001, when the Aviation Transportation Security Act charged the TSA with providing security for thetraveling public and for all commercial transportation following the 9/11 terrorist attacks, Carter was named a senior policy adviser to the Office of the Administrator of TSA, where he briefed the secretary of transportation, deputy secretary, chief-of-staff and the administrator on policy issues.
For more information on the Betty Joe Wallace Lectureship Fund, contact the APSU Department of History and Philosophy at 931.221.7919.