Clarksville, TN – Austin Peay State University's premiere choral ensemble – the Chamber Singers – will showcase their talents in Tennessee and Georgia during their 2017 tour this March.
"Our Chamber Singers have been preparing for this tour since the first day of classes back in August of 2016," Dr. Korre Foster, director of choral activities at Austin Peay, said.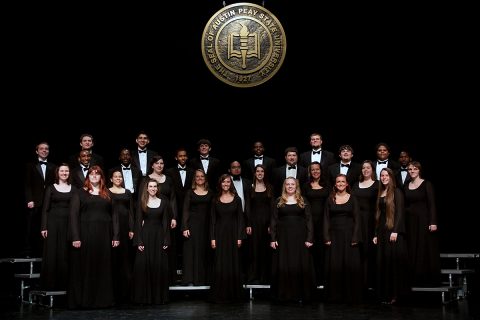 "In the time they spend (preparing for the tour), the choir really comes together not only technically, but socially and spiritually," stated Foster.
A number of pieces will be performed at each concert, including a diverse selection of contemporary and classic compositions.
These concerts, which are free and open to the public, unless otherwise noted, will take place at the following locations:
March 4th – Madison Street United Methodist Church in Clarksville (7:00pm)
March 5th – Dickson United Methodist Church in Dickson (2:00pm)
March 6th – McMinnville First United Methodist Church in McMinnville, Tennessee. (7:00pm)
March 7th – Governors Gathering Alumni Event in Atlanta, Georgia. (Contact APSU Alumni Association)
March 8th – Northminster Presbyterian Church in Roswell, Georgia. (7:30pm)
March 9th – First United Methodist Church in Morristown, Tennessee. (7:00pm)
March 10th – First United Methodist Church in Crossville, Tennessee. (7:00pm)
March 11th – Performance at APSU Candlelight Ball in Nashville (Contact APSU Alumni Association)
Selected pieces to be performed include "Fèt Chanpèt," a piece composed by Haitian-American composer Sydney Guillaume for the APSU Chamber Singers, Ilyas Iliya's "Avoonan dbishmayya," sung in Aramaic, choral canon standard "Blue Bird" from Charles V. Stanford and also the Daryl Runswick arrangement of The Beatles' classic "Blackbird" from their eponymous 1968 album.
"We are headed throughout Tennessee, as well as Georgia and we always try to get to as many high schools as possible to show them our program at Austin Peay," Foster said. "The tour is an opportunity to up our recruiting efforts and, besides performing for them, the high schoolers will get to interact with our students, asking them questions about Clarksville, our campus and college life."
Later this spring, APSU Choral Activities will present The BIG SING. The event brings two high schools to campus to rehearse and perform with the APSU choral ensembles. This year, APSU is proud to welcome Mt. Juliet High School and Station Camp (Gallatin) High School. The event will culminate in a 5:30pm concert, free of charge, on Tuesday, April 11th.
For more information on these events or for a list of schools the Chamber Singers will be visiting, contact Foster at .