Clarksville, TN – Three Austin Peay State University students recently presented their research at the annual Tennessee Collegiate Honors Council Conference, held February 18th at Motlow State Community College in Tullahoma Tennessee.
Hannah McGinnity, Malena Landon and Shelia Johnson, all members of the Honors Program at Austin Peay, joined high achieving students from across the state at the event, which serves as the Council's annual meeting of college honors students, faculty and administrators.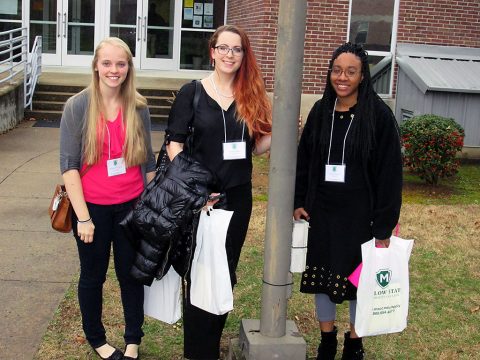 Presented research topics covered a range of genres and subjects, including original poetry, short stories, creative essays, photographs, musical compositions and works of art.
Biology majors McGinnity and Landon co-presented a topic on non-native species invading foreign ecosystems, titled "Invasive Species of the United States." Using Tennessee as a case study, McGinnity and Landon explored the most common and destructive invasive species causing damage to the state's ecosystem.
A chemistry major, Johnson explored the links between cancer survivors and their support systems in a discussion titled, "The relationship between limitations in daily activities and the receipt of social support among cancer survivors by racial/ethnic and socioeconomic subgroups in the United States." Johnson studied the relationship between the limitations of cancer survivors and the support they receive from family and friends in completing their daily activities.
"Hannah, Malena and Shelia all did a really great job, and I think this was a great experience for them," Matthew Kenney, director of the Honors Program at Austin Peay State University, said. "Sometimes even professional conferences can be lightly attended, but our students each got an opportunity to present their work in front of well-attended sessions and I think they gained a lot from the experience."
The Honors Program at Austin Peay State University is designed to challenge students and provide opportunities for creative exploration and intellectual development. Honors Program students are provided with information and support to pursue high-impact opportunities in undergraduate research, study abroad, internships and service learning.
For more information on the Honors Program at Austin Peay State University, visit www.apsu.edu/honors, or call 931.221.6398.