"Planters Bank Presents…" Film Series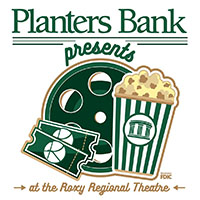 Clarksville, TN – The "Planters Bank Presents…" film series next movie is the epic high fantasy adventure film, "The Lord of the Rings: The Fellowship of the Rings". This movie will be shown this Sunday, March 5th, 2017 at the Roxy Regional Theatre at 2:00pm.
Set in mythic pre-historic times, a young hobbit named Frodo Baggins inherits a magic ring from his elderly cousin Bilbo. Wise to the powers that the magic ring holds, the dark Lord Sauron wants it, knowing it will enable him to enslave the people of Middle Earth.
Admission to each film in the "Planters Bank Presents…" series is $5.00 (cash or check only). Tickets are on sale now at the Roxy Regional Theatre box office. Any remaining tickets will be available at the door one hour prior to showtime.
Normal box office hours are 9:00am-2:00pm, Monday through Friday.
Popcorn and bottled water will be available as concessions.
This film series at the Roxy Regional Theatre is made possible by the generous support of Planters Bank and the Clarksville-Montgomery County Arts & Heritage Development Council.
The Roxy Regional Theatre is located at 100 Franklin Street in Clarksville, TN.